One of our clients has used best bets in SharePoint 2007 to improve their intranet search.
What's a best bet?
A best bet is a way of informing the search engine what the best match for a query is. Here's how it can be called out in search results: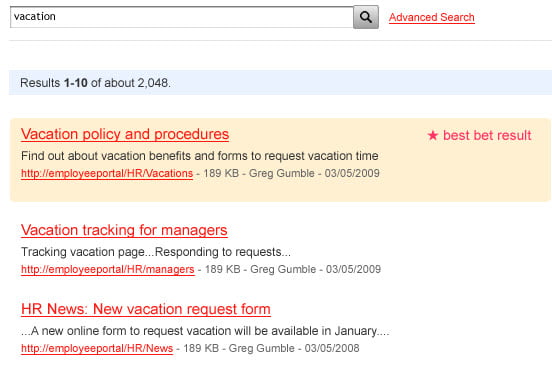 Creating best bets for frequently searched for terms in a search engine can have significant business value.
What's the evidence?
Here are some statistics from one client who has been using best bets for five months:
The number of searches where a best bet is used has climbed from 3,200 in the first month to 6,800 in the 5th month
The number of searches has declined from 77,000 in the month before best bets started being used to 63,000 in the most recent month
A best bet is now used in 10 percent of all searches
And, perhaps most importantly, if you bring up the topic of search with almost anyone who uses it in the organization, they will tell you it is improving.
Why have best bets been so successful?
For the first month of using bets bets, our clients used the top searched items report in SharePoint 2007 to identify best bets.
To continue improving best bets after the first month they used:
The "No Best Bets" report in SharePoint 2007 to identify frequent queries with no best bets. (In some months, the top 10 items in this report covered 3,000 or more searches)
A Web Part to the search results page to give staff a chance to rate and comment on each search
In five months, the feedback web part has been used 965 times to rate a search and 265 to comment on one. This has been a great resource to discover places where the search isn't finding important information for people.
The other reasons best bets has been so successful in this case:
Their search was really broken
Their most frequent searches make up a large portion of all searches. Their top 40 searches make up 10 percent of all searches, so simply by making best bets from their most frequent searches is significant
How to measure the use of your best bets
To measure how much your best bets are being used, check out the "Most clicked best bets report" in SharePoint 2007.
Unfortunately, SharePoint 2007 only offers reports on the last 30 days. So if you want to track your best bets over time you have to remember to export the report every 30 days.
Best bets in SharePoint 2010
I doubt best bets will have the same potential in SharePoint 2010.
User ratings are used to influence the rating algorithm. Pages or items that have been highly rated by the most employees will be ranked higher than ignored ones. So those items will be the best bets in SharePoint 2010.
There are a lot more out of the box filters and facets to slice and dice search that will most likely reduce the impact of best bets on improving it.
Takeaway
If your search is broken and you have a high concentration of frequently searched terms, best bets can help you improve your search.