We had another great meeting at the monthly designer dinner. This time we met at The Black Frog, a small eatery in Gastown. The beers were refreshing, and the burgers lived up to their reputation.
I asked everyone to bring something they have created, either for work or for fun. Dave has been working on a sister set of icons for his basic set, Chalkwork. They look pretty sweet! I'm looking forward to the set being finished, as there are a couple of projects I think they would accent beautifully. Dave also ran us through a mini tutorial about how to create smaller icon sizes by adjusting for pixelation. I learned a few skills — thanks, Dave!
Cameron came prepared with his portfolio and shared some of the magazine layouts he had done while working in Japan. Very fun work! We were all quite interested in the fonts, and Cameron tells us that many are actually quite difficult to read, but are used for the colour and shapes. It sounds very challenging to typeset Japanese, but what a cool way to learn the language.
Christine has been working on a neat project, and she brought the promotional postcard to share with us. techouver.ca is a map-making project, and you can add your company to the maps. I've already requested Habanero be added — fingers crossed! The project was launched at BarCamp, but she gave us a sneak peek at the artwork. A collaboration between Capulet, Blue Lime, and TechVibes, I'll be interested to see where this project goes.
I brought some of my paintings from the botanical illustration class I took this summer. I shared some of the drawings and different stages of painting, which is quite an elaborate process. Watercolour is a difficult medium, as you can't just paint over an area and rework it. However, it is also vibrant and beautiful, and surprisingly accurate, if you have the patience to paint all the details. This one is my favourite so far, an unfurling bud of a cyclamen.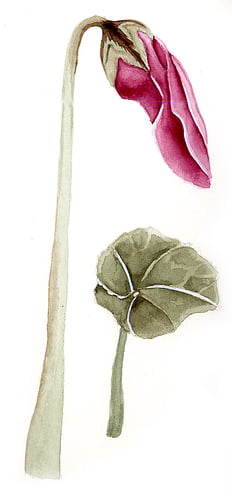 We all left in the light summer rain, and I look forward already to the next gathering. We're going to spread out and try another area of town — Main Street here we come!