Recently my colleagues Brian Edwards, Barbara Richards and I did a presentation on extranets in partnership with Microsoft, "Building Deep Relationships with Microsoft SharePoint Extranets".
It was an insightful experience for us to pull together our thoughts about the often overshadowed member of the internet family. There's plenty of documentation about websites, intranets and line of business applications? but extranets? Not really a well documented topic! Websites can convert leads, result in sales, influence decisions...intranets can engage employees and improve productivity. But extranets? It seems extranets are the overshadowed sister solution.
We've built extranets in a several different ways, on various versions of SharePoint for many business purposes, such as training delivery, franchise communications, professional development networks and enterprise collaboration. By looking at our experience with these solutions, we were able to articulate some of the basic but under-documented extranet fundamentals:
What are extranets? Who are they for? How do you know you need one? And... how can extranets improve your relationships?
What are extranets?
An extranet can be almost anything you want it to be, but as a rule of thumb:
They resemble intranets
They are secure... sometimes more so than intranets
They generally serve smaller audiences than websites
They resemble websites
People outside your organization can access them
Brand is usually important (if not critical)
They are usually used by partners, vendors and suppliers (but can also be a subset of clients)
This leads nicely to our next section...
Who are extranets for?
Our business relationship landscape varies in complexity. These are the type of audiences extranets are typically aimed at — they're people you and your organization need to work with and who need information that needs to be secured (otherwise it's just a website).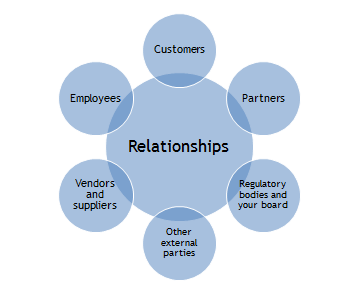 How do you know you need one?
Memory sticks, Google Docs and Drop Box have become enterprise applications.
You need a spreadsheet to keep track of which partner uses what system.
You'd rather not think about all the places your corporate information is living.
People at your help desk can predict a lot of the calls they receive.
You hear that people sharing a certain role or expertise need to be more in touch with each other.
For fun, team members guess at how many copies and versions of the same document are out there in email.
You have an inkling that it could be easier to work with you.
People tell you that it could be easier to work with you.
How can extranets help improve your relationships?
As you move across this diagram from left to right, you can see how an extranet can be used to support increasingly complex interactions. A well-crafted extranet can provide a unified brand experience between all potential touch points, such as a public website or an employee intranet.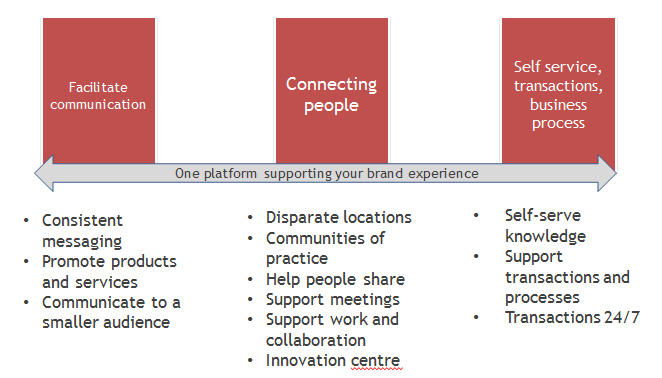 Hopefully this summary helps your organization better understand your extranet needs and identify whether there's an opportunity for you to deepen your relationships with this type of solution. Feel free to follow up with us if you'd like to talk more about how extranets have worked for our clients and how they could work for you.