If you're a leader, coach and/or influencer within your organization, there's no doubt you realize the importance of recognizing the people who are helping to make your organization thrive. After all, we now know the impact that employee satisfaction and engagement can have on culture, efficiency, productivity, and even the bottom line. Surprisingly, not everyone gets this. Check out this three minute video: http://www.youtube.com/watch?v=7ZLZmSMXkLA (This group has made a few other great vids.)
I'm guessing you had a laugh or three at Richard's expense (I definitely did), but it may have also struck a chord with you if you've had personal experiences where employee recognition was poorly managed or maybe callously delivered.
The great thing about employee recognition is that it doesn't have to be complex, flashy, or costly. At its best, recognition works when we truly understand the power of our words along with our shared human desire for acknowledgement and appreciation. It's pretty amazing to see how employee recognition, when done right, can impact an organization's culture with high engagement and rock star performance. So what are we talking about? Well, here's some food for thought:
People don't stick around for the long service award
I'm kidding, but not really. According to an article in Forbes by Josh Bersin, employee recognition is a $46 billion market (watches, pins, plaques, etc.) and while 70% of organizations are focusing on service and tenure, recent research shows that "tenure-based rewards systems have virtually no impact on organizational performance." In contrast, organizations that focus on creating (and enabling) high-recognition cultures can "generate 12x greater business outcomes in a variety of measures and have more than 30% lower voluntary turnover." Sounds pretty compelling; so where to start?
Less hierarchy and more community
Not to be a Debbie-downer, but when recognition comes from the 'top', it's usually perceived as political and tends to go to those on the frontline or in highly visible roles (e.g., business development, marketing, etc.) Encouraging and supporting peer-to-peer recognition allows those who are more 'heads-down' (e.g., answering phones, tidying the office, paying the bills, etc.) to get the praise they deserve. After all, your peers probably have a better idea of what you're doing every day, so when they make time to recognize you the impact is that much more meaningful. Don't get me wrong, when your CEO, VP, manager, or department head comes by to tell you you're doing a good job, it feels good (well, maybe a bit suspenseful when you first see them approaching you). While well intended, the focus should be more on creating and supporting a culture where all employees are trusted and empowered "to recognize and reward each other for living your values, which are the core of your culture." Enter the social movement?
Social: stop fighting and embrace it (it's not going away)
I find it bizarre when organizations say that social tools don't have a place within the workplace or worse, they try to control it. If someone wants to share something with the world (or at least with those of us who use the Internet), they will. More than just providing a platform for employee recognition, social is driving new ways for organizations to:
identify, address and promote important topics or issues within the organization (as observed by 'likes', 'kudos', comments, etc.)
directly tie recognition to business goals and company values, so recognition reinforces strategy
receive idea generation and thought-leadership from their more introverted employees
allow employees to develop their personal brand, which serves to help authenticate someone's value proposition and expertise in a certain area
recognize and connect employees who might be mobile or located remotely (those missing out on the face-to-face)
collaborate and create a sense of community and belonging
On the discussion of social, a few of my peers recently attended the 2012 Microsoft SharePoint Conference (you might have joined them) and from what I've heard and seen, the latest version of SharePoint seems to have vastly improved the solution's out-of-the-box social capabilities for intranets and employee portals (not to mention, the opportunity around Yammer — a potential game changer for enterprise social). In a nutshell, the latest social capabilities include:
Community sites – member discussion-oriented team sites for information sharing, socializing ideas, and collaboration amongst members of a group or team.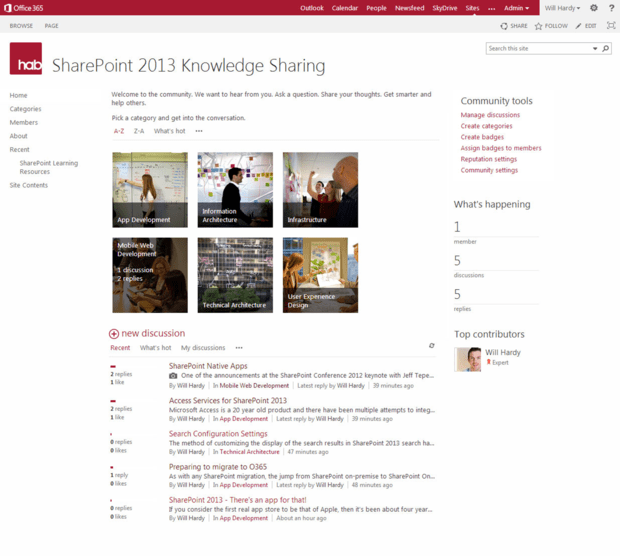 News feeds and micro blogs – the overall Facebook experience people are familiar with (and expect) such as the ability to 'like' posts, mention colleagues (@username), tag topics (#tagname), and follow sites, people, documents, or subject matters – all the while supported by native mobile apps.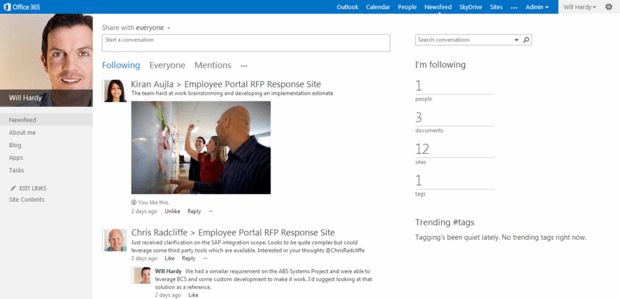 I'm probably not doing it justice, so check out my colleagues' blogs if you're interested.
Either way, technology's role in the support of the business should be carefully evaluated. Niall Cook sums it up nicely, "It's not about choosing platforms like Twitter or Facebook, but about employing the underlying technologies in an internal environment. Wikis, micro-blogging and sharing tools all have their place as part of a joined-up strategy, and it is a case of selecting those that fit with the culture of the organization, the capabilities and attitudes of employees, and the objectives of the business."
How different technologies can help organizations to thrive is a whole other discussion. For now, I want to leave you with one more thought/analogy that I recently heard from social media expert Gary Vaynerchuk at a conference I attended in Vegas (I can't believe I have any memory of those days).
As we get more Jetsons, those that act like the Flintstones will win
What I took away from this statement was that as organizations evolve, it is important to protect the 'small town' ways of doing things where everyone is appreciated and recognized for the value they bring to the team and community. Trust, support, and recognition can lead to highly engaged and satisfied employees, who in turn can help to build energizing environments; and customers will feel this.
According to a joint survey between the Society for Human Resource Management (SHRM) and Globoforce, "75 percent of respondents said employees are dissatisfied with the recognition they receive for their accomplishments". I'm no mathematician, but something tells me there's a lot of opportunity out there for organizations to try something new with employee recognition.