A busy week in Chicago is now complete. Lots of content, sessions, and networking with more than 23,000 colleagues. Overall, I come away impressed with Microsoft's holistic vision for Office 365 and the steady progress made in fulfilling the roadmap compared to this time last year.
That said, there are certainly some questions left unanswered. Looking back at the conference, here are my key takeaways and stand out themes.
SharePoint Server 2016
I eagerly anticipated the curtains to be lifted on SharePoint Server 2016, allowing us to understand what's coming for the next on-premises platform iteration. Yet the tone was set early on when SharePoint Server 2016 was pretty much ignored in the opening keynote.
To be fair, public availability is still a fair ways out but actual demos or even screenshots were few and far between. From what was shown, I can draw the assumption that we shouldn't expect any substantial user experience reveals or significant new feature announcements. If there are to be any, we'll likely see them in Office 365 first. SharePoint Server 2016 will be more about playing catch up to what's already available in Office 365.
SharePoint 2016 will also be all about providing greater options for on premise solutions to gradually hook into the cloud services available in Office 365 in a flexible, hybrid mode capacity.
This was as expected, but specifics of some of those hybrid options were revealed, including:
Integrated search results: This is a single, unified result set when searching across hybrid environments. The current hybrid search serves up results in two separate result panes, which is not a great user experience.
Delve signal visibility for on-premises content: Delve will never be based on-premises and currently the Office Graph only has visibility to content contained in Office 365. Soon you will be able to include content contained in SharePoint 2016 on-premises as well as SharePoint 2013 (that update is coming later this year). Microsoft will be opening up signal visibility to external data sources and third party platforms too. This was showcased in a demo that surfaced content from Salesforce CRM.
Unified user profiles: Users will have a unified profile shared across the hybrid environment. Unfortunately this won't include Yammer profiles out of the gate, but that may change as Yammer is brought over to the Microsoft cloud. That migration is scheduled for mid-May 2015.
Follow across hybrid environments: Thanks to the unified user profile, you will be able to follow documents and sites across on-premises and cloud environments, making for a more seamless experience.
To learn more about the roadmap for SharePoint and what's new in 2016, click here and here.
Delve
There were two product names that got mentioned repeatedly during the week: Delve and Office 365 Groups. That was clearly intentional and you can easily see that both will play a central role in Microsoft's cloud collaboration and productivity strategy going forward.
Driven by the machine learning intelligence of the Office Graph, Delve harnesses the natural work connections and interactions to suggest relevant content contained across Office 365. Delve is publicly available today, but there were no shortage of demos showcasing net new capabilities soon-to-be released.
More importantly was the way in which Delve will be leveraged to power other next-gen cloud offerings such as Office 365 Groups, People, and Knowledge.
Delve was revealed at the last SharePoint conference as a somewhat experimental initiative under the code name Oslo. This time around, Delve has been promoted to play a central part of the Office 365 suite and you can expect to hear much more about it going forward.
One important note if you've been evaluating Delve in your Office 365 tenant; it's clear that the more content and cloud services you leverage in Office 365 (ex. Sites, OneDrive, Skype, Yammer, etc.), the more relevant Delve's machine learning and suggestive capabilities are.
To view the Office Delve and Office Graph vision and roadmap, click here.
Groups, groups, and more groups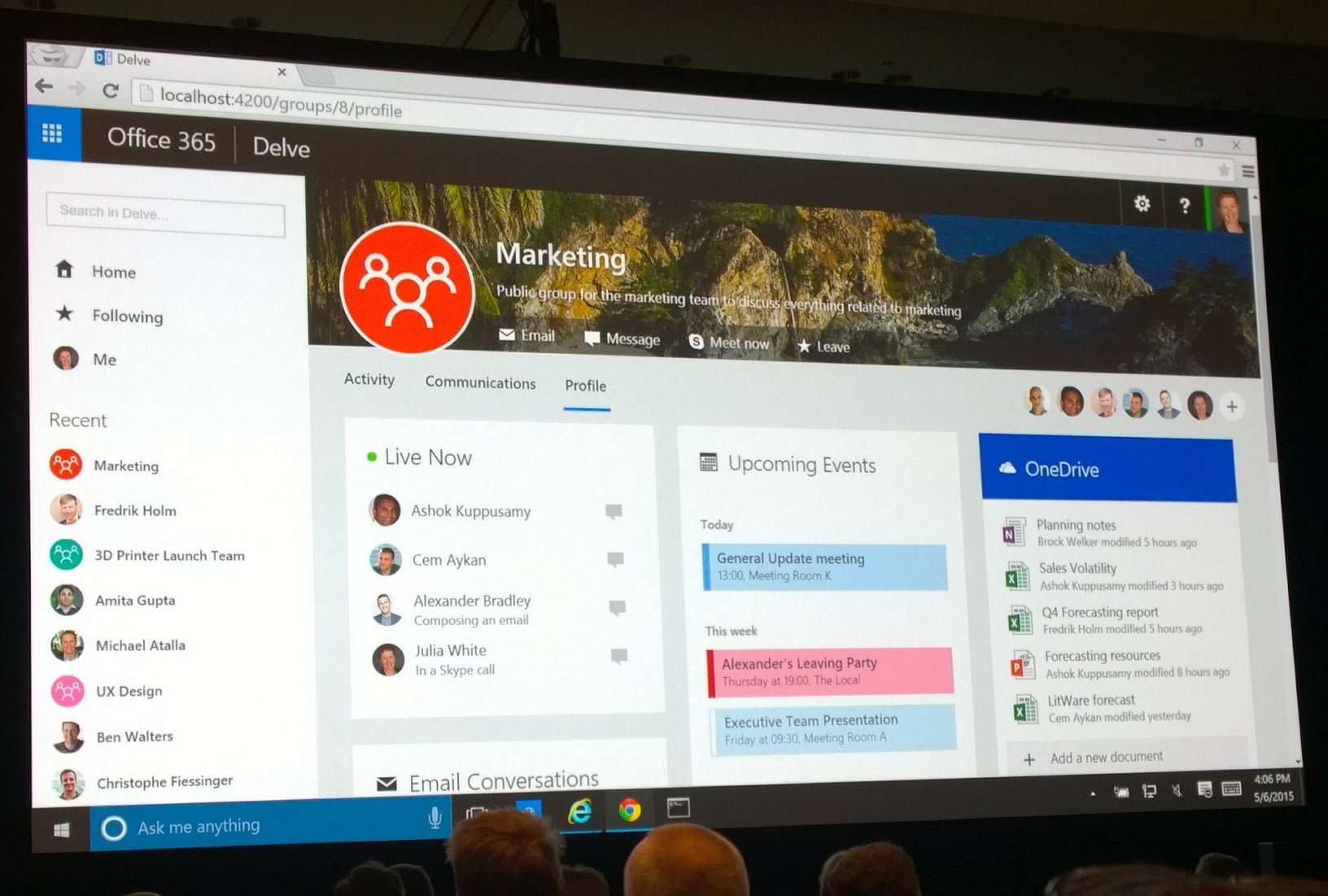 Along with Delve, Office 365 Groups were heavily promoted throughout Ignite and seem to be the favoured collaboration medium for the foreseeable future. Some might suggest this comes at the expense of the SharePoint collaboration team site.
Office 365 Groups are essentially a modern take on collaboration and productivity, leveraging new cloud capabilities such as the Office Graph and OneDrive for Business. Again, Microsoft showed plenty of demos and revealed near-term roadmap enhancements that its teams are actively working on. Enhancements include user interface tweaks, native mobile apps, and cross-suite integration to leverage other cloud services.
While Office 365 Groups are intriguing, the strategy also brought up several important questions which were unfortunately left unanswered.
Audience members consistently wondered about:
Conflict with collaboration team sites: Office 365 Groups effectively step into territory traditionally occupied by a collaboration team site. Groups offer file management, shared calendars, and conversational capabilities that will certainly create a fork in the road for the collaboration that traditionally happened in team sites. File management in Office 365 Groups is based in OneDrive for Business–not a SharePoint document library.
The Yammer overlap: By definition, Office 365 Groups are based on the group concept, yet have no connection or relationship to the existing group concept in Yammer. The Yammer roadmap session detailed very little in the way of integration with Office 365 Groups. Further confusion will result due to the fact that Office 365 Groups have their own social capabilities such as commenting, liking, and praising colleagues.
Group governance: Just as we've seen with SharePoint team sites and Yammer groups, governance and control will be an issue. Anyone can create a new Office 365 Group, which will no doubt lead to group sprawl and management issues that IT and intranet managers will need to address.
The question of "what tool when?" was brought to the surface in past conferences with the overlap of Yammer and SharePoint capabilities for activities such as file management. The introduction of Office 365 Groups further escalates that sort of conflict because the capabilities and use case overlaps are even greater.
To view the Office 365 Groups deep dive, click here.
Universal apps
Universal apps were showcased during the keynote and have some great potential to change the way enterprise applications are consumed. They are dependent on the impending Windows 10 release, so universal apps might be a longer term reality for organizations with delayed upgrade cycles.
As the name implies, they provide the ability to utilize a single source code to run fully responsive native applications that can be consumed across desktop or mobile device of choice. Kudos to Microsoft for leading the charge in this regard and time will tell if this capability delivers on the promise.
NextGen Portals
Microsoft has a growing collection of ready-to-go NextGen Portals available in the Office 365 suite. It is positioning these portals as an additive, as opposed to a replacement, to custom SharePoint portals.
Currently, this group of future portals includes the Delve, Groups, and Video apps, but there was also insight shared into other NextGen Portals that will be added to the Office 365 mix.
People Portal: The recently announced People portal leverages Delve to surface people's profile data and expertise across organizations, including relevant content contributed by certain users.
Knowledge Portal: Code named InfoPedia, Microsoft is working on a knowledge management portal which leverages Delve and its boards concept to associate content and expertise. Microsoft is also introducing the capability for responsive microsites made up of content article pages with the ability to embed documents, presentations, and video. The concept was still very much a work in progress with many of the examples shown still in the mock up stage and no ready for prime time yet.
To learn more about the People and Knowledge portals, click here and here.
Other noteworthy points from Ignite 2015
Real time document editing: Microsoft showcased the ability to support true real time document editing on Word documents during the keynote presentation. Collaborative editing is certainly not new, but real time simultaneous document editing where you can actually see what your colleagues are typing as they type it is innovative. This has been available through competing products like Google Docs for awhile, so it is nice to see this.
iOS and Android are first class citizens: Microsoft CEO Satya Nadella's mobile-first and support all devices mantra was reflected throughout the conference. A noted departure from the Windows only past, the vast majority of demos that showcased mobile ran on iOS devices. This is further backed up by the steady release of compelling iOS and Android native apps ahead of Windows platforms, such as the Delve app.