At Habanero, we've been helping our clients use Yammer for years now. We've also leveraged it ourselves in an effort to harness the incredible power of conversation and learn how we can best communicate the value of enterprise social technology.
We know that Yammer is powerful. Many of us at Habanero even joke that it has killed much of our traditional SharePoint-based intranet. So, given the opportunity I had to go to Microsoft's Ignite conference last week in Chicago and the ever growing trend towards social in the enterprise, I was anxious to see what was in store.
Juliet Wei, senior product marketing manager at Yammer, and Gadi Ben Zvi, Yammer's director of product management, took us through Yammer's three primary focus areas: bringing your team together, working smarter and faster, and scaling for impact.
Let's dive into each of these for a closer look.
Bring your team together
The working landscape today isn't as homogeneous as it once was. A typical workforce consists of employees, contractors, and partners that are both internal and external to organizations. One of the issues we've run into is the challenge of bringing these teams together in conversation across a unified platform. As this reality is common in all kinds of organizations, Yammer is focused on helping out.
Identity sync
The first element of bringing your teams together is improved identity management between Active Directory and Yammer. What you do in Active Directory gets reflected for that user in Yammer. Admins globally, rejoice!
External messaging
This has been the single biggest pain point for Yammer users. How do I include those outside of my network? How do those users who don't have a Yammer account join in on the conversation?
Fret no more. There were many allusions to the fact that this is a major focus area at Microsoft, so more developments are expected to come.
What we can confirm is that you can invite an external user to a Yammer conversation.
Other imminent changes involve having conversations surface in email for those external users (without a Yammer network) or through the recipient's Yammer network as a new thread. Those external to your network only see what you want them to see, and can be removed at any time.
Working smarter and faster
The Yammer team is focused on driving a richer experience in both its native web interface as well as in the mobile space. They're also committed to driving richer integration within Office 365 and Delve.
The idea behind this is a social experience that envelopes the entire portal. Instead of navigating to a dedicated social page, Yammer will appear every time users open a shared document or use a collaboration space. This is super exciting to us, because it means that organizations will be able to fully realize a social portal and drive employee engagement and communication.
Group focus
This is really all about the prioritization of content and how best to mimic the way people work. You'll see this in the ability to create Yammer groups as well as new layout changes that are meant to be more user-friendly and increase communication.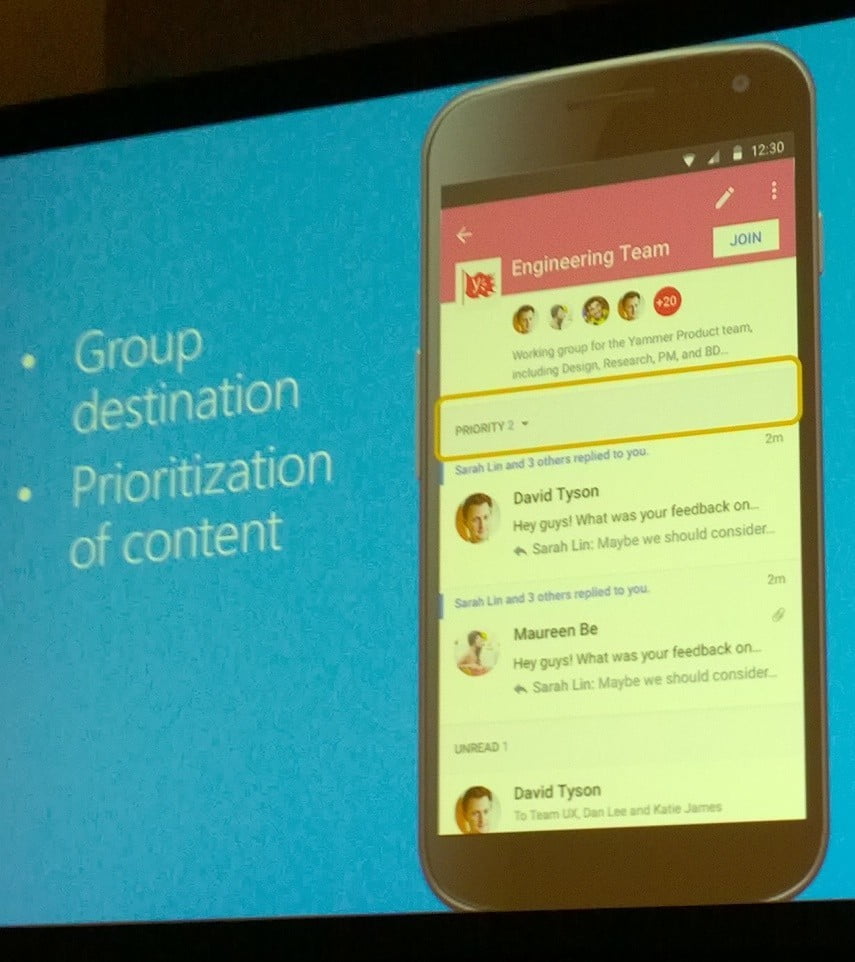 The renewed focus on groups is designed to make communication more effective and targeted, which could have a huge benefit on organizational teams.
New layout
More space, focus on groups, active bobble heads on the left navigation to indicate action, and exposing group names above posts are the main ways the new layout drives interactions. Group pages also have pinned titles, so scrolling won't cause you to forget where you are. What's also neat is how notifications of new posts in groups users follow will pop up along the bottom, enabling a single click transition from feed to feed.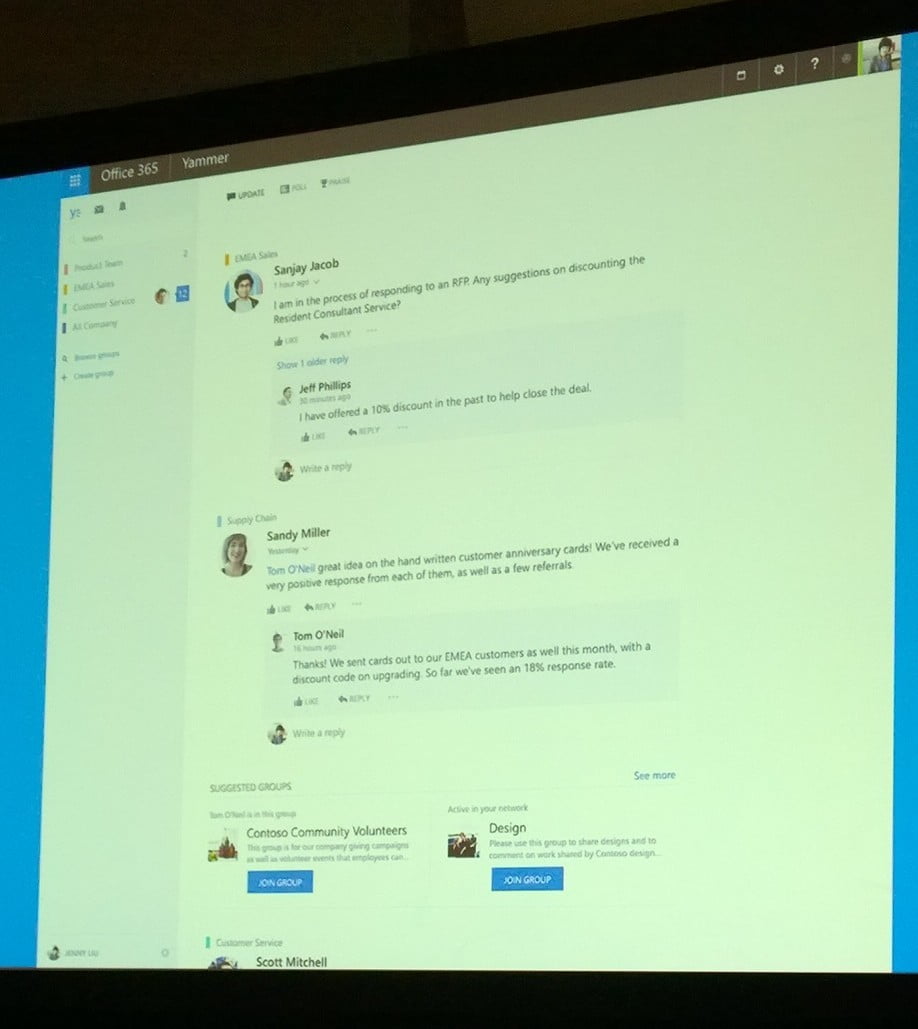 The new Yammer user interface will provide better visual integration with the rest of the Office 365 app suite, a boon for organizations already leveraging the cloud.
Delve integration
People can now initiate Yammer conversation from Delve cards. This is a cool feature that allows users to extend the conversations around the items and documents found in Delve. Conversations will show up in Delve in a chat window but will also appear in Yammer as a thread. For this to work, your Office 365 tenant needs to be linked to Yammer.
Mobile
We all know that the mobile story for Yammer is pretty good, and it's now improving! The notifications centre will get an overhaul. We'll see the addition of inline "@" mentions, and there is the introduction of a new photo publishing tool to make it easier to upload and edit photos.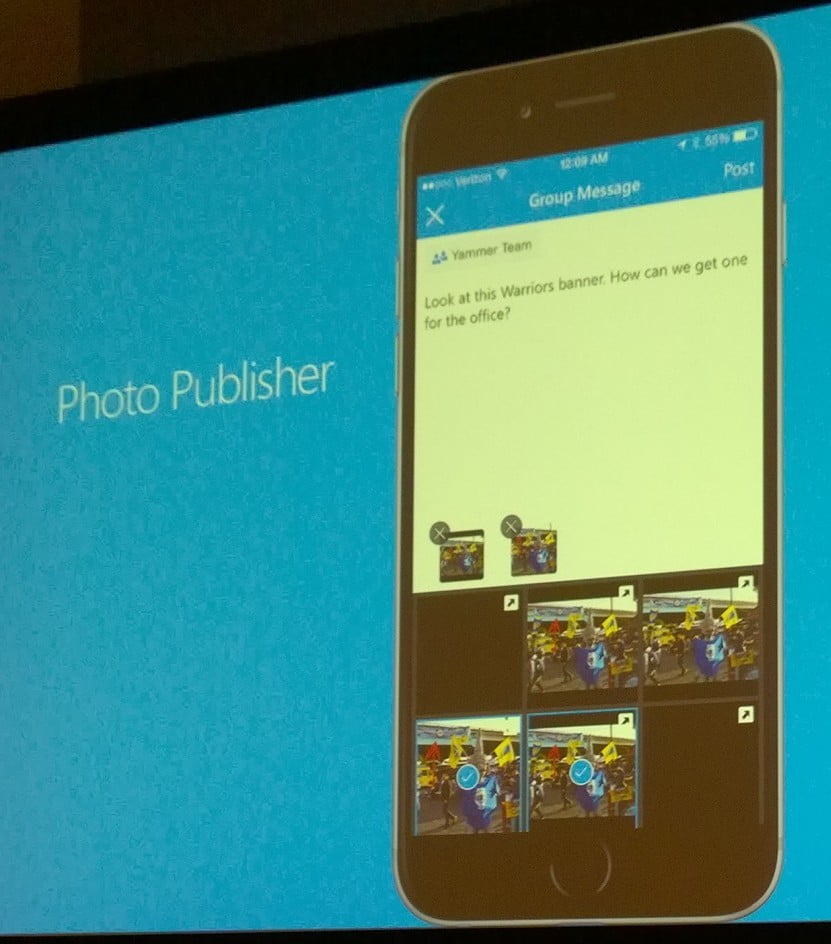 The new photo publisher will provide users will more options to add visual content to posts. Hopefully this will boost overall user adoption and provide organizations with richer Yammer content.
I'm super jazzed about all of this! The mobile developments are especially intriguing given the focus we're seeing on field workers and remote teams. Soon they'll be just as connected to Yammer as the folks at head office! This has the potential to bring teams together in a cohesive way that we haven't really seen before, especially via mobile devices.
Scale your impact
I'll be honest, the title of this section is a bit confusing, but essentially we will see more mobile improvements, including a new interface that allows interactions such as swipe deletions/archiving. There are also tweaks to the interface that modify what you are able to see and a renewed focus on grouping of messages for more effective discovery. Users and administrators will also be able to tweak that view to provide more granular context.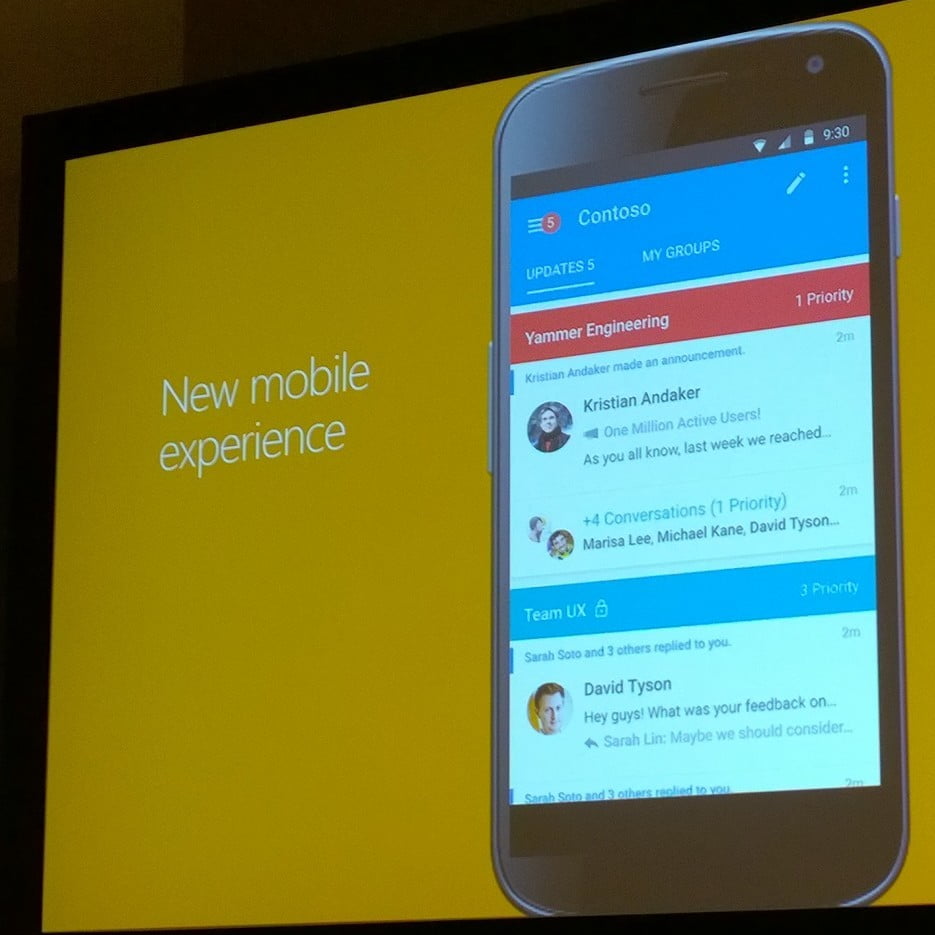 Yammer will soon provide better grouping of messages in users' feeds, enabling people to quickly sort through their notification centre and determine which conversations are most important.
Further out
In the next little while, we can expect the ability to support external groups and Office 365 Group membership syncs with Delve, Office 365, and Active Directory. That's very cool.
The big question for me, and many others, is the integrated vision between Office 365 Groups and Yammer groups. There is some level of functional overlap here. The word in the session was that Yammer is better for discovery, but Office 365 Groups currently have tighter integration with Office–including apps such as Exchange, Calendar, and Delve.
So, I think it's a work in progress and I'm excited to see where it leads!
For more information please see the "Yammer Roadmap" session recently held at the Ignite conference here as well as these related sessions from the Microsoft Ignite 2015 conference: