The basic data from my bike computer says Rick and I rode around 350km over about 27.5 hours and climbed about 8200m (which, by the way, is dangerously close to the height of Everest). Missing from that data is fact that this was all done primarily on world-class single track that twisted, turned and rolled its way through some of BC's most beautiful coastal landscapes. But the more subtle story is what the week meant to me.
It was a week full of the incredible and the banal. It was a week loaded with carefully executed routine interspersed with disorienting surprises. It was a swirl of that insuppressible smile sort of fun and the occasional sinking feeling that I might just not be up to the task at hand. I know, perhaps a little melodramatic, but this last week — the week of the BC Bike Race — was all of the above to me and a lot more that I can't really describe yet. At this moment, nearing the end of the first day that I haven't been on a bike in what seems like a very long time, I guess the overridding feeling I have is one of appreciation. It really hit me tonight how lucky I am to have opportunities to pursue endeavors the magnitude of this event. Getting a chance to prepare for and take a shot at this race was very personal and important to me and I feel most fortunate to have three key people that really understood why something like this would matter to me and were able to help make it happen.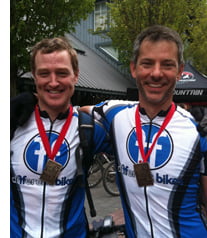 For starters, as this is a team event, it seems pretty obvious that having a good compatible partner is a requirement. Fortunately for me, Rick's been a great deal more than just another rider to do the race with. He was there for countless hours of riding and planning, which was fantastic. This last week though, Rick really found another gear when it came to keeping our team focused on the right things. Races like this are ripe with opportunities to push too hard here or not hard enough there and Rick's judgment and patience for his weaker partner was amazing. I'm super lucky to have been able to talk Rick into partnering up with me for this event — he was nothing short of inspiring to ride with.
I talked about my wife Jen in an earlier post, but beyond helping me find ways to sneak the hundreds of hours of training in, Jen found ways to show me that she really believed in me and appreciated how important this was to me. Jen's involvement has really made the experience feel complete.
The third key team member was our friend and Microsoft associate, John Hitsman. John seemed to understand the passion Rick and I had for the BC Bike Race and took the last week off work to support us along with his son Kale and my son Henry. John's organizational skills are absolutely impressive, but what blew me away more was his appreciation for the little details that would make such a difference for Rick and me. It was more than just the daily rhythm of the post-race rotisserie chicken with the chocolate milk, Recoverite chaser. He was able to manage all the details — with the support of Kale and Henry — to the point that Rick and I could spend 24 hours a day thinking about the rides. To have a friend step in with such a monumental effort to help you realize something so important is really something incredible. It's something that to me is even more inspiring and motivating than our 500 or so riding cohorts that each have overcome a multitude of challenge to be able to make it through the seven days.
I'm not sure how I'll be able to thank Rick, Jen or John, but I do have some ideas on how to start.
Speaking of thanks, there are a few others I want to shout out to:
Yoshi the photojournalist from Japan that volunteered two bolts from the small chain ring on his bike to add to the one that came from rider 99-1's spare bolt. This allowed me to get my bike back together in the middle of a big climb after I lost all but one bolt holding my small chain ring on. We had almost two hours left that day so the idea of single-speeding through all the steep climbs that lay ahead was almost too much to bear. I never did catch up with either Yoshi or rider 99-1, but I hope to be able to pay these favours forward in the future on the trail at some point. I also hope Yoshi made it out of the forest that day without a small chain ring.
Andy Handford and Al Saunders for supreme coaching. Their perspectives formed a perfectly balanced view of the race.
Heide Saunders and Greg Gjerdalen for just being awesome. Actually, the whole Gypsy group was fantastically entertaining.
Kelly Vanry for her yummy race week nutritional supplements.
Ciaran Hanrihan from Rocky Mountain nee Different Bikes for mechanical and dry cleaning support. Ciaran is the sort of person that always seems to be helping others and many riders have stories about how he's done something extraordinary to keep them rolling.
Jamie Armstrong for his great coaching and inspiration. Jamie's off to the Penticton Iron Man this summer.
All the people that came out and supported including Ryan Parsons, the whole Jensen family, Miles Federspiel and Paul Klawer, the Berkowitz/Pendry crew, my mother and father (Cathy and Ross) and, of course, Jen, Wyatt, Frances and Eddie complete with cowbells. What a beautiful sight to see in the last 100m of a long week.
So, tonight I'm going to cut my wrist band off and work on changing my focus back on more career oriented matters. Thankfully, Habanero is also an exciting and challenging place so that transition will be smooth. I can't say though that I won't occasionally drift off a bit from time to time this week thinking about the amazing trails of the BC Bike Race.