Because the SharePoint platform is so feature rich, and the installation is relatively straightforward, it's fairly easy to install by an average user. Unfortunately, this may lead to the proliferation of non-approved SharePoint sites: sites which have not gone through proper IT procedures, followed software installation protocol, or have ignored corporate IT change management processes. SharePoint farms can mushroom throughout an organization at a rapid pace, which can turn into a governance nightmare for IT staff!
The good news is that SharePoint installs can be controlled via a registry key that would prevent installation of the product. IT staff can roll out this setting either manually creating required key, or image deployments or a domain group policy.
Follow the steps below to create and set required registry key:
Run regedit
Navigate to HKLM/Software/Policies/Microsoft
Create the following Keys:
Shared Tool
Web Server Extension
14.0
SharePoint
In SharePoint key create a new DWORD DisableInstall and set it to 1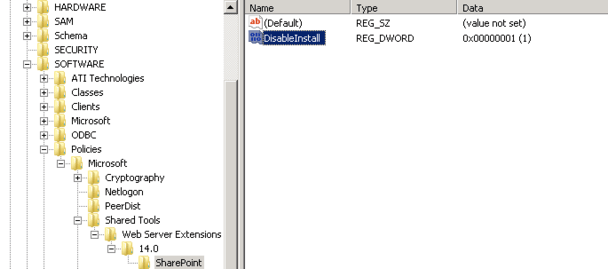 Installing SharePoint 2010 will generate the following prompt: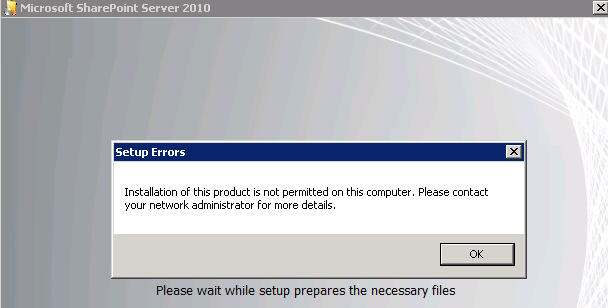 IT Admin staff are back in control of SharePoint install in your organization!
Please refer to the following MS TechNet article for more info.