One of the announcements at the SharePoint Conference 2012 keynote with Jeff Teper confirmed the rumors regarding the existence of native SharePoint mobile apps which Microsoft has been working on to follow up the launch of SharePoint 2013. The apps don't offer full SharePoint functionality, but focus on some specific usage scenarios primarily around following and providing newsfeed content over mobile devices.
SharePoint newsfeed app
The first to launch to the public is the 'Newsfeed App' exposing newsfeed content from your my site in a mobile environment.
App features:
View Newsfeed updates for items that you are following which can include:

Site activity
Lists and Libraries
Documents
People
Tags

View and post @mentions
View your profile as well as colleagues who you are following
Access your documents
Create new feed posts and share with specific groups/individuals

Includes the ability to @mention, #tag, and upload photos directly from the device file system or on-board camera
Currently does not appear to include the ability to upload video from the device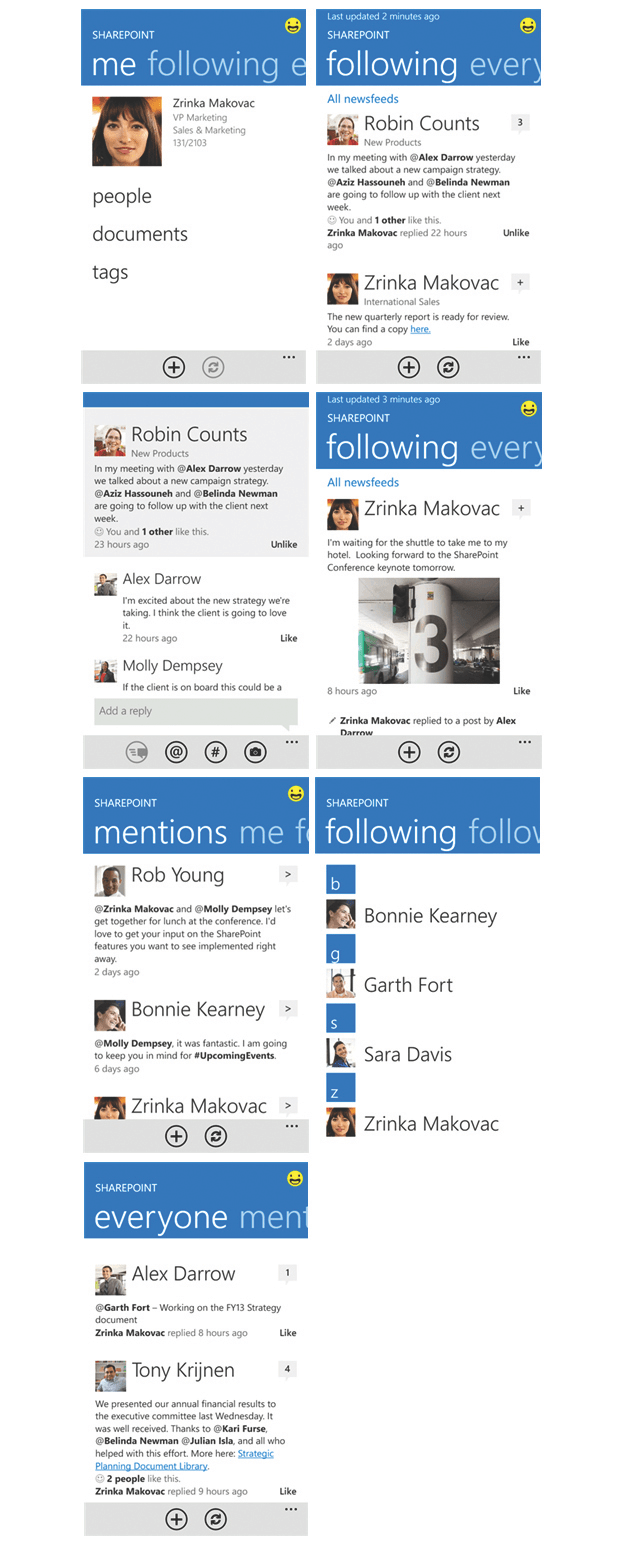 SkyDrive Pro App
There is also a SkyDrive Pro App in the works which is in beta for accessing Skydrive (Microsoft's version of Dropbox) content on mobile devices.
What devices are supported?
It is important to note that the apps will only work with SharePoint 2013 sites (on-premise and O365) and will not work for SharePoint 2010 or prior sites.
Windows Phone 7 and 8 + Windows 8
Not surprisingly, the first native app to be publicly released and available in the marketplace targets Windows Phone 7.5 and 8 as well as a Windows 8 (Surface, etc.) The app was made available to coincide with the keynote and can now be downloaded today by anyone with a Windows Phone.
iOS
Microsoft is also actively working on native apps for iOS to support iPhone and iPad devices, but this will not publicly be available until sometime in the new year. Microsoft provided live demos of the current apps being developed for iOS devices and they seemed quite polished and feature complete, suggesting that public availability is not that far off.
What devices are not supported natively
Android
Noticeably absent from the keynote was any mention of support for Android devices, especially when considering the over 65% market share that Android enjoys in the smart phone market and increasing share of the tablet market. Subsequent sessions on SharePoint's mobile strategy confirmed that while Android support is on the road map, it is not a top priority for Microsoft and have no firm targets for when native Android apps might be available. Having said this, SharePoint sites do seem to render properly on Chrome mobile browsers on Android devices, so while there is no native app, Android users are not left completely out of the party.
Blackberry
There are no plans for developing a native app to support Blackberry devices.