I left the SharePoint Conference in November most excited about the social technology features in SharePoint 2013. Maybe excited isn't the right word; I was more "it's about time Microsoft!" The social features in SharePoint 2010 were really half-baked: social technology ideas without the functionality needed to make them useful. Social in SharePoint 2010 was mostly one-way communication, with way more participation effort required than payoff received for a user. Hence the growth of NewsGator, Yammer, and Jive to name a few. With SharePoint 2013 though, Microsoft is finally providing an entry-level array of social technology features out-of-the-box. For organizations just wading into the social enterprise space, SharePoint 2013 will be enough.
I really believe that giving your employees access to social technologies at work will help employees create more value, innovate, and connect with their colleagues in meaningful ways. My favourite quote summarizing social technology at the conference came from Yammer's James Patterson: social is all about enabling "serendipitous connections". By exposing all of the activities of your colleagues and your work groups, you allow for spontaneous and meaningful connections and information sharing between co-workers. You take all of the publishing work that used to sit on the shoulders of internal communications, portal teams, and document managers, and you hand it back to the organization and every employee that uses the portal: that's social.
So what do you get with SharePoint 2013? Lots! SharePoint's great new social features really show up for me in two areas: microblogging and newsfeeds. Let's dig into both:
Microblogging
You get to microblog in SharePoint 2013! Yea! This was something that was sorely lacking in SharePoint 2010 and is foundational to social networks and social technologies. Microblogging in SharePoint 2013 is the ability to post short status updates and replies that may include text, links, images, videos, hashtags (#) for categorization/tagging, and @ mentions to directly mention users in posts. Users can microblog from their Newsfeed or from a Team Site. Users can like and reply to other user's microblogs (so long as they have edit access to the microblog). You can even mark a microblog for follow-up (which adds a task to your personal task list on your My Site).
Posting and interacting with microblogs is the digital equivalent of a conversation; this is where ideas can be easily and freely are exchanged, discussions take place or tidbits of information are shared. Conversations encourage people to stay and interact with one another and they add context and richness to the content stored and collaborated on within a portal.
Microblog posts from your My Site Newsfeed:
Create a post with #hashtags and an image: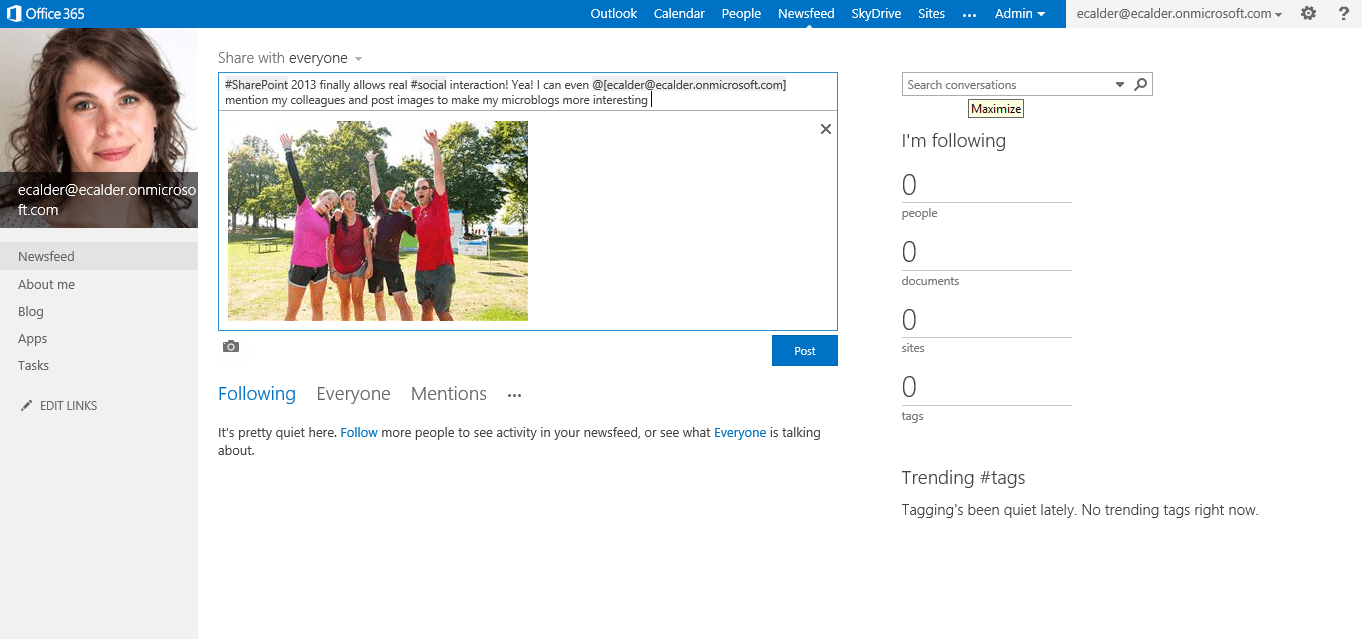 Post your microblog (#hashtags and @mentions are bolded in the microblog and they are clickable):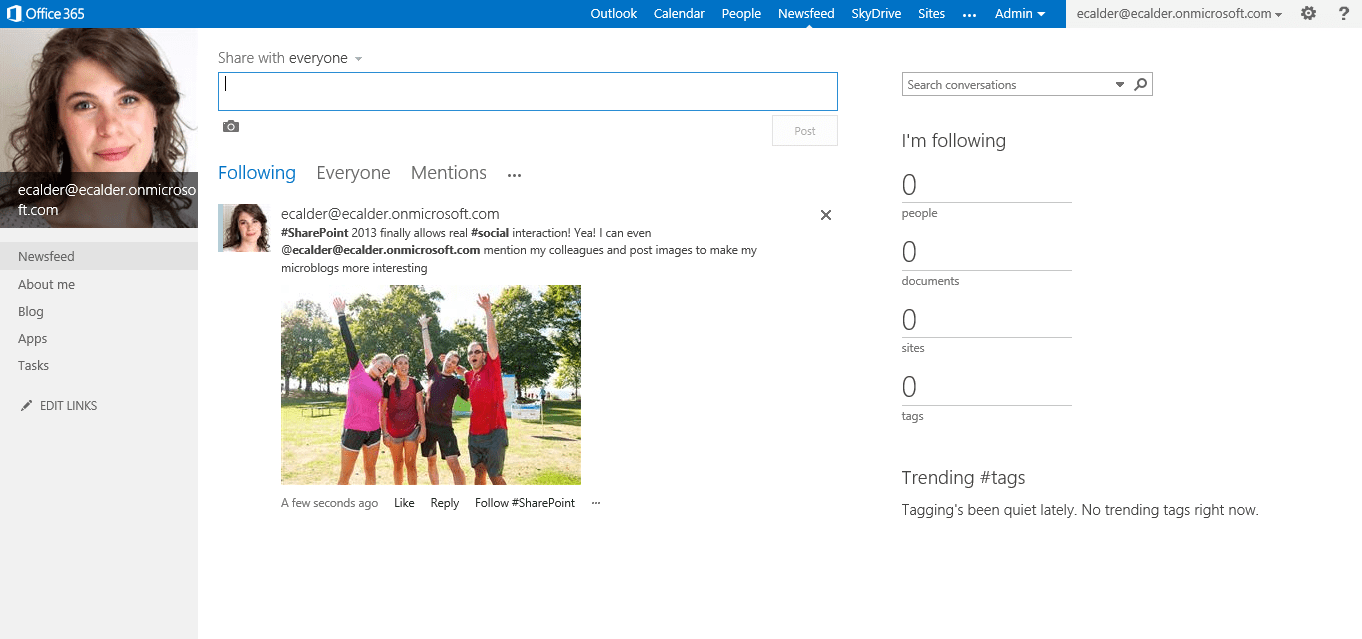 Add links to your microblogs (SharePoint 2013 lets you quickly change the text display!)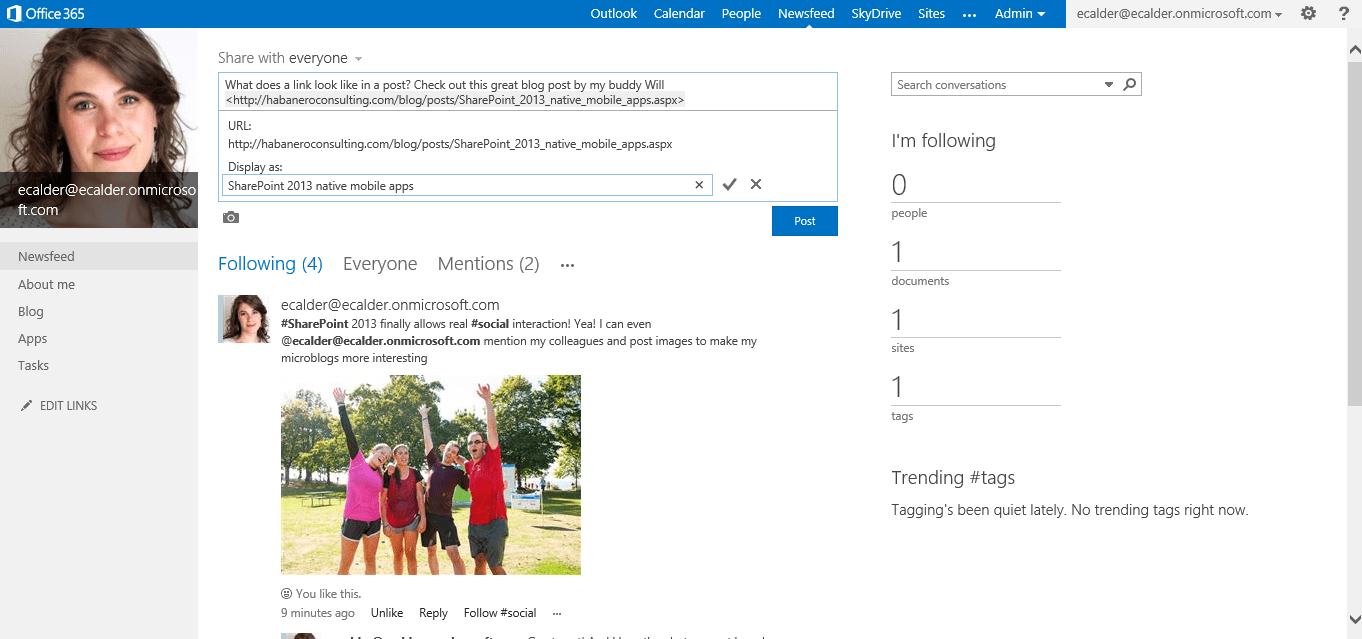 Post your microblog (notice how the link shows up in a different colour):
Add a video to your microblog (not as easy as the one touch camera button; you have to insert a link to the video, but SharePoint recognizes that it's a video and adds the thumbnail automatically!):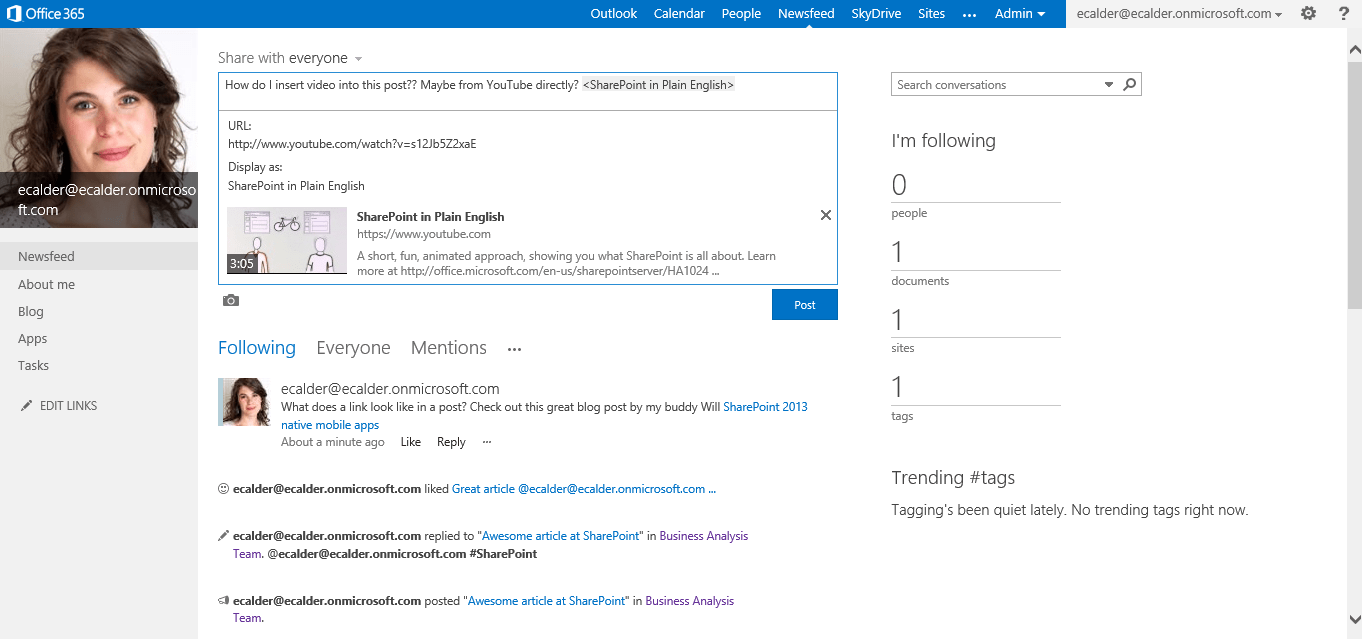 Add a document to your microblog (not as easy as the one touch camera button; you have to insert a link to the document, but SharePoint recognizes that it's an Office document and adds the thumbnail automatically!):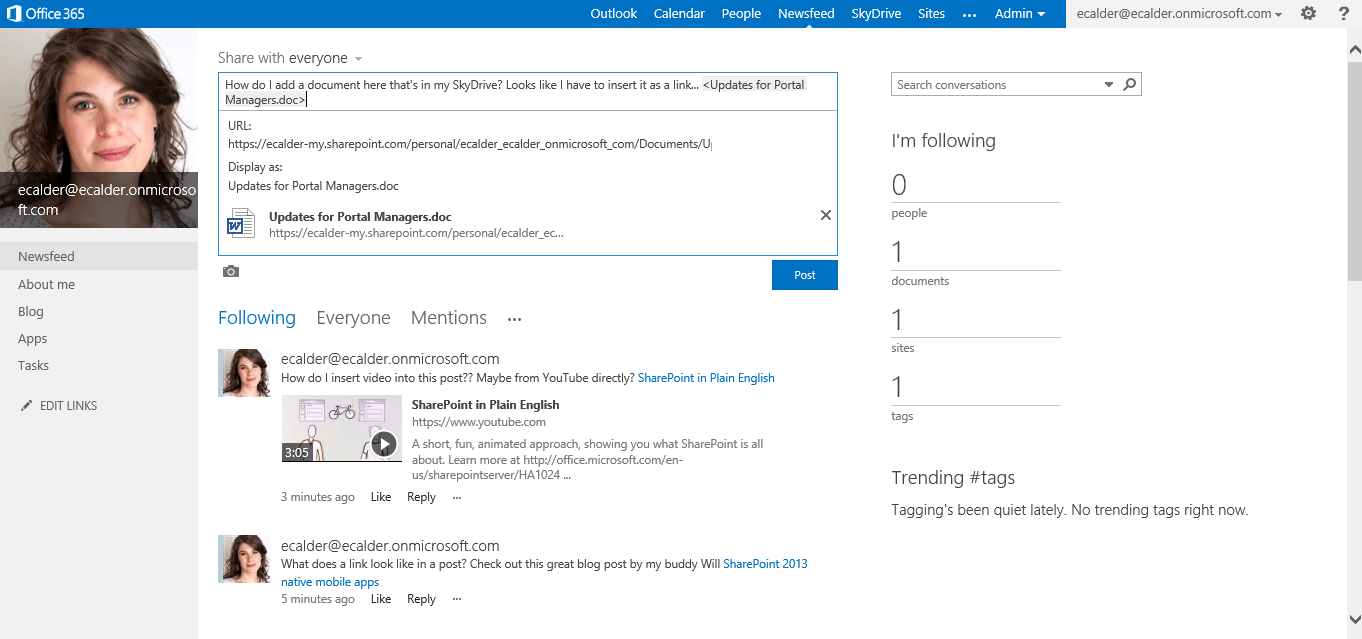 Like a microblog by clicking "Like" (it's that easy) and reply to a microblog by clicking "Reply" and typing into the post box (you're essentially creating a new microblog that's threaded):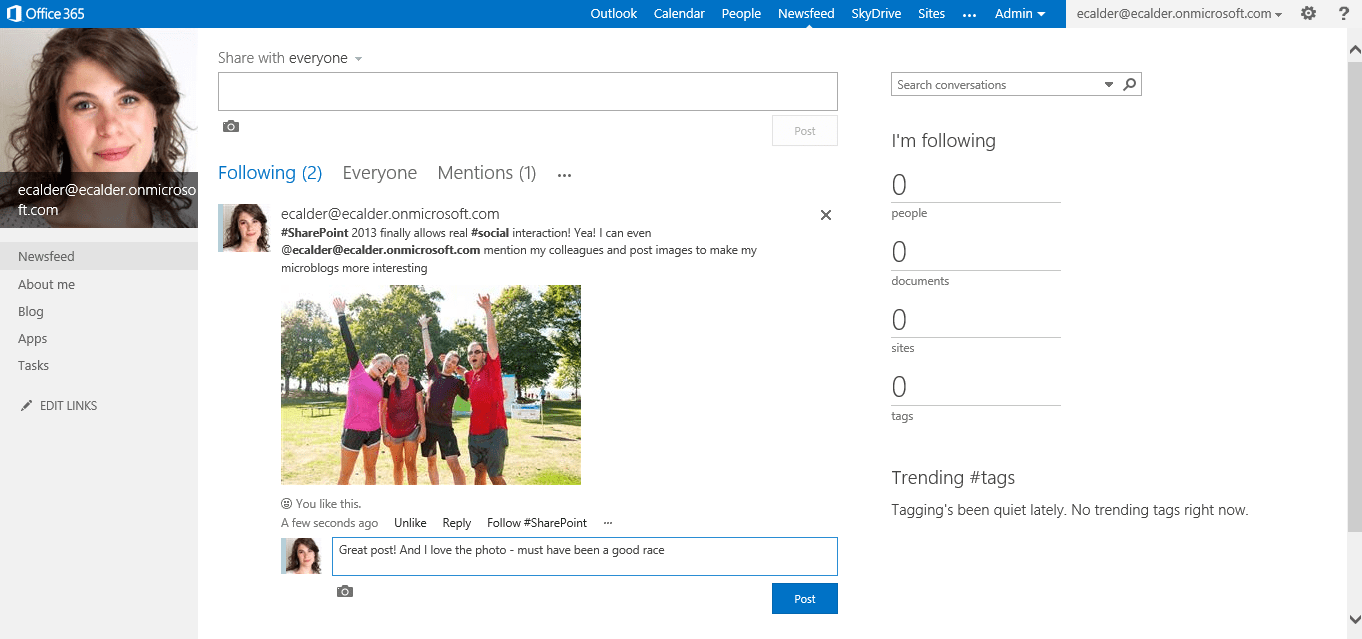 Mark a microblog for follow-up so that you can reply to it later: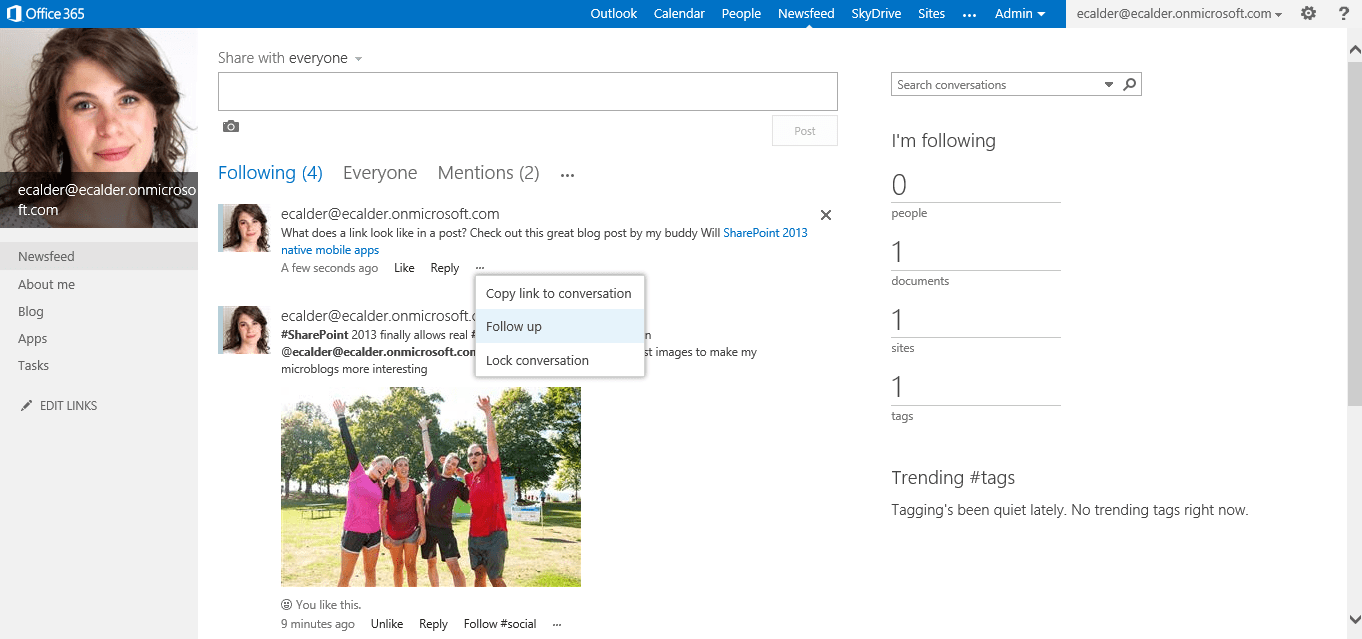 Newsfeeds
Newsfeeds display the most recent microblogs and activities (interactions with specific entities within SharePoint) to users; they are what pulls everything together. Newsfeeds are generically known as activity streams. SharePoint 2013 has activity streams that are actually useful to users compared to SharePoint 2010. SharePoint 2013's activity streams show you all of the recent activities performed on the portal, as well as allowing you to interact with microblogs you see in your activity streams.
In SharePoint 2013, Newsfeeds are built into SharePoint's signature Team Site templates, as well as a user's My Sites. Team Sites have one Newsfeed which contains only one activity stream: all microblogs directed at the site sorted in reverse chronological order. My Sites have one Newsfeed which contains five activity streams out-of-the-box: Following (activities from people, documents, sites, or tags that you follow), Everyone (activities taking place on the portal that everyone has access to view), Mentions (when you are @ mentioned in a microblog), Activities (activities of the user's Newsfeed that you are currently on), and Likes (activities that have been liked by the user's Newsfeed that you are currently on).
My Site Newsfeed Following activity stream (users can follow people, documents, sites or tags by selecting the item and clicking Follow in the ribbon):
My Site Newsfeed Everyone activity stream (activities that are shared with the entire organization; users can choose what activities of theirs are shared and with whom):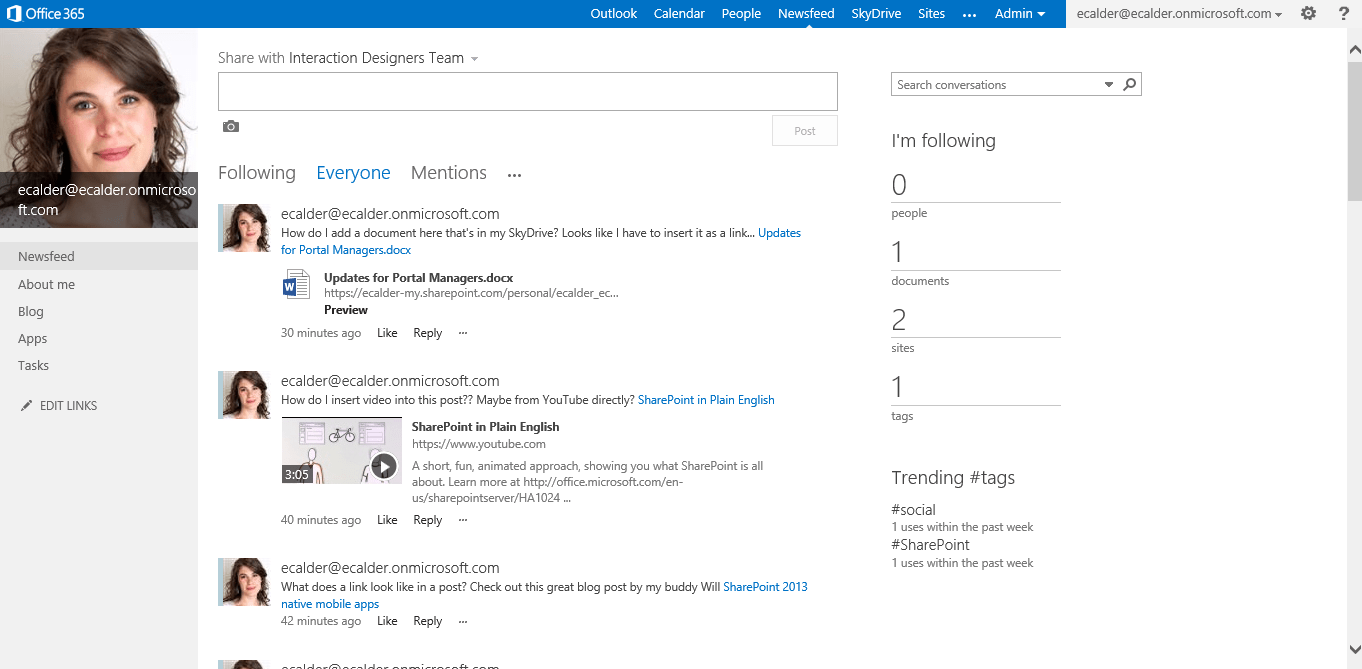 My Site Newsfeed settings (you can control what you share and with whom):
My Site Newsfeed Mentions activity stream (microblogs where you (or the user's My Site that you are on) are @ mentioned):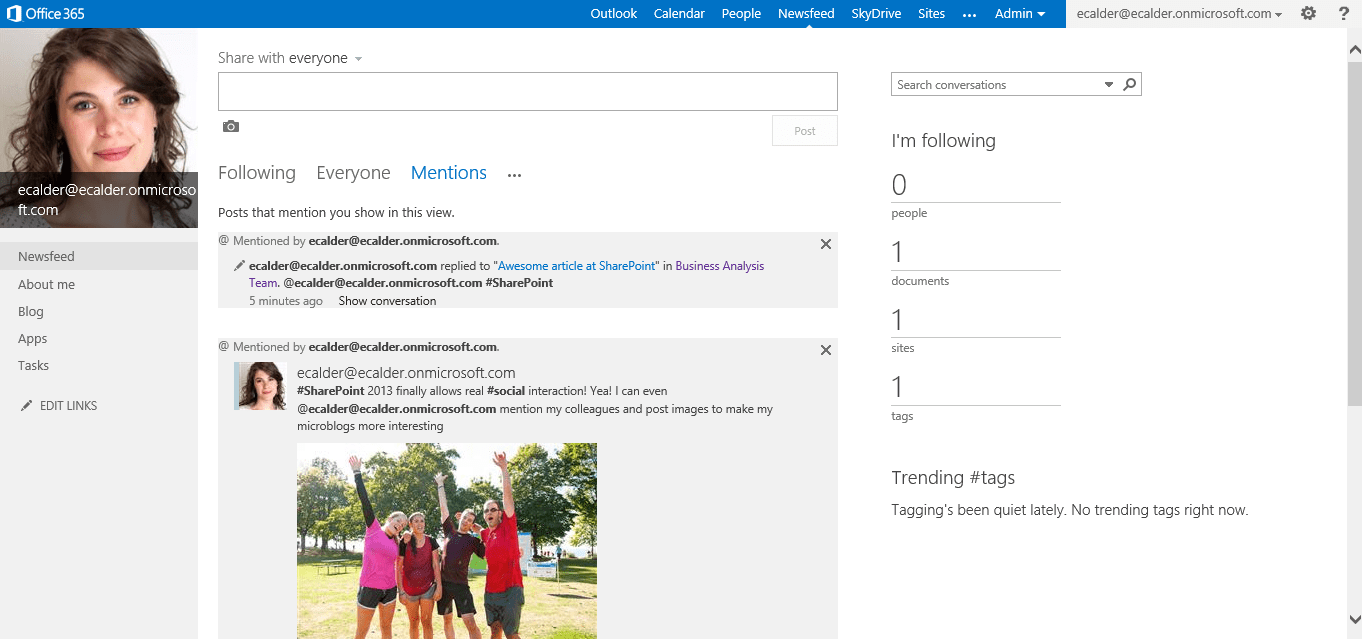 My Site Newsfeed Activities and Likes activity streams: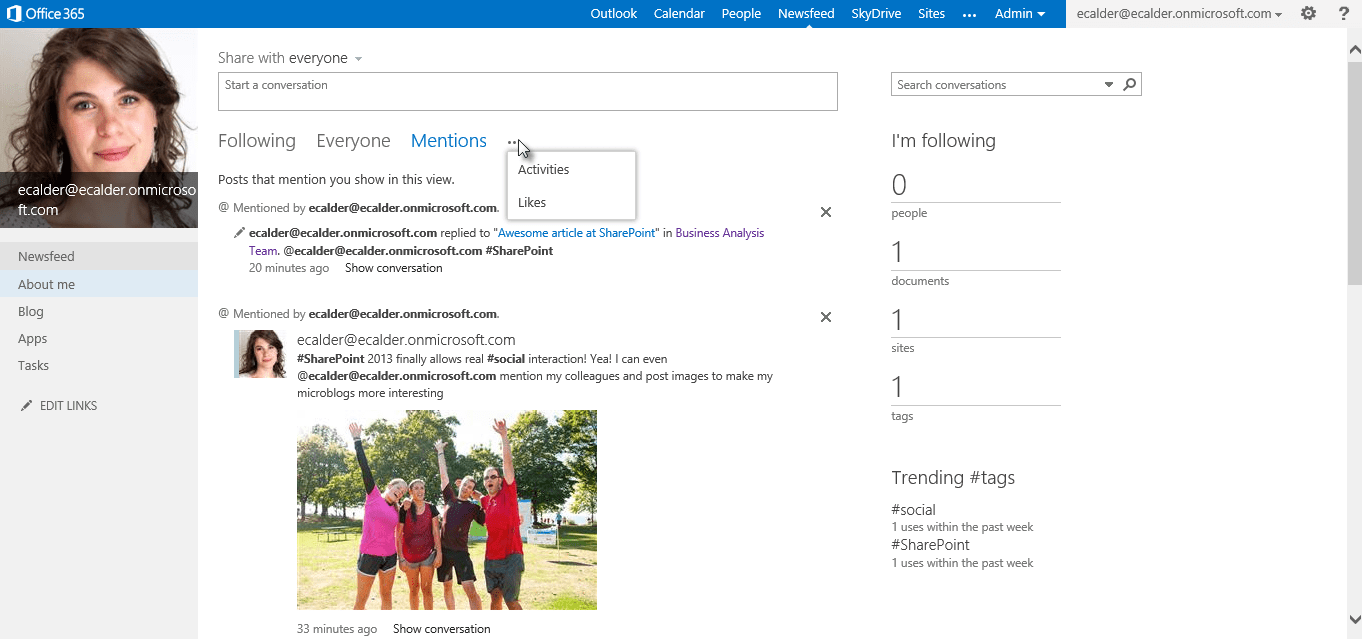 Microblogs with videos (the video is automatically embedded into your newsfeed and you can play it right from there!):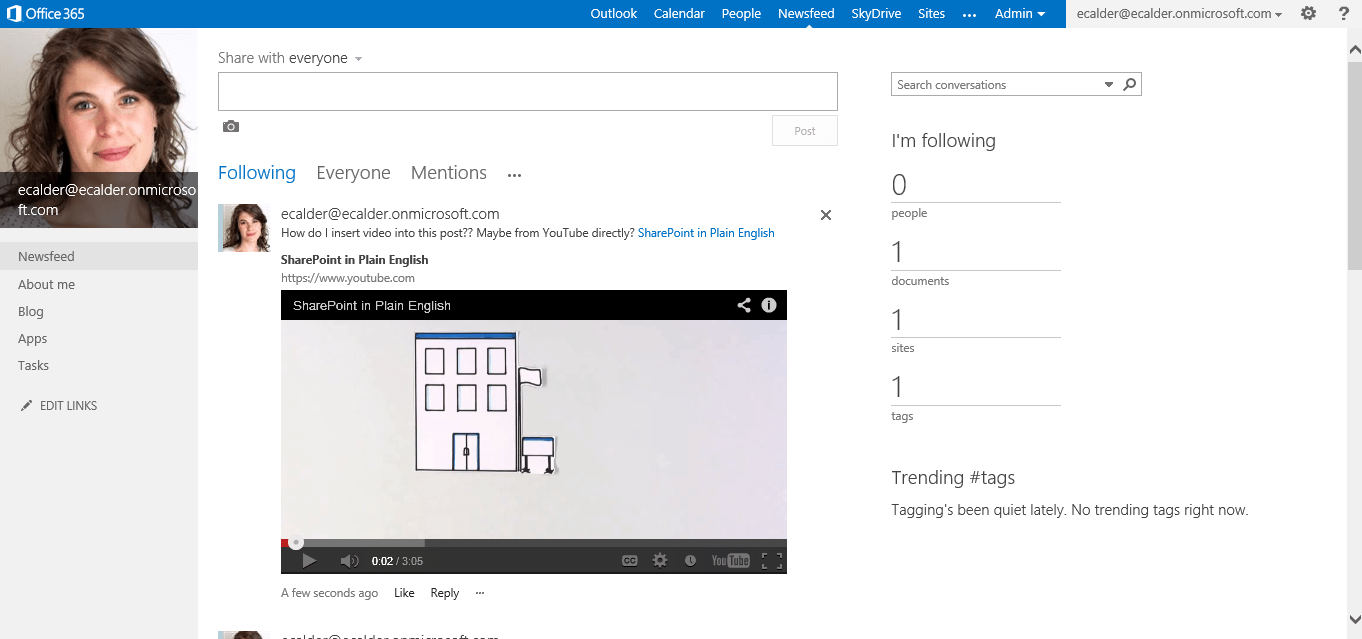 Microblogs with documents (the document is automatically embedded into your newsfeed and you can view it using Office Web Apps right from there!):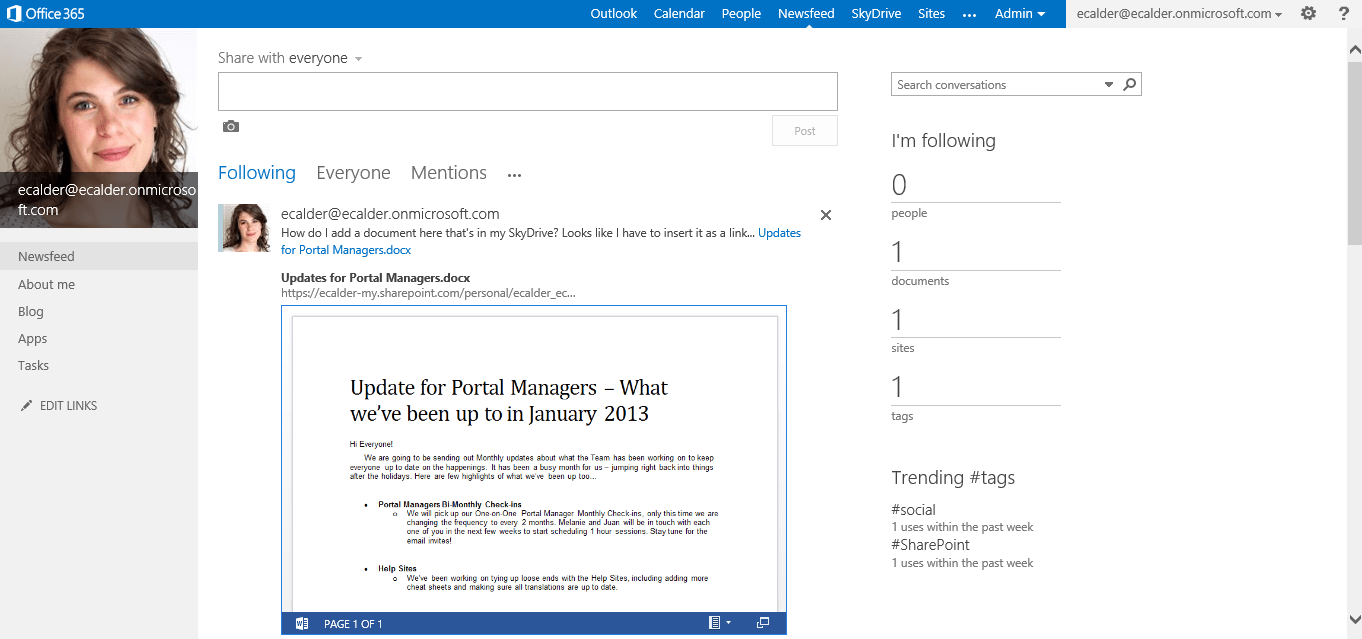 Team Site Newsfeed activity stream (automatically added to all team site homepages):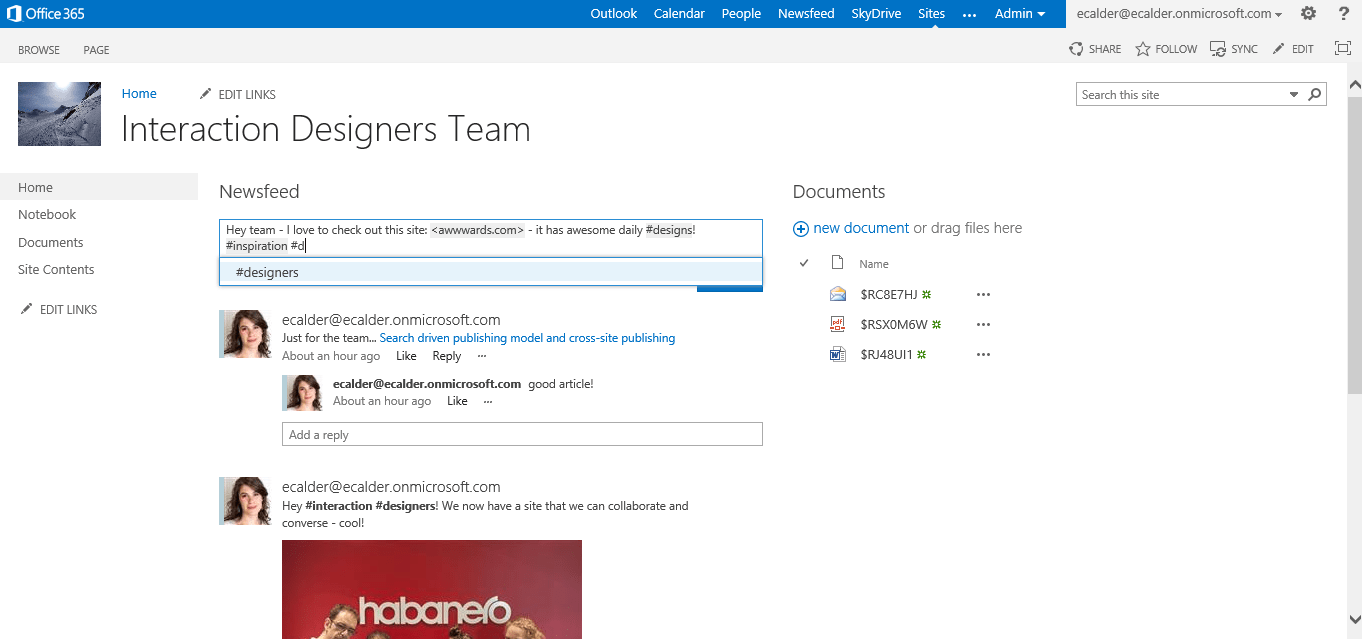 Team Site activities on your My Site Newsfeed (if you are following a site, you will see all activities posted to that site on your Newsfeed):
Post microblogs to sites that you follow (selected from the drop-down menu above the post box):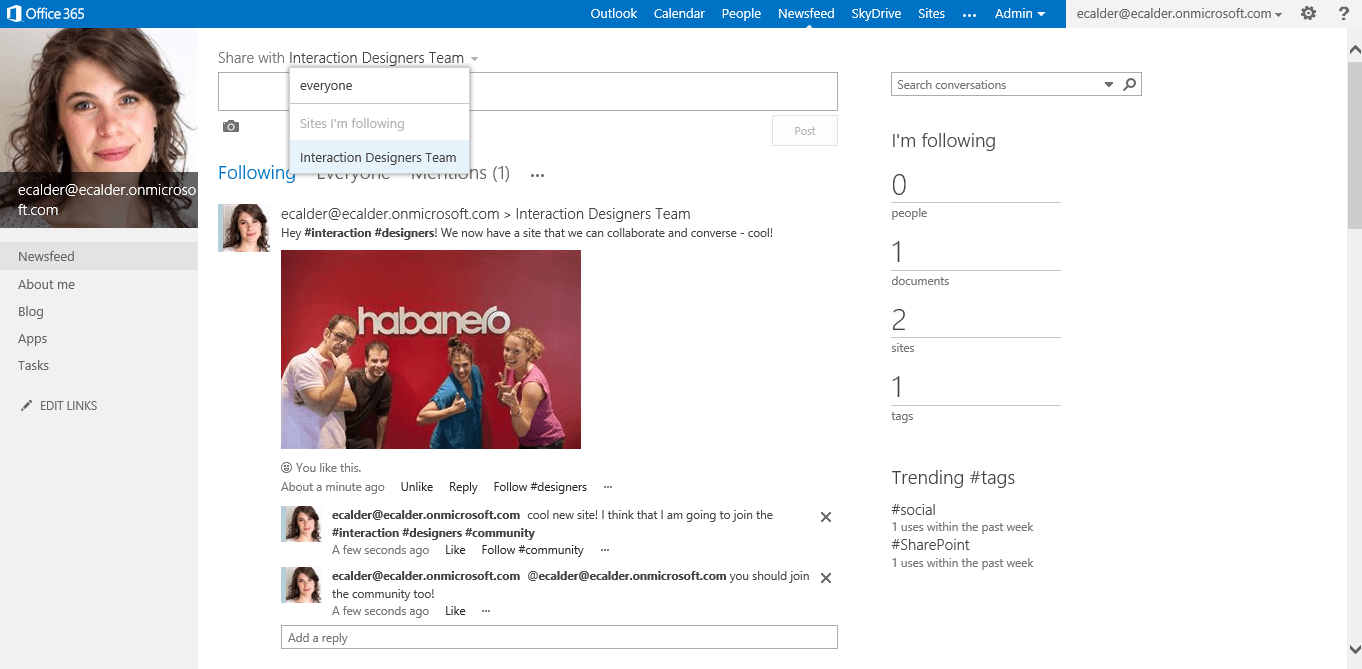 Other cool Newsfeed features (all designed to encourage users to discover and follow more activities):
Search conversations (all microblog posts)
Following stats (click on the number to see what specifically is being followed)
Trending hashtags (top hashtags being used on the portal)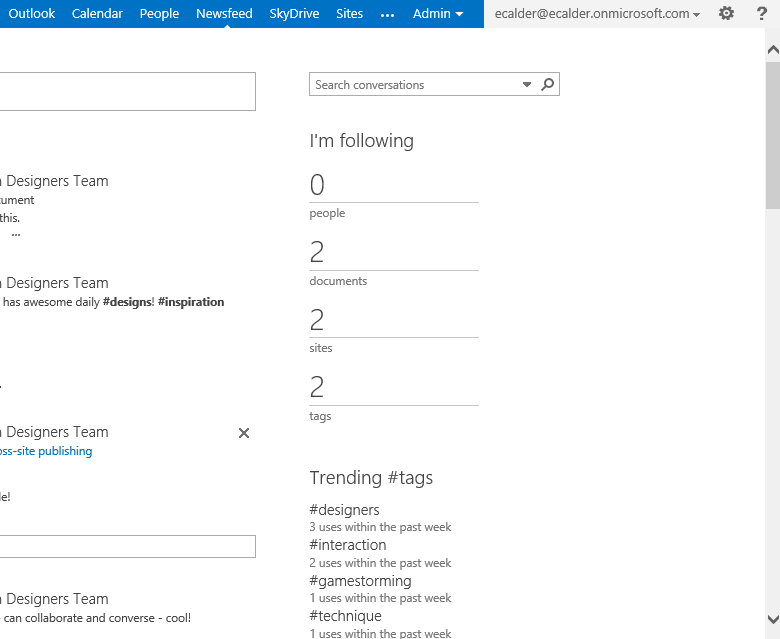 List of documents that you are following (what you see after clicking on the documents following stat on the right side of your Newsfeed):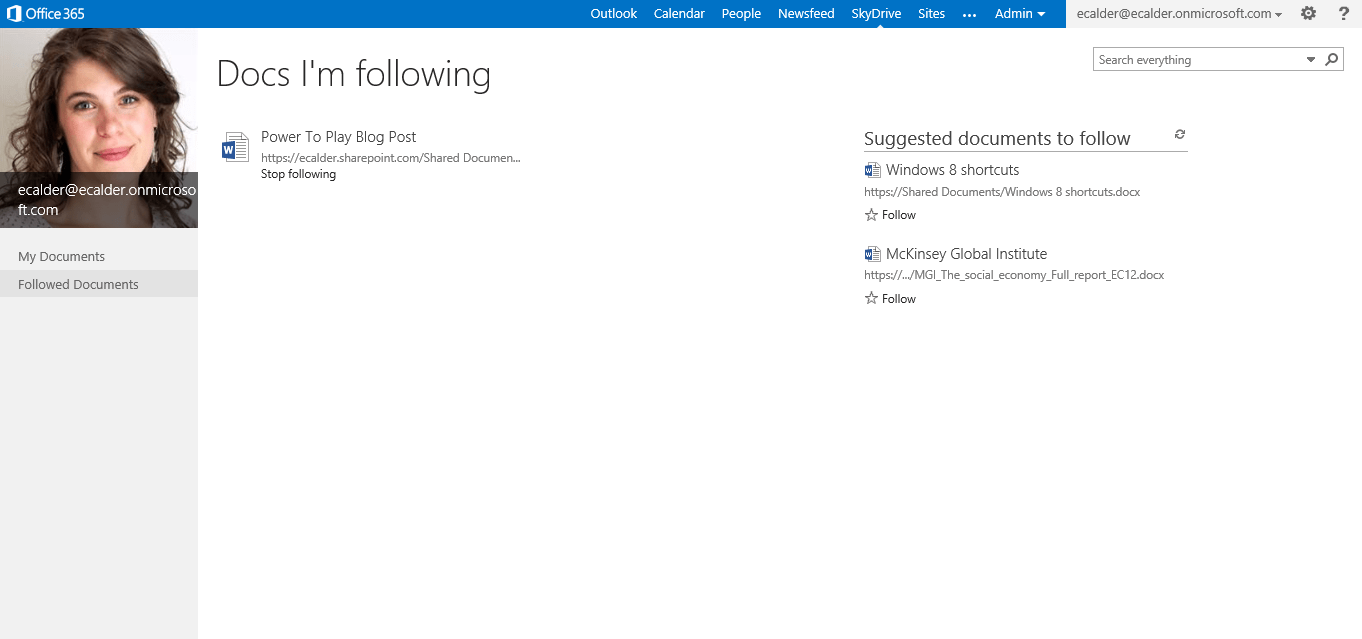 Tag search (shows conversations containing the hashtag — where you are taken after clicking on a hashtag contained in a microblog or in the trending hashtags area):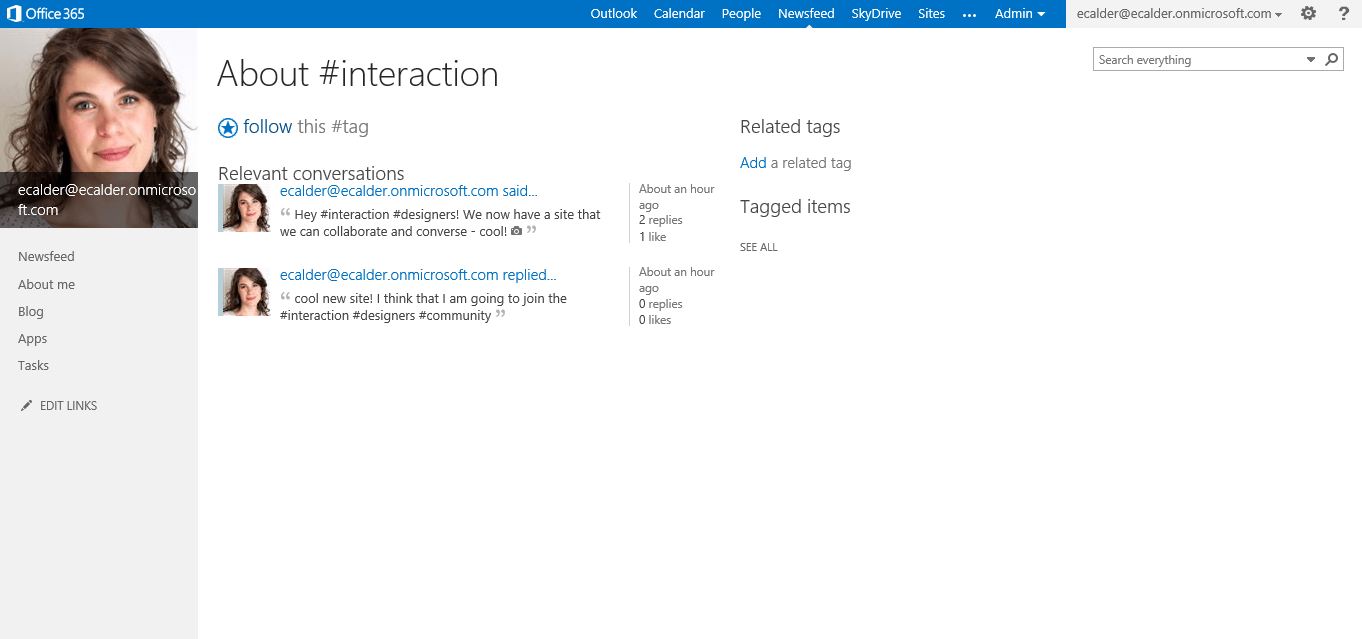 Limitations
A couple of gotchas ... SharePoint 2013 is WAY better that SharePoint 2010, but it's definitely not a full suite of social technology features. This is in no way a complete list; it's just what I noticed initially:
You can't @ mention sites – only users – you have to either post a microblog from a site, or choose from sites that you are following from the Share With menu option at the top of your My Site Newsfeed.
You can't easily insert videos or documents into your microblog posts like with photos; you have to add them as links (meaning they exist elsewhere already).
You can only interact with an activity that originated as a microblog (either on a My Site Newsfeed or a Team Site Newsfeed) — you can't like or reply to an activity that is a notification (i.e., a document that you are following is edited, or a colleague that you are following starts following a site or liked a post).
You can't see what changes are made to documents that you are following – only that they were modified – and you can't preview the document in your Newsfeed.
You can't send private messages using Newsfeeds or microblogging – Team Site Newsfeeds are restricted to those that have at least read access – you'll have to continue to use email for private messages.
You can't create custom activity streams: you can't tailor activity streams based on specific tags, users, or anything else. Everything that you follow shows up in one activity stream in reverse chronological ordering with no filtering available.
Document thumbnails and previews are only available for Office documents (when linked in a microblog post).
Notification of changes to documents on a Team Site (or any other list or library item on the site) do not show up on the site's Newsfeed – notifications of changes to documents that you are following will show up in your My Site Newsfeed – following a Team Site will not also automatically follow all of its documents for you.