In order to create an exceptional experience we need to engage users and stakeholders throughout a project. There are many tools and techniques that we use, from interviews to usability testing. I thought I would take you through one of the tools in our toolbox — the participatory design workshop.
Each workshop we conduct is customized, based on the goals of the project, unique circumstances and participants. For example, when I was working with a group of users to better understand the way they work in teams we asked them to design a website page that would help their team better accomplish their goals. Because this SharePoint collaboration portal was to be 'out of the box' with little custom development we were able to provide the users with a representative Web Parts to get them started.
The session began with introductions, the six participants were asked to introduce themselves to the group and describe what they do, who they work with, how they currently accomplish their day-to-day tasks and communicate with others.
For the activity we asked participants to think of an existing or past team/project as it would help them consider the business processes involved and specific team challenges. We then provided them with sketches of an empty browser page, pre-cut sketched tools (Web Parts) and the following instructions:
Designing SharePoint Collaboration Templates
"The year is 2011 and Company xvz has a new system for communicating, creating, sharing and storing information.
Think about your team, how you would like to be able to work with them. We have provided you with a variety of tools that can choose from to make your work-day more effective. This is not an exhaustive set of tools and are provided to get you thinking about what is possible, if there is some other ability or need that is not represented – flip over one of the web parts and design something new!
Once you have all of the pieces you think you would need arrange them on the page."
select your Web Parts
add anything that is missing
arrange them on the page according to priority
detail titles such as libraries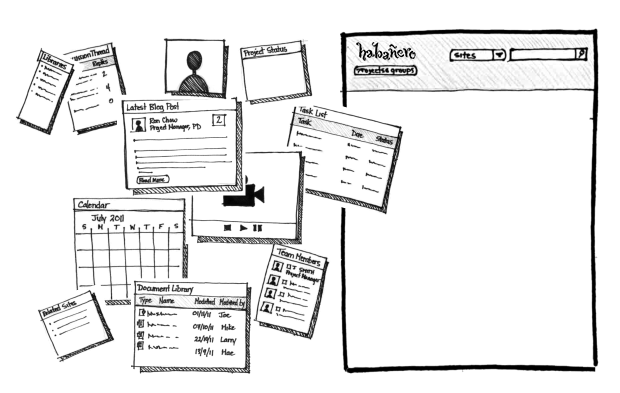 Design time
Workshop participants had 40 minutes to put together a page that would help their team work together more effectively. As facilitators we were able to talk to the participants one-on-one. To find out more about their particular team and encourage them to put as much information down on the paper as possible.
Design collaboration
After taping all of the pieces to the page each participant described their team and the tool they envisioned to help them better achieve their goals to the rest of the group. This was a great way to engage discussion. Participants could see how someone else solved similar needs and discuss multiple and different applications of a similar tool.
Tell us more
After a discussing each of the designs, we asked the participants to detail their designs, add the functionality they liked in other designs to theirs and provide additional information about the team and its purpose/goals and challenges.
The little things that helped make this an effective workshop:
1. Sketches
The sketches were a big hit, they were approachable, and participants weren't afraid to scratch things out, add titles, or move them around. They didn't have to commit to anything until they tapped them onto the page at the end.
2. We gave everyone multiple pages
Although most people didn't use more than one sheet it took the pressure away from getting started. If they goofed they could always start again.
3. Use permanent ink
We only provided ink pens, this way participants didn't get caught up in the details and we could see their thought process (what was crossed out and rethought) which provided a great discussion point? and fun!
The technique worked so well we've added it to our workshop toolbox!