The Happiness Project is an experiment the UE team started a couple of months ago to inspire something different within ourselves, our company, and our community. Apparently, we don't shy away from ambitious projects! We started this because we don't get to work together that often, and we wanted to bust out a little from our traditional projects. The happiness project ended up as a web application in the end (more about that in Part 2 of this blog post), but I want to share a bit of the journey first.
Brainstorm
One of the first things we did was brainstorm things that bugged us, things we had observed or issues we felt an emotional connection to. It was a blue-sky session where we threw out ideas from addressing minor annoyances like slow-walkers on the street and disposable coffee cups to addressing larger issues such as helping the Covenant House or the YWCA.
What surfaced was very interesting. Every one of us had an underlying desire to feel happier in our day to day lives, spread happiness to others, and to try to measure feelings of others. After much work refining this idea, the Happiness Project was born.
Refine and focus
Our next struggle was to refine this broad idea into something we could visualize on screen, fit in the next 2-3 months, balance with the rest of our client project work, and see a tangible result before too long. There were lots of constraints already! However, to help us focus we established our mission statement for the experiment:
"To capture feelings, good or bad, and visualize them in a way to help people identify the root causes of a geographical area's overall happiness level. From this increased awareness we hope to create a stronger sense of unity, promote social responsibility, and inject some additional happiness into people's lives."
Sketch and prototype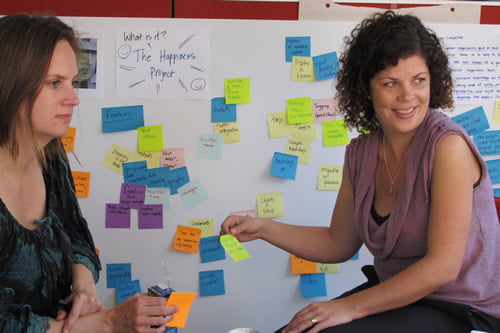 We rallied around this statement, and started sketching and brainstorming in earnest. We sketched different ways to indicate your mood online, brainstormed how to capture a specific location's mood, and tried to work out data visualizations that compile feelings into, say, a nature scene.
However, we came back to the hard reality of resourcing and time. We had our day jobs to think of, and we knew we could not tackle a huge project right away.
We started paring back our concepts, and Nick graciously offered to start prototyping an early idea that visually showed moods through photos. We also started collecting real world data (i.e. people's thoughts and feelings from around the company) to test out the prototype. I believe in prototyping as much as possible, and the prototype we developed helped us focus our ideas and build momentum around a solid, yet simple, concept.
We are almost ready to release our first project beta, which I will share in a future blog post, but I hope you find the initial journey of this experiment almost as fascinating as the destination!