Like many people headed to the 2014 SharePoint Conference, I was anticipating an update on the enterprise social roadmap. I wanted to see exactly how far Microsoft has gone to integrate Yammer functionality into SharePoint and across the broader Office stack. I had fairly high expectations that I would see good progress. For the most part, I wasn't disappointed.
At an initial glance, you'll soon notice some subtle but useful changes aimed at improving the user experience, including a shared Office 365 header bar which persists as you navigate from a SharePoint site to Yammer feed. Microsoft has also been working in the background to make authorization easier for Office 365 users within Yammer.

This builds upon the initial integration points between Yammer and SharePoint, the Yammer App Part, which has been available for some time.
There were three new substantial capabilities introduced at the conference. It's worth noting that all of these capabilities are not strictly related to SharePoint integration, but rather across the entire Office 365 service. Most of these concepts will become available in production tenants this summer. If you are asking 'What about on premise?', we'll touch on this at the end.
Inline social
Inline social is all about bringing Yammer conversations directly into the contextual setting of Office applications people are familiar with such as Word, PowerPoint, and Excel. Conversations about the subject matter of the document are now visible directly within the application window itself, as opposed to the author(s) having to post the document to Yammer (either by uploading directly or through SharePoint) and consuming the discussions in a separate browser.
The Yammer conversations are displayed to the right of the document content by selecting a new option in the application menu ribbon. The screenshot below shows what the experience looks like in PowerPoint. At first glance, it appears to be fairly intuitive.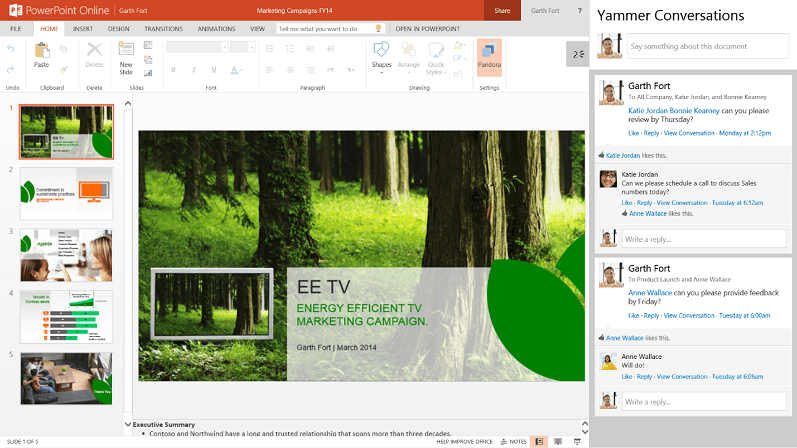 As is the case with many of the new features, it is worth noting this inline social functionality is only available in Office Online. Documents would reside either in SharePoint Online or a shared OneDrive location.
Groups
We've always had collaboration team sites in SharePoint that provide a shared workspace for documents, calendars, and general knowledge sharing. In a similar way, 'groups' is a concept championed by Yammer as the primary means to segment organizational newsfeeds into specific topic areas of interest, giving focus to discussions people can follow.
These two concepts are now moving even closer together as Microsoft introduces the groups concept across all of Office 365. Microsoft's goal is to unify people, profiles, conversations, email, calendars, and files across the entire set of Office 365 applications including SharePoint Online, Yammer, OneDrive, Exchange Online, and Office Online. This will one day likely include Lync and Skype.
By creating a new group anywhere in the Office 365 suite, it will automatically provision a corresponding inbox, social group feed, shared calendar, and document library – essentially a combined team site and Yammer experience. This is encouraging as it takes away from the current overlap in SharePoint and Yammer capabilities and will hopefully will draw on the relative strengths of each platform (document management, newsfeeds, etc.).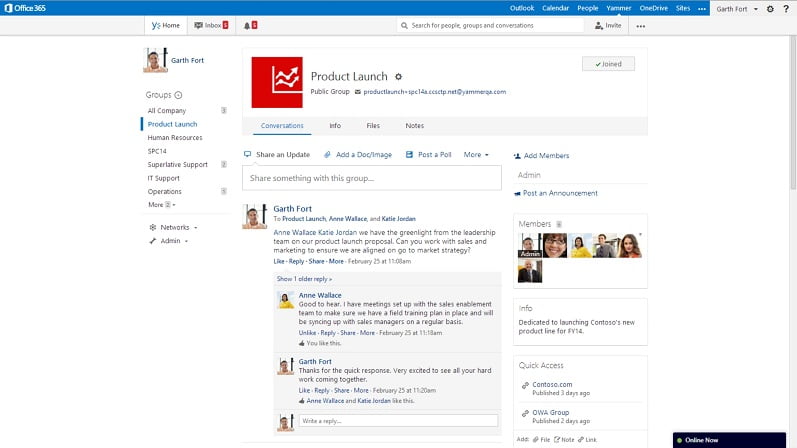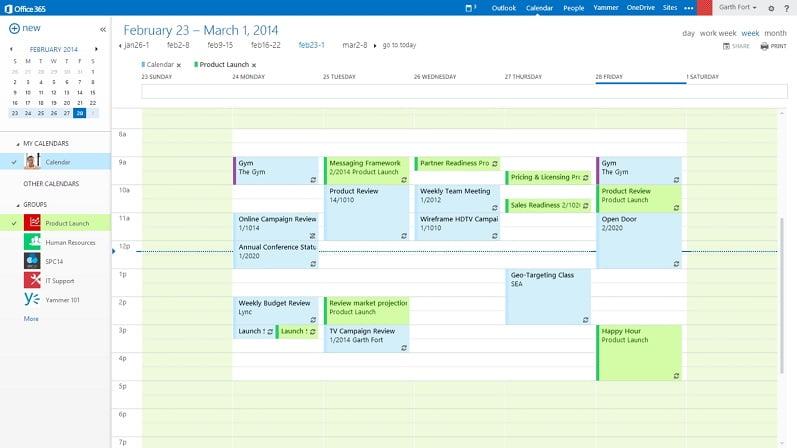 Encouraging organizations to jump on the enterprise social mindset has been challenging. Presumably to encourage adoption by those who are reluctant to leave their email inbox, the same conversation will be displayed in both the group's Yammer newsfeed and inbox, allowing users the choice in where they interact with the discussion.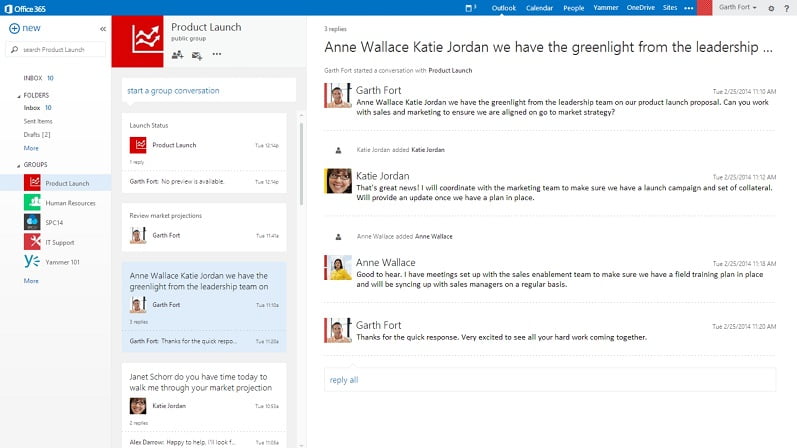 There are still quite a few questions left to answer when it comes to this new groups concept, especially around governance. The general direction, however, seems positive.
Office Graph
Consumer social leaders such Facebook and LinkedIn place supreme importance on the social graph and mining the data within via analytics to drive intelligent connections throughout their user networks.
Likewise, Yammer introduced the concept of the enterprise graph as a central way to allow companies to stay connected and work like a network.
Building on that concept, Microsoft is combining big data analysis, enterprise social interactions, and search through what is being referred to as the Office Graph. The idea is that Office Graph will learn what interests you by building intelligence through capturing what they refer to as "signals." These signals are gathered from email, social conversations, documents, sites, instant messages, and meetings to map the relationships, patterns, and trends within. This yields a profile of what interests or should be relevant to you.
Who do you chat with on Lync? Who do you exchange email threads? What documents do you share in SharePoint and who do you share them with? Who do you follow on your Yammer network? All this data influences a truly personalized experience served up to you via Office Graph.
This is certainly big picture thinking, but it is refreshing to see Microsoft pushing boundaries with ideas such as this. It certainly does have the potential to change the way in which knowledge workers consume and share information. The biggest question mark will be how well is it executed; which could really make or break this concept and it's widespread adoption in an enterprise setting.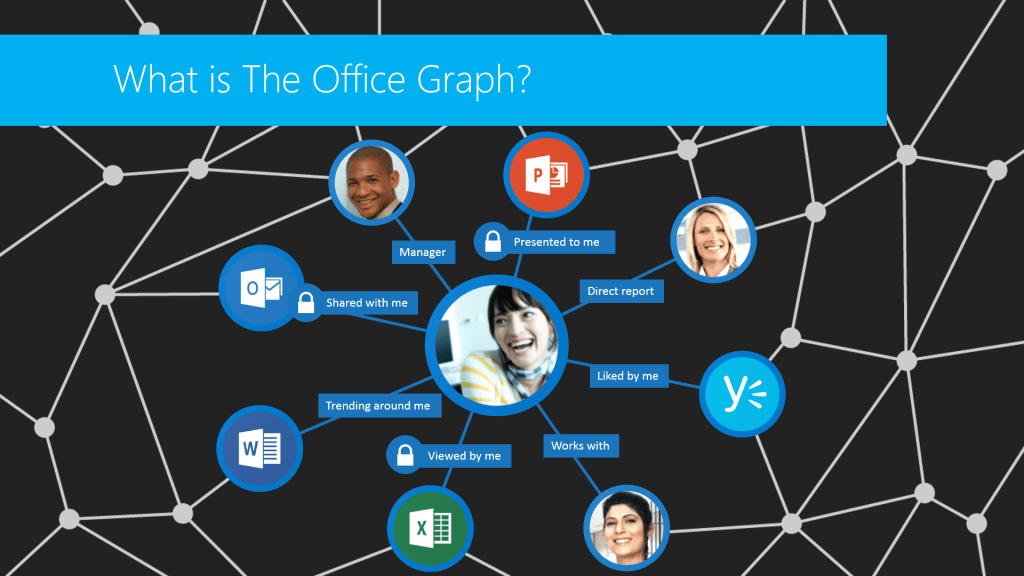 The first example of what is possible when you harness Office Graph capabilities is a project code-named Oslo. Oslo was a project developed by the FAST search team based in Norway, a team with no shortage of game changing ideas and ability to execute. Originally demoed as a Windows 8 app, Microsoft plans to also release an O365 browser based experience as well.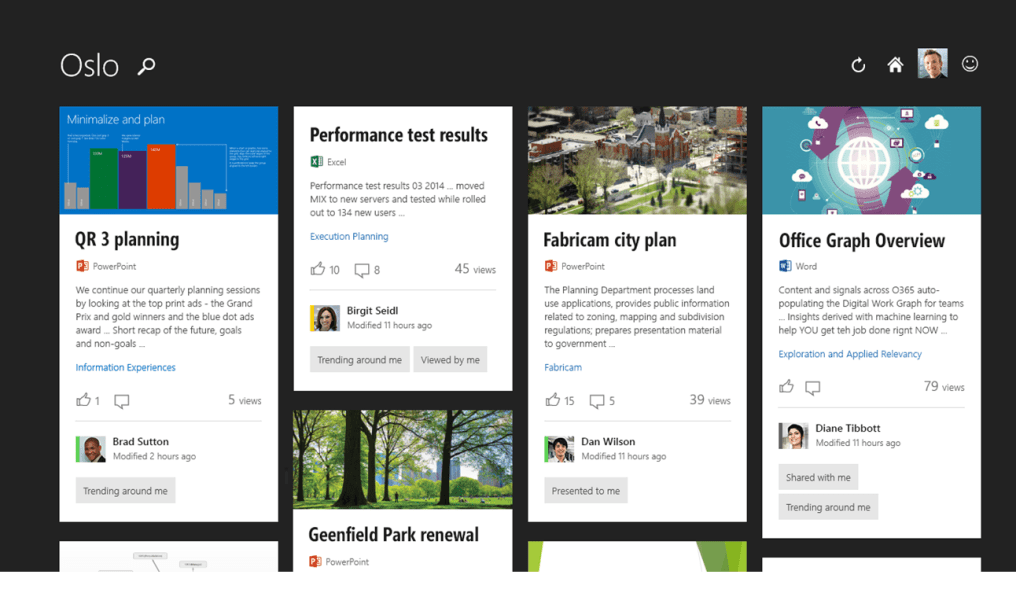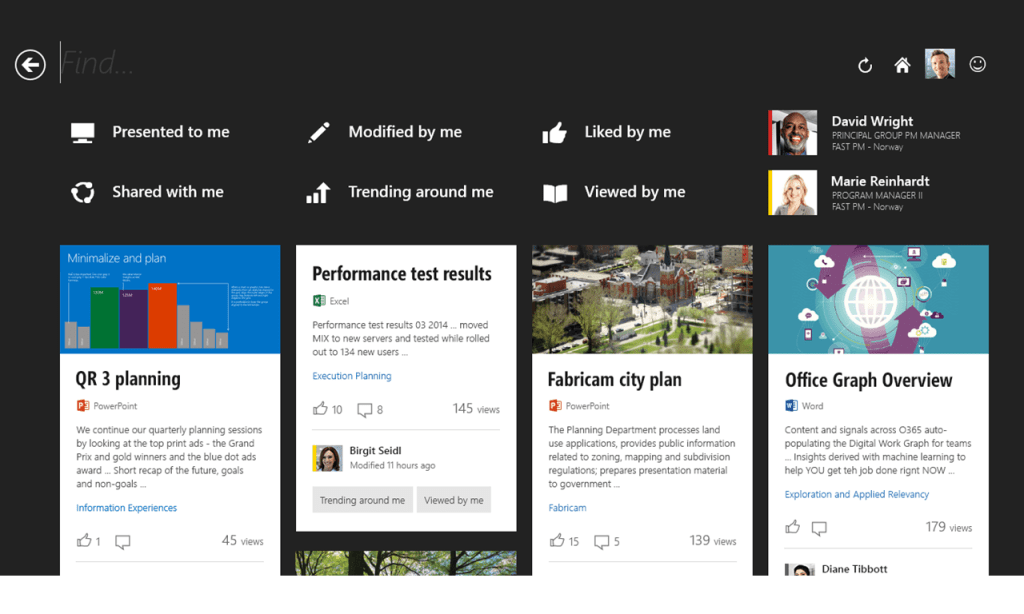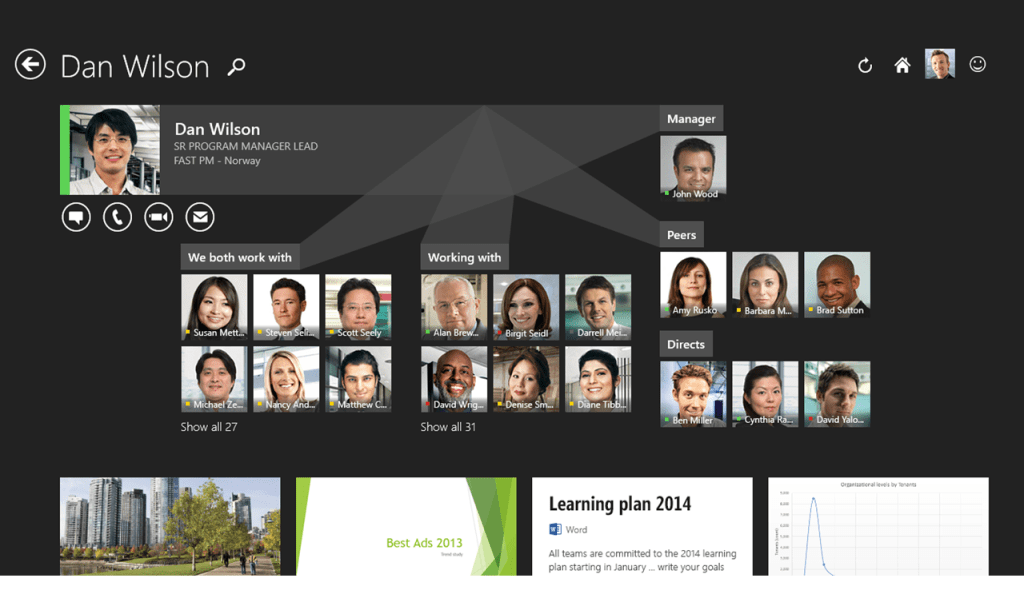 So what about SharePoint social?
At the last conference, the debate was in full swing – do we go with SharePoint social or Yammer? This year Microsoft made it clear the future of social is Yammer. There should be no longer any confusion as to Microsoft's intention, and frankly it can't come as any surprise as the writing has been on the wall for some time.
While SharePoint social will be maintained 'as-is' in the next version release of SharePoint On Premise (scheduled for some time next year), it won't be receiving any further investment in terms of new features.
This does not mean that opting for SharePoint On Premise prevents you from taking advantage of enterprise social features including Yammer. The recent release of Service Pack 1 for On Premise and the existing Yammer Apps allow on premise installations to hook into Yammer feeds in a straightforward manner. The only caveat is that Yammer data is and will always be in the cloud.
At a broader level, future social advances such as Inline Social and Office Graph are only available for Office 365. One can assume this will set the tone for future enhancements as well with Microsoft's cloud first mantra.