Steven, John Hitsman and I walked through and finalized our itinerary and racing logistics plan for the BC Bike Race yesterday. During yesterday's meeting, I realized that I didn't REALLY know the geography that we'd be riding and driving through, so I've mapped out the route on Bing Maps. I'm pretty excited to get the chance to check out the single track in these towns – awesome small-town BC places like Saltery Bay and Earls Cove among them.
Tomorrow we have a 10am race-briefing session — this will be last minute details and the start of the steady stream of logistics information that will surely flow through the race. The race starts tomorrow afternoon with a time-trial prologue on the North Shore (the ranking in this time trial will impact our start position on Sunday in Nanaimo when we start the first stage).
Our daily race postings will start tomorrow. So stay tuned!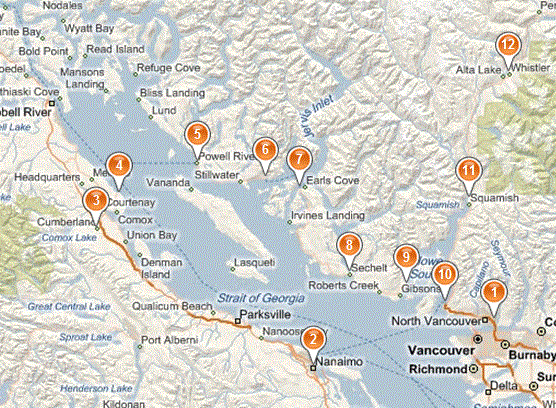 Steven and I in our racing glory! Photos from the MMX Test of Metal Race (June 19 in Squamish)