About ENMAX
ENMAX Corporation (ENMAX) through their subsidiaries, makes, moves, and markets electricity.
Through their predecessors, ENMAX has more than 100 years of experience delivering electricity to Calgarians, and more recently throughout Alberta.
ENMAX is headquartered in Calgary, Alberta and invests in communities throughout the province.
The Challenge
Improve customer care
In 2011, visits to enmax.com surpassed calls to the organization's customer care centre. At that time, the site was challenging to use, did not illustrate the entire spectrum of products and services offered, and did not convey the significant investment ENMAX makes in communities throughout Alberta.
Be easy to update and reflect the brand
Last updated in 2001, enmax.com was using an unsupported content management system, which made updates challenging. In addition, ENMAX was undertaking a corporate rebranding initiative that would require a number of updates to the website.
The Solution
Welcome to the new enmax.com
ENMAX engaged Habanero to create a new website and integrated customer portal for ENMAX. The new enmax.com truly reflects the ENMAX brand and solidifies the organization's reputation as one of the leaders in the utility industry.
The portal was implemented on the SharePoint 2013 platform. Unlike most discrete customer portals, leveraging a single platform ensured that customers could sign in to their account, discover the products and services available, and even learn about renewable initiatives, in one integrated environment without signing in and out. Integration with SAP ensures customers receive up-to-date, accurate information about their account.
Content authors are empowered to manage and update content throughout the portal and can upload photos and video to better share the ENMAX story.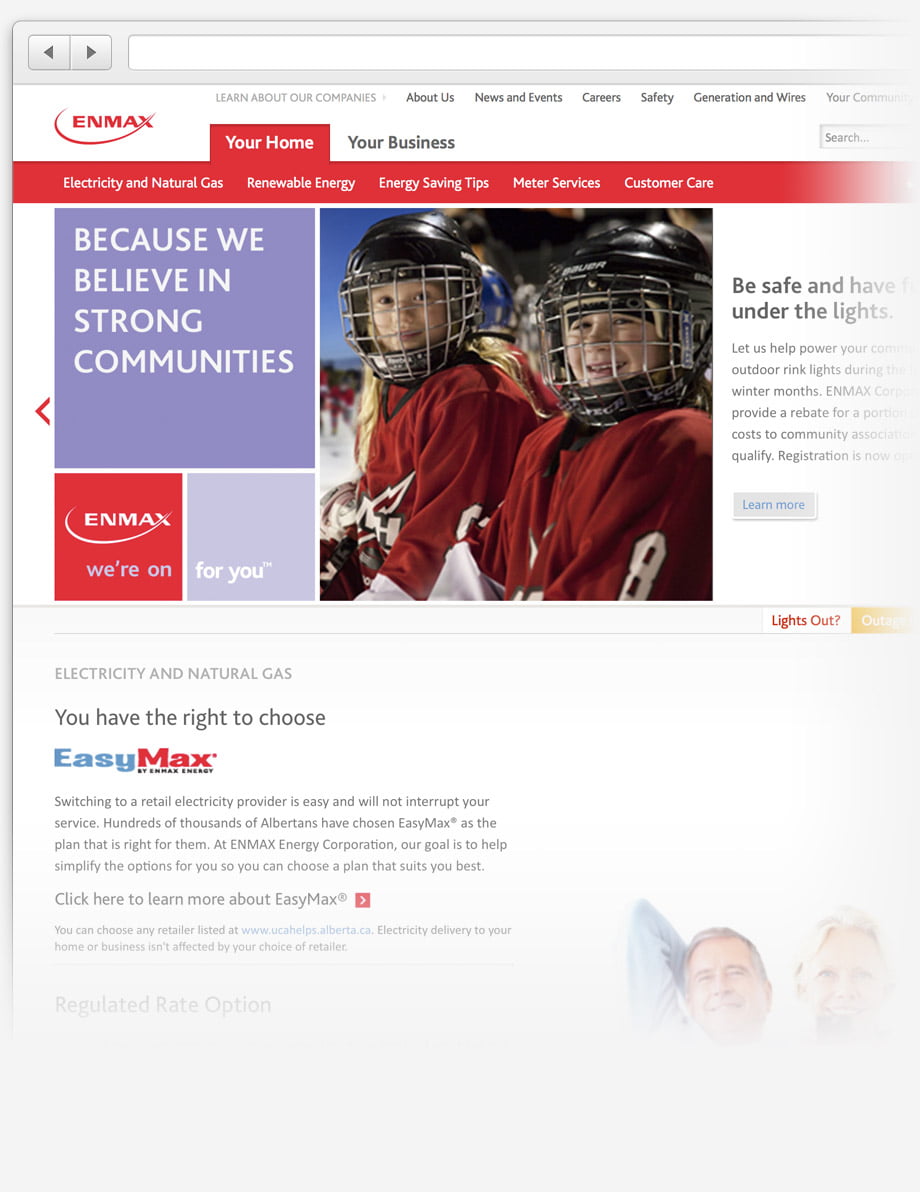 A modern experience
Habanero developed a modern experience that is simple to navigate on both traditional PCs and touch-based devices. The portal features longer touch-friendly pages, which reflect the brand, while providing information on the innovative products and services offered.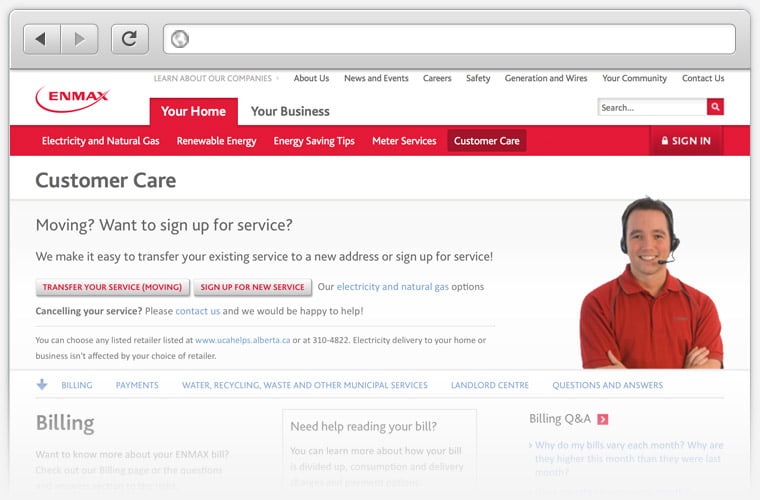 Customer care
Residential and commercial customers have a dedicated customer care area for self-service information. Visitors can learn more about the process of connecting, disconnecting, or moving service and questions and answers are provided for a wide-range of services.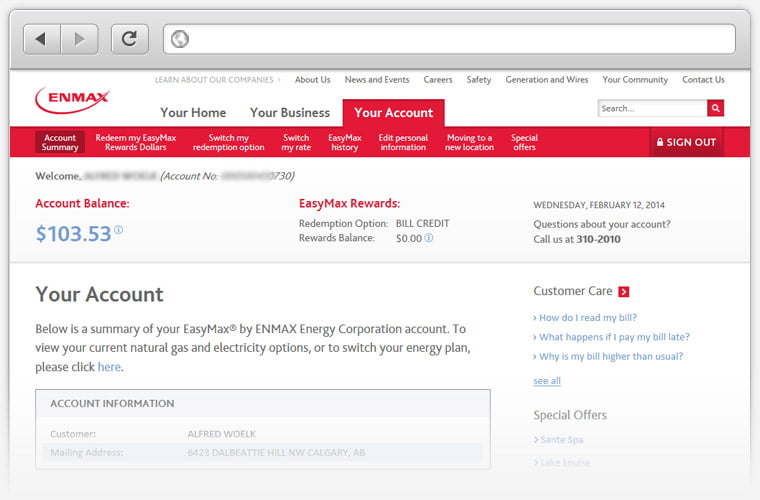 Self-serve happy
Full integration with SAP enables customers to sign in to view balances, modify their plans and services, manage their contact details, and redeem their EasyMax Rewards®, when applicable.
The Outcome
The new enmax.com has fulfilled its goal to better convey the organization's products and services, improve customer self-service, and better illustrate the ENMAX brand. Customer feedback on the new portal has been exceptionally positive, and ENMAX now has a secure, scalable platform that supports the addition of new products and services.
Additional benefits include:
The portal has underpinned a number of new brand initiatives since launch, which help to increase perception and loyalty.
Integrated outage information ensures that customers are kept apprised of any outages in their area, improving the customer experience.
A secure, integrated platform means that enmax.com can now support the inclusion of marketing campaigns within the self-serve area of the portal.
Habanero understands the utility industry in Alberta, our business, and our brand. The new enmax.com was delivered on time and on budget, but more importantly, it conveys how ENMAX is powering a brighter future for all Albertans.
Sonia Taylor Crichton, Manager, Brand Management