Facts About BC Ferries
Over 650,000
online reservations in 2012/2013.
59%
of all BC Ferries reservations are online.
Second
largest ferry service in the world.
The Challenge
Increase customer self-service
BC Ferries wanted to reduce the amount of traffic to their call centre, so the solution had to be easy-to-use for all customers.
Communicate travel itineraries
The new online reservation system had to deliver information as easily as possible to avoid confusion at ferry terminals.
The Solution
BC Ferries' new online reservation system
BC Ferries engaged Habanero to design a more effective online reservation system.
After completing extensive research and listening labs with commuters, tourists, businesses, and commercial travellers, Habanero recommended a simplified flow for online reservations. This new experience was the result of collaboration between BC Ferries' marketing, customer care, and information technology teams. Habanero created mockups that were implemented by BC Ferries' in-house team. Along the way, we ensured every aspect of the new online reservation system respected the limitations of BC Ferries' legacy back-end system.
The solution fulfills BC Ferries' goal to improve the online customer experience when booking and paying for trips.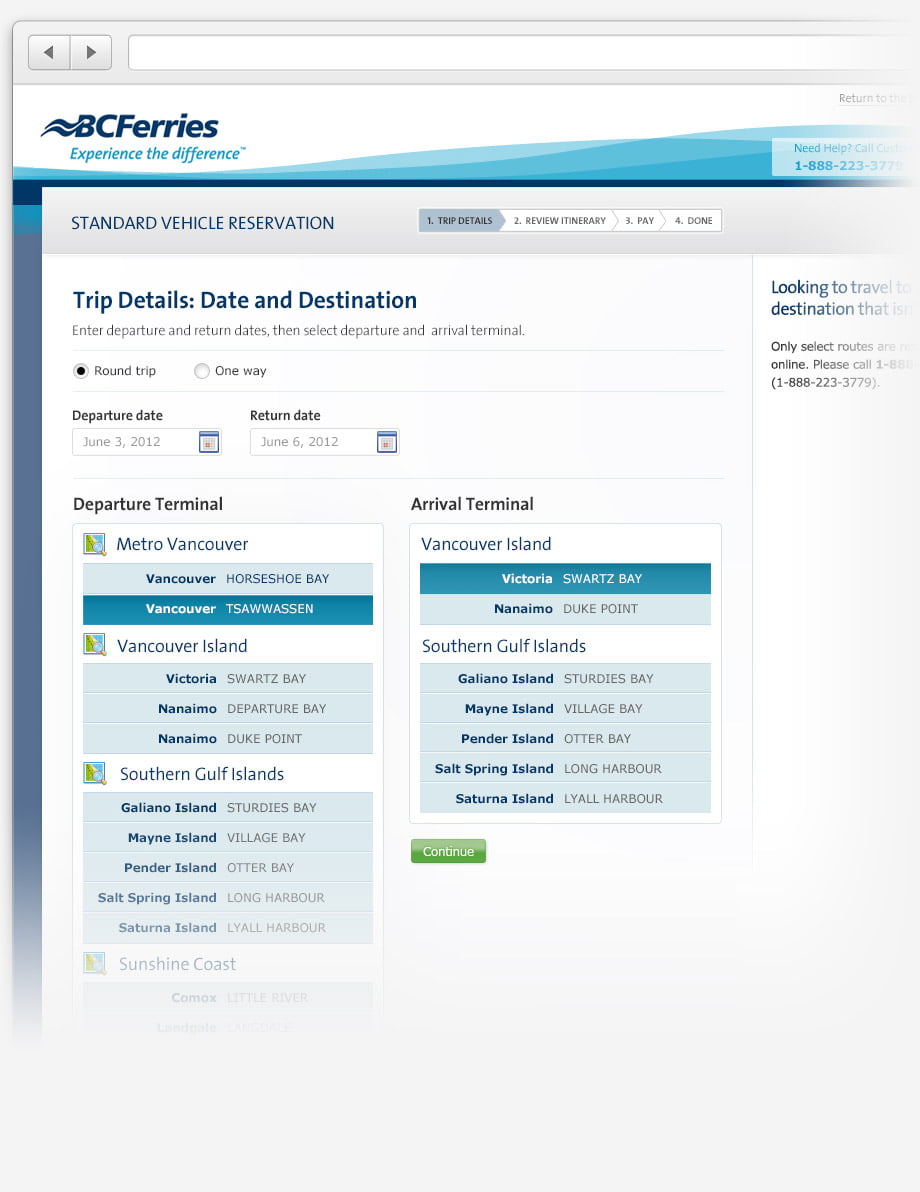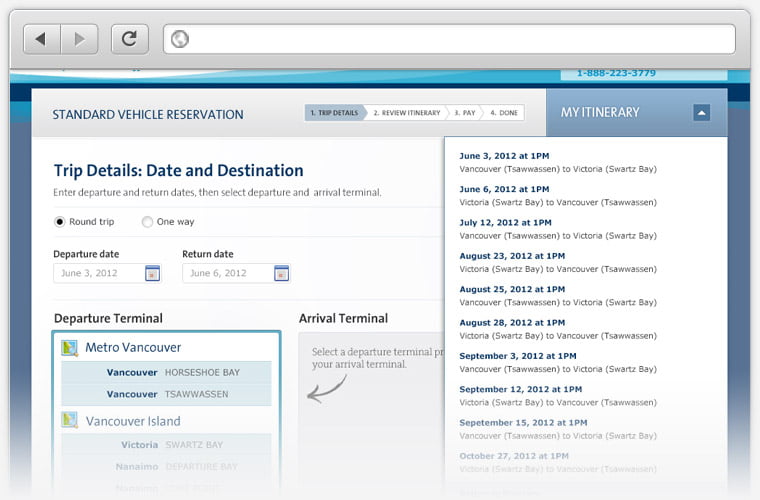 Multiple trips
We included a new functionality that enables customers to build an itinerary of up to ten trips on a single purchase. We also used graphical cues and clear labels for terminal locations to guide novice customers in their departure and arrival selections and to successfully complete their reservation. This aspect of the solution is especially popular with regular ferry travelers.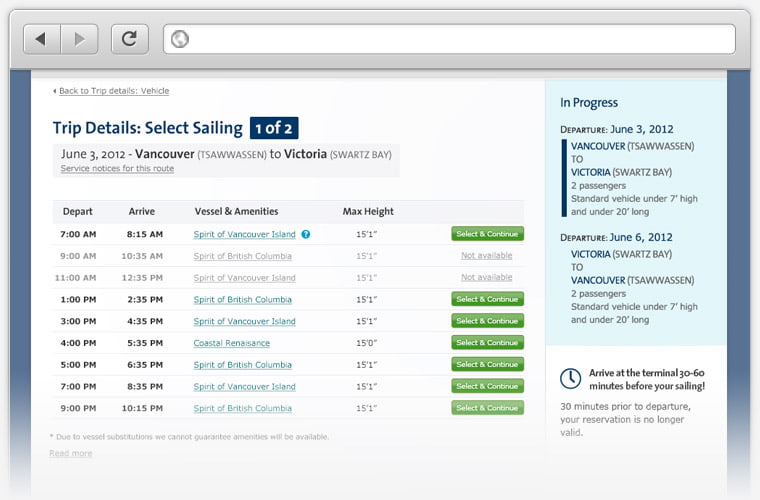 Return sailings
Concepts that are familiar to travelers, such as two-way reservations, are now included in the online reservation solution. Customers can easily determine their progress in booking their complete journey and are able purchase their round-trip reservation in a single transaction. In addition, essential information about arrival time is included to aid customers with selecting departures.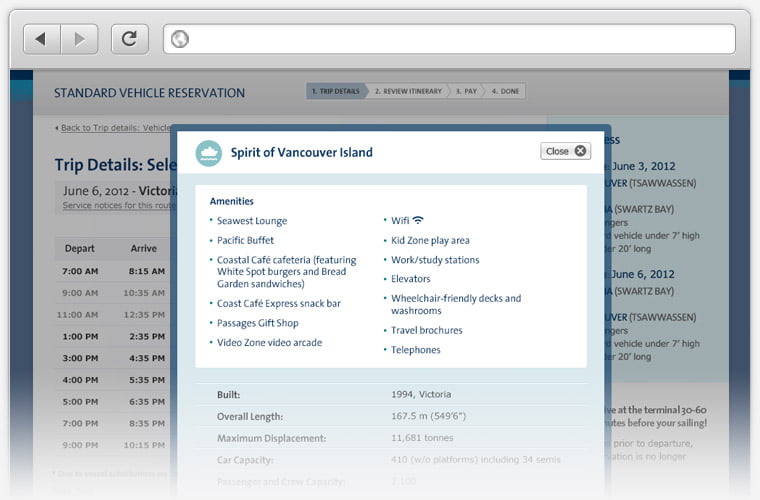 Vessel amenities
Previously, it was difficult to communicate if amenities like a buffet, kids' zone, or wireless Internet were aboard each ferry. The new system makes sure vessel information is only one-click away, allowing customers to choose a ship that fits their lifestyle.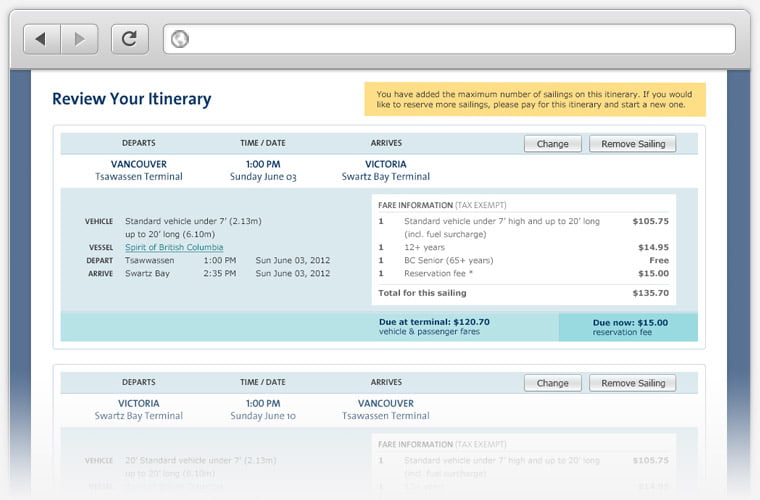 Your itinerary
The previous solution did not make it easy to know which sailing customers had booked themselves on, and information about when to arrive at the departure terminal was equally confusing. The new solution had to answer these questions clearly to have a significant impact on the customer experience. Our approach leveraged a well-understood boarding pass concept and used a simple graphic to make sure every traveler knew what time to be at the terminal and what time the ferry was leaving for their destination.
The Outcome
BC Ferries' new online reservation system has improved customer self-service and helped the organization communicate information effectively.
This user experience consulting engagement included the following:
stakeholder interviews
customer listening labs
wireframes, mockups, and clickable prototypes
usability testing
Six months after going-live, BC Ferries has realized the following benefits:
10% increase in online reservations
21% decrease in phone reservations
Our new online reservation flow has increased customer satisfaction, reduced call centre volumes, and clarified complex check-in policies. Habanero clearly has the ability to understand our business challenges and the expertise to solve them through creative design techniques and exceptional project management skills.
Corrine Storey, Vice President, Customer Services