Facts About First Nations Health Authority
First
organization of its kind in Canada.
Five regions
served by FNHA across B.C.
203
First Nations communities in B.C.
The Challenge
Connect communities
FNHA supports the health and well-being of all British Columbia First Nations. The organization wanted a solution designed to reflect First Nations' distinct needs and the services available in B.C. FNHA also hoped for a portal that would link its remote healthcare field workers with each other, reach communities anywhere, and streamline service.
Easy for everyone
The portals needed to be easy for all partners and stakeholders to use. FNHA had to make sure people could find necessary information quickly. Each site also needed to accommodate the organization's growth and be simple for content editors to update.
t
The Solution
Introducing Habanero's multi-portal solution
Now, First Nations Health Authority is connected to the people it serves. The organization is able to further fulfill its vision to help B.C. First Nations communities achieve the highest level of health and wellness.
The solution includes an employee, customer, and member portal. It's a perfect example of how SharePoint can be used across an organization.
Each SharePoint portal provides resources for employees, stakeholders, and external users. SharePoint's content management, document management, collaboration tools, and customizable interfaces are perfect for helping FNHA grow its presence. FNHA's portals ensure the organization is set up for success following its rebirth as the first First Nations-led health authority in Canada.
Habanero's SharePoint Portal Accelerator provided a wealth of information that, when combined with out-of-the-box functionalities, minimized development costs. The Portal Accelerator is Habanero's collection of best practices, codebases, and documentation gathered over years of creating similar solutions for other organizations.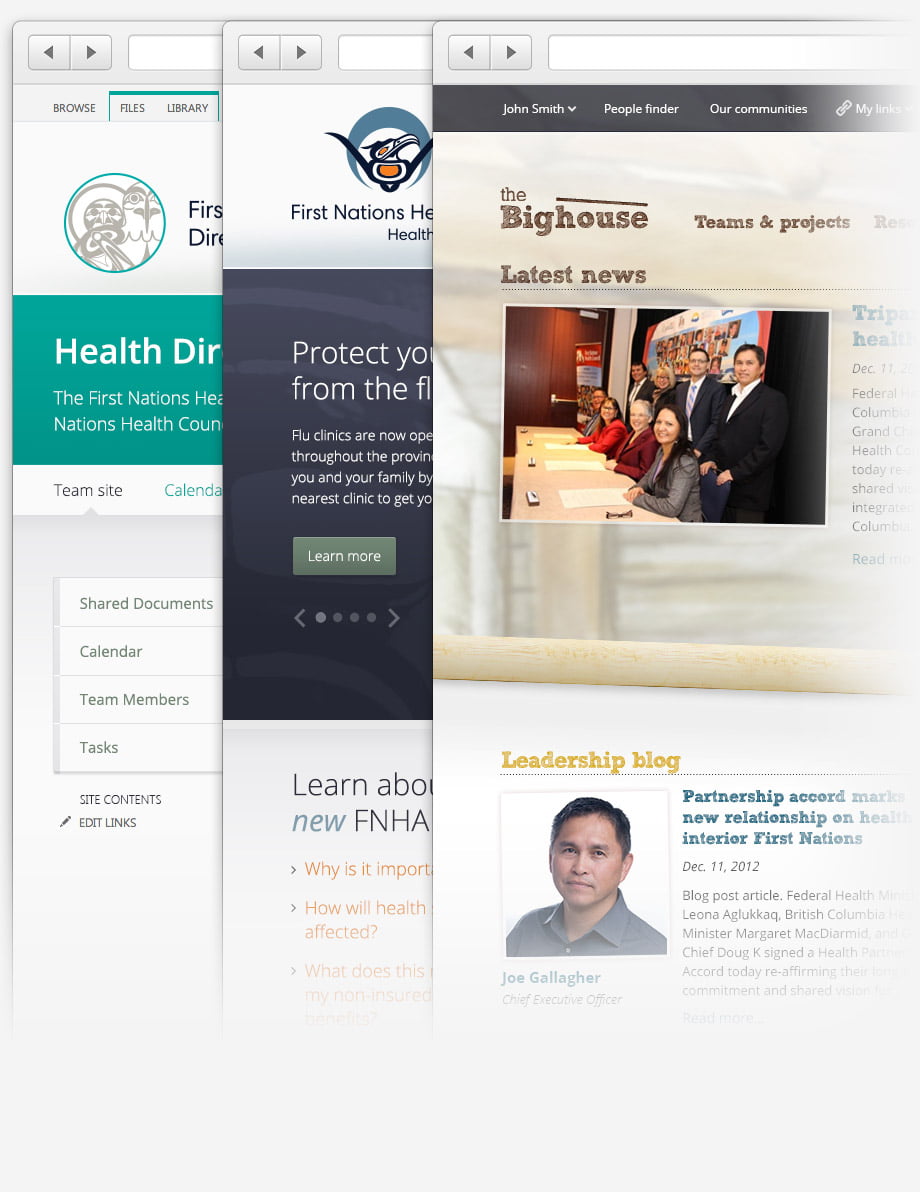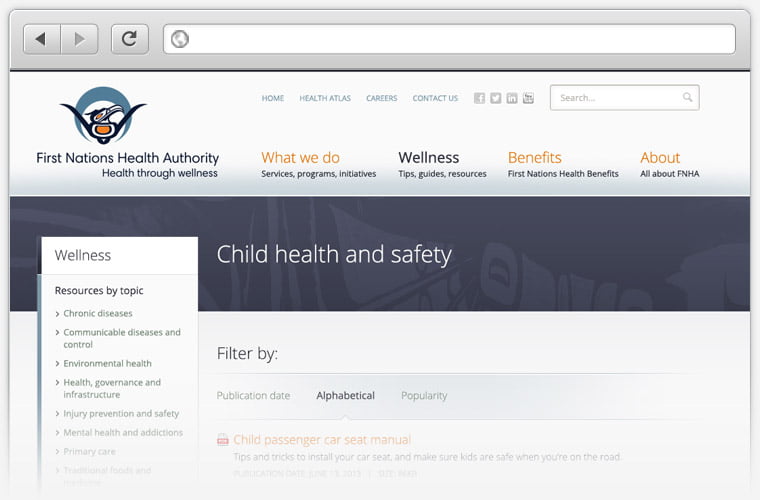 Easy-to-use navigation
The public website's navigation is designed to communicate the FNHA's goals and help First Nations people learn more about their provincial healthcare provider. Visitors can filter content alphabetically, by popularity, or by publication date. These usability options were chosen to make portal content accessible for everyone.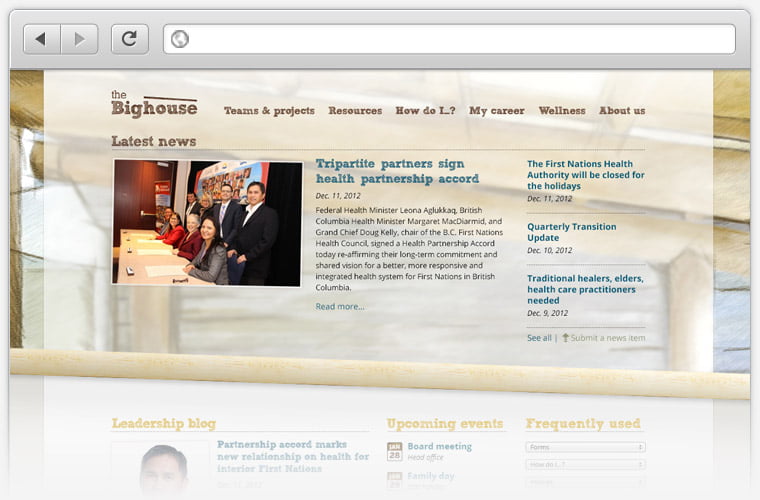 Keep employees in the loop
FNHA's employee portal—The Bighouse—gives employees a space to share news and company information. Now, FNHA employees and services centres have the same access to resources. This was a critical part of the project given the distance between each community and FNHA's large remote workforce.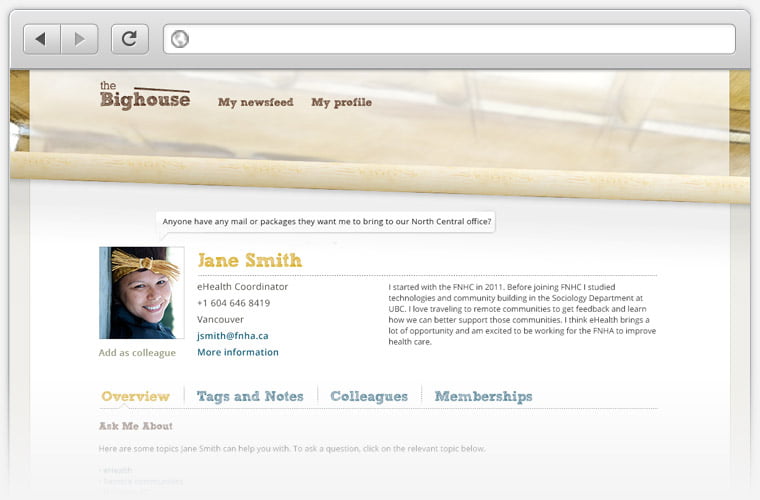 Engage people
After forming FNHA, the organization's leaders wanted employees to feel connected to their roles and purpose within FNHA. That's why it's important that every employee has a profile to share their story with colleagues. This is especially important for the organization's culture because FNHA employees include individuals from Health Canada, provincial health agencies, and First Nations communities.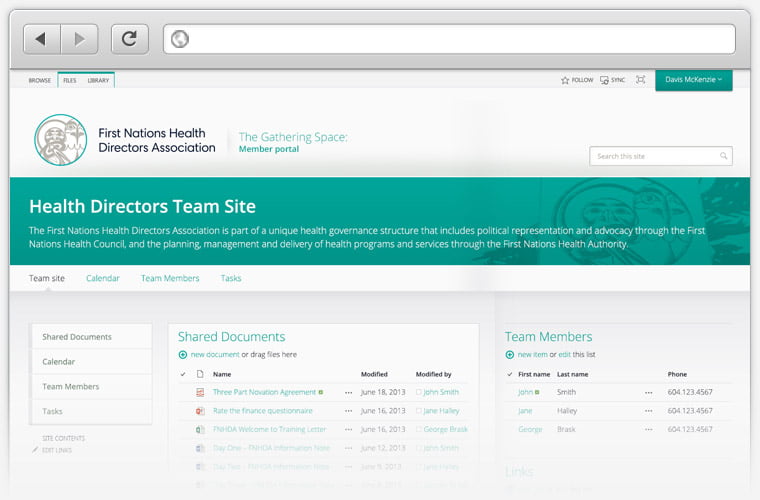 Share information with partners
The Health Directors Portal part of the solution is a single portal to work with the 135 First Nations health administrators that are in the province to support their networking, professional development and communication needs.
The Outcome
A SharePoint multi-portal solution that helps a new organization thrive.
FNHA has seen the following benefits as a result of this solution:
increased employee engagement
improved service quality
stronger communication with stakeholders
client and partner satisfaction