Facts About ICBC
2.6 million
motorists are insured by the Insurance Corporation of British Columbia.
120
facilities and offices across British Columbia.
Over 5,000
engaged, empowered, and performance-oriented employees committed to improving their customers' experience with ICBC.
The Challenge
ICBC has a new vision
ICBC's 2014 Strategy calls for a renewal and re-focusing of the company's strategic direction. The changes are intended to drive a more customer-centric and employee-oriented company.
Cross-company communication
Due to tremendous growth over the years, ICBC's employee portal — one of the key gateways for employee communication and information sharing — was not effectively supporting communication.
The Solution
Say hello to The Hub
The Hub contains a task-based navigation experience that reflects a transition away from departmental silos and contains a significant amount of new content, which was rewritten to support employees in delivering a brand-aligned customer experience. The homepage features corporate news, a personalized news feed, corporate campaigns, events, and recent blog posts. In addition, it provides employees with a personalized set of work tools, based on their role.
The portal contains an enhanced search experience with an integrated employee directory and people search, which provides both content and subject matter experts within the organization.
Habanero built the portal on the SharePoint 2010 platform. We also assisted ICBC with the creation of a new portal governance approach, employee training plan, and content and collaboration oversight to ensure the solution continues to be a valuable asset to the organization.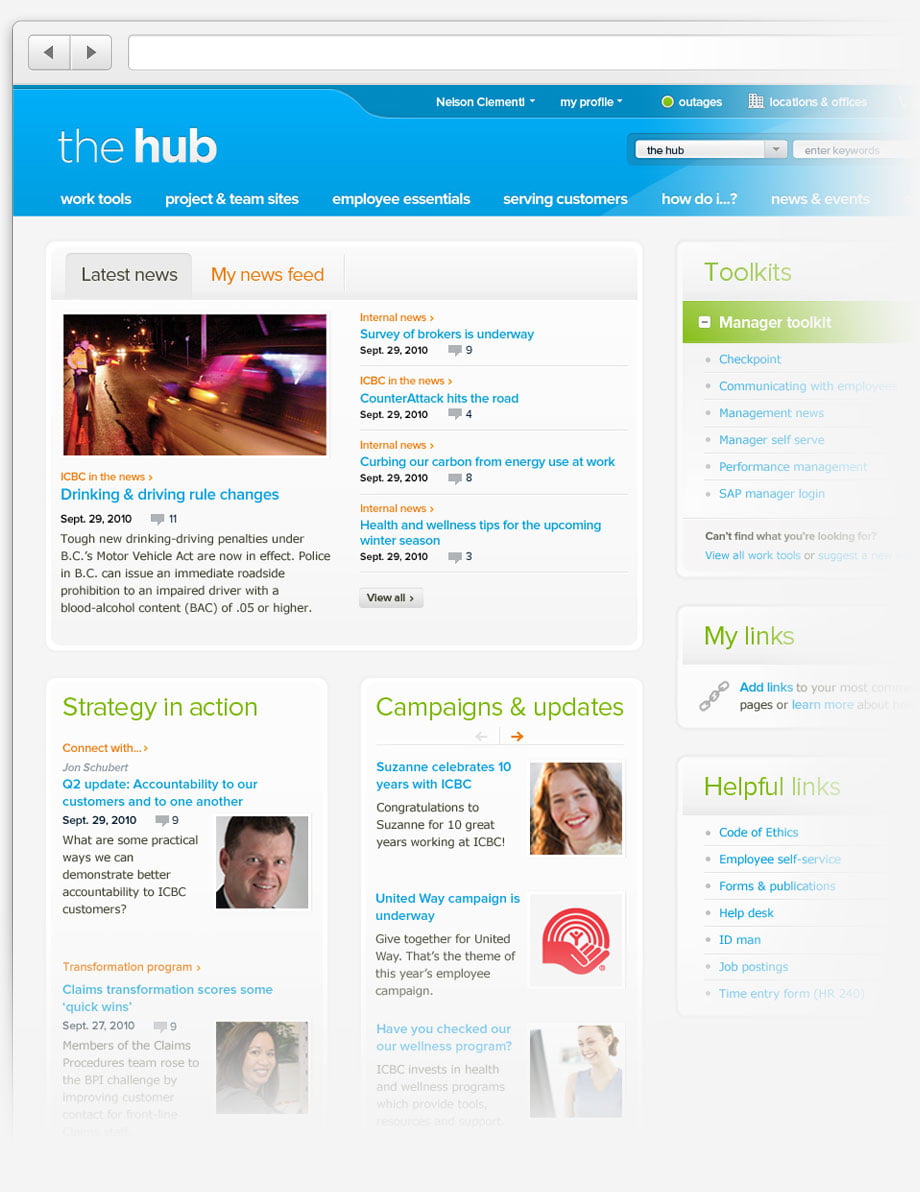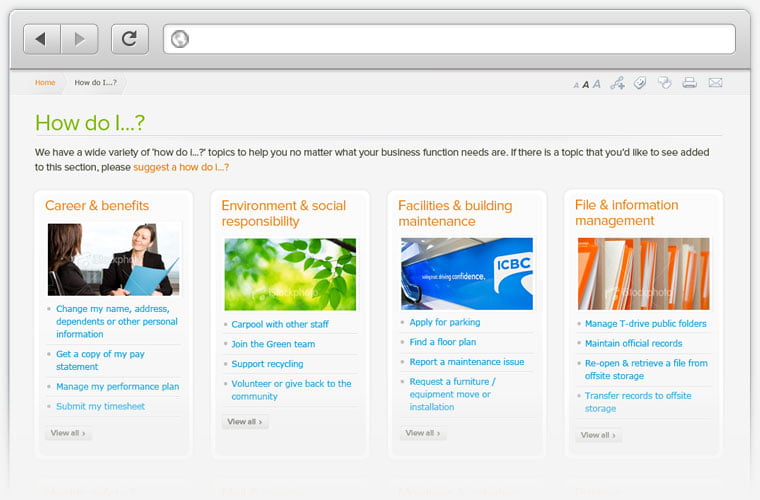 How do I…?
The "How do I…?" area unites all of the questions an employee might have about the services that ICBC's internal departments offer. As the area is organized by task and not department both new and veteran employees can find an answer quickly and easily.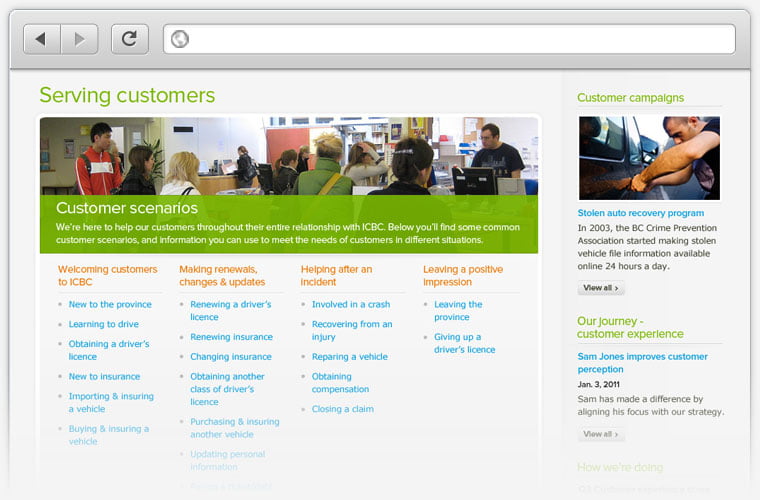 Serving customers
The employee portal contains a single area which provides employees with the information they need to provide consistent and accurate responses to customer questions across the three main areas of the business: claims, insurance and driver licensing.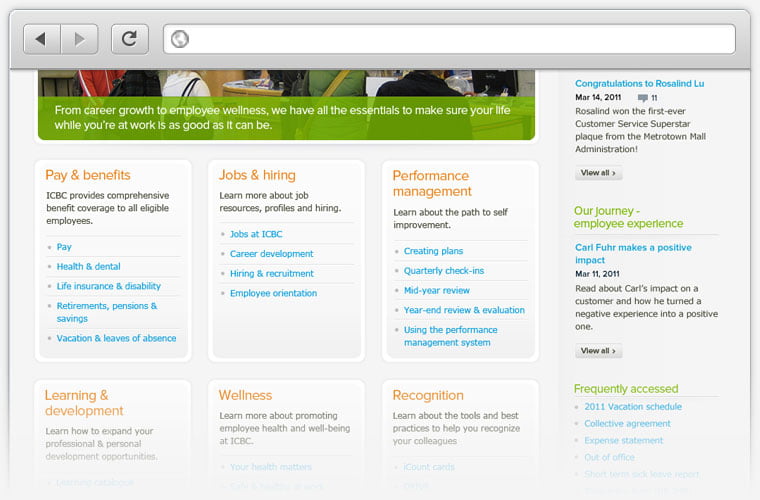 Employee Essentials
The Employee Essentials area contains career and benefits information and features team stories and news of employee milestones such as anniversaries and retirements. Increased employee satisfaction and engagement is a key pillar of ICBC's employee-centric strategic initiative.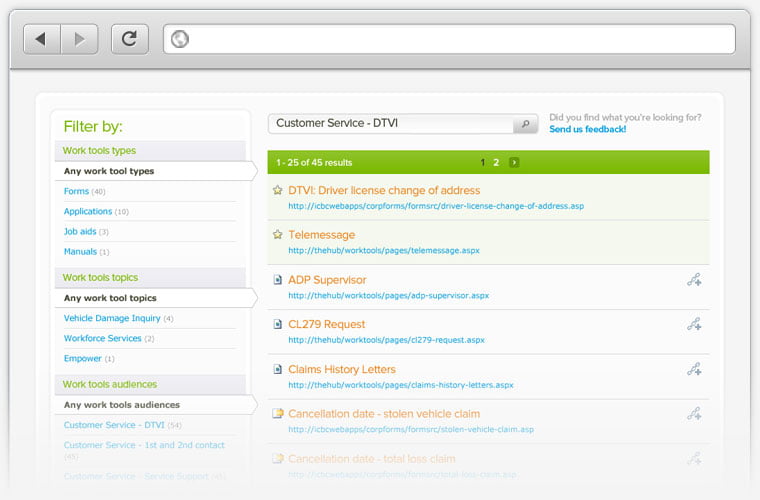 Work Tools
Employees can search for a specific policy and procedure, job aid, and other work tool. Providing one repository for this information makes it easier for ICBC's team to find what they need and reduces the duplication of content.
Implementation Details
SharePoint 2010
Taxonomy and metadata analysis for search
Content governance and workflow
Collaboration and enterprise social