Facts About Metrie
Up to 1,500
users in Canada and the U.S.
26
distribution centres and eight manufacturing plants across the U.S. and Canada.
Over 80
years in business.
The Challenge
Support the rebrand
Metrie's leadership team wanted to communicate the organization's new brand to employees and use the portal to foster a strong internal culture.
Ensure a consistent employee experience
With distribution and manufacturing centres across North America, an employee portal was needed to ensure consistent employee experience across a wide geographic area.
The Solution
It's time for SyMetrie
SyMetrie is Metrie's vision for an integrated employee portal.
The SharePoint 2013 portal replaced an outdated intranet and collection of SharePoint 2010 team sites. Prior to SyMetrie, each Metrie distribution centre operated as an independent business unit and communications between each geography were limited.
Habanero worked with Metrie to create a strategy and vision, design a solution concept, choose a technology platform, and implement SyMetrie. Metrie wanted an intranet that would smooth operations, build a strong internal brand, connect employees, and improve customer service. The company was in the middle of crafting a new identity, and the intranet was an opportunity to educate employees on the new brand and refocus the company culture. Stakeholders also hoped an employee portal would increase customer service and safety awareness.
The portal demonstrates Metrie's new brand and allows senior leaders to share their vision with every employee. SyMetrie is an example of how a well-designed portal can ensure organizational change is managed properly.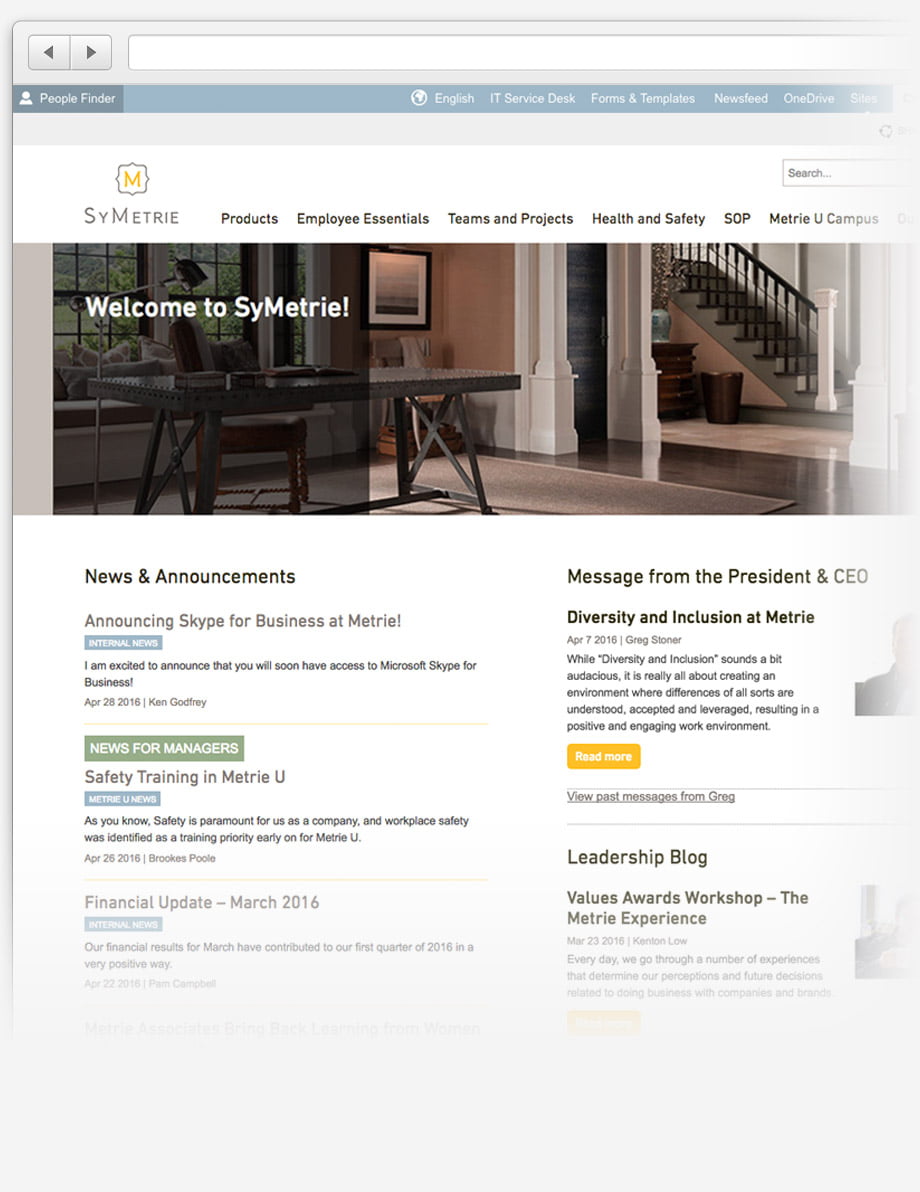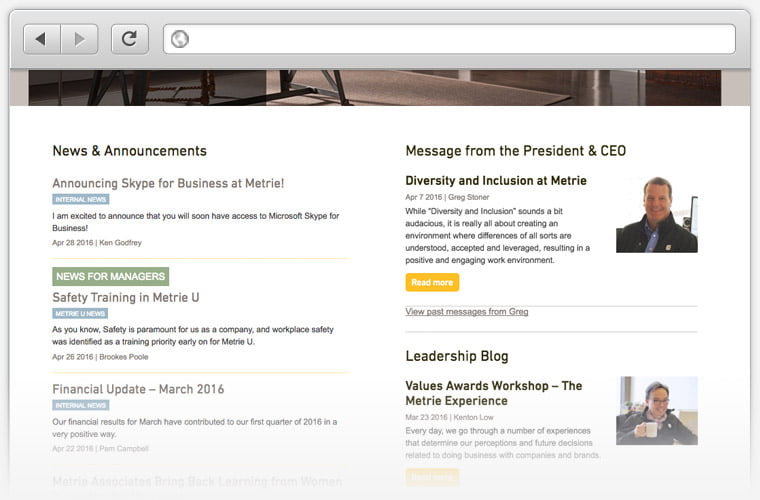 Homepage newsfeed
SyMetrie's main page informs all employees about the latest activities within the company, which fulfills the project's internal brand, customer service, and operational focuses. The homepage newsfeed pulls content from everywhere on the intranet, ensuring employees from every functional area see the same information no matter their location.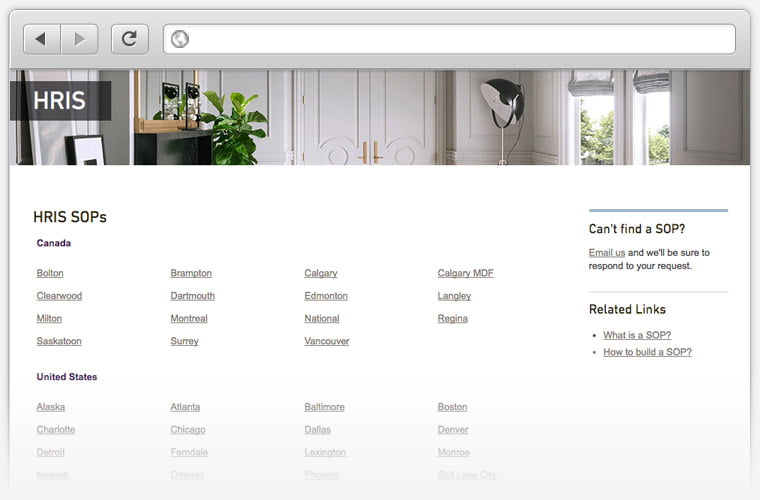 Standard operating procedures
The standard operating procedures page is where employees can access all corporate codes, policies, and standards. All information is displayed on one page to ensure the every user can access important content.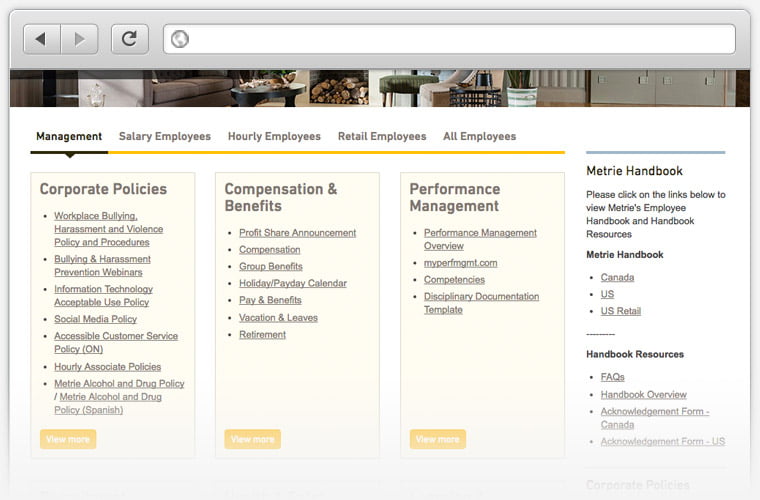 Employee essentials
One of the cornerstones of this project was to give employees access to all human resources-related material. Page information is broken down into categories, enabling users to find what they need. Employees can sift through pages tailored to their role, ensuring that people have access to the right information at the right time.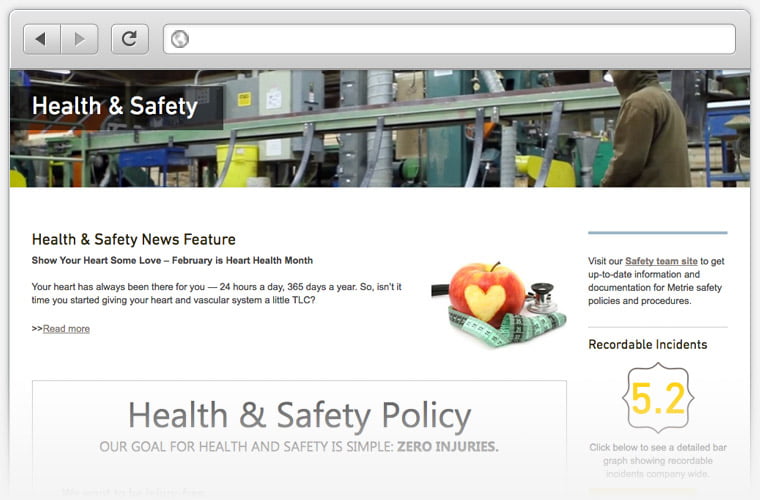 Health and safety
This page displays a counter of the number of incidents per month, and users can click through to a line-graph chart that displays the number of safety incidents over a 12-month period. At the bottom of the page, users can click on links that direct them to the employee essentials page, because some health and safety information is related to Metrie's benefits, compensation, and employee wellness policies.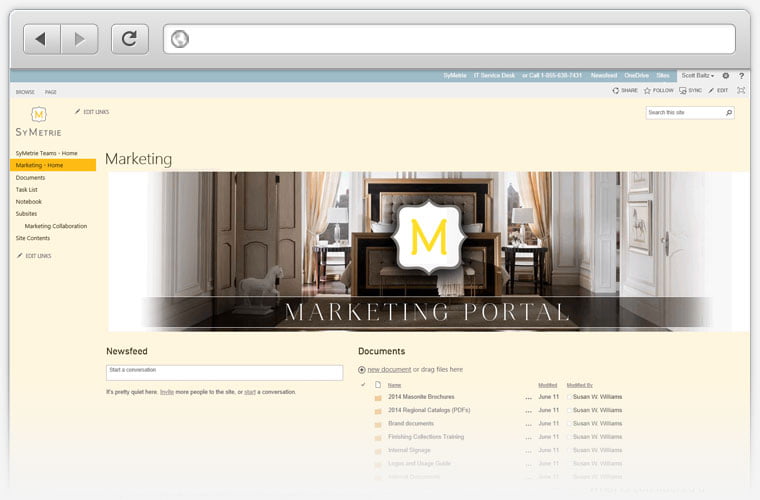 Team collaboration
Employees can collaborate across functional areas and regions through team sites and out-of-the-box communication features. Metrie's marketing and product sales teams especially rely on this feature to share knowledge across regions and learn more about the company's customers.
The Outcome
Metrie's employee portal supports its operations, customer experience, and growth.
SyMetrie has helped the organization realize the following benefits:
Increased inter-branch communication
Improved customer service and employee product knowledge
Strengthened internal brand and organizational culture
When we launched SyMetrie, the organization was going through massive change including corporate re-branding, new product launches, and substantial changes to internal processes. Today, Metrie team members rely on SyMetrie as the primary source of information as we implement change.
Ian Banks, Chief Information Officer
Implementation Details
SharePoint 2013 on-premise solution
Habanero Portal Accelerator
User interface design and usability testing
Ongoing sustainment and portal management services