Facts About Servus Credit Union
400,000
members from more than 100 locations in 62 communities.
$46.1 million
paid to members in Profit Share in 2012.
$1.8 million
contributed to community activities and projects in 2012.
The Challenge
Improve productivity
Following the amalgamation of three separate credit unions, internal information was spread across multiple portals and websites. The disparate information and a poor search experience led to longer wait times for members and to employees keeping local copies of documents, which would become out-of-date over time.
Find the right people and expertise
The lack of an integrated employee profile system created difficulties in finding the right person, with the right skills, at the right branch location.
The Solution
Meet the Village
Servus Credit Union's new employee portal – the Village – provides a single source of information for the organization's 2,300 employees. The result: employees can find information and experts throughout the organization much more efficiently. The portal has a clear focus on serving members through a dedicated area and employees can filter content by topic, banking system, and region to ensure that the information is applicable to the specific member.
A campaign carousel on the homepage ensures that front-line employees are aware of all current member offers and promotions. A dedicated colleague finder provides the ability to search for an individual in any one of the organization's more than 100 locations. The Village includes social tools for employees, such as a place to post items for sale and photo galleries for social events.
A strong visual identity was created for the portal with rich imagery, which is refreshed on a regular basis. The look-and-feel of the portal has generated a real buzz in the organization and the promoted feature at the top of the homepage has been a powerful tool in driving awareness for news and events. By promoting a recent event as a featured item Servus was able to increase event registrations by 1,400%!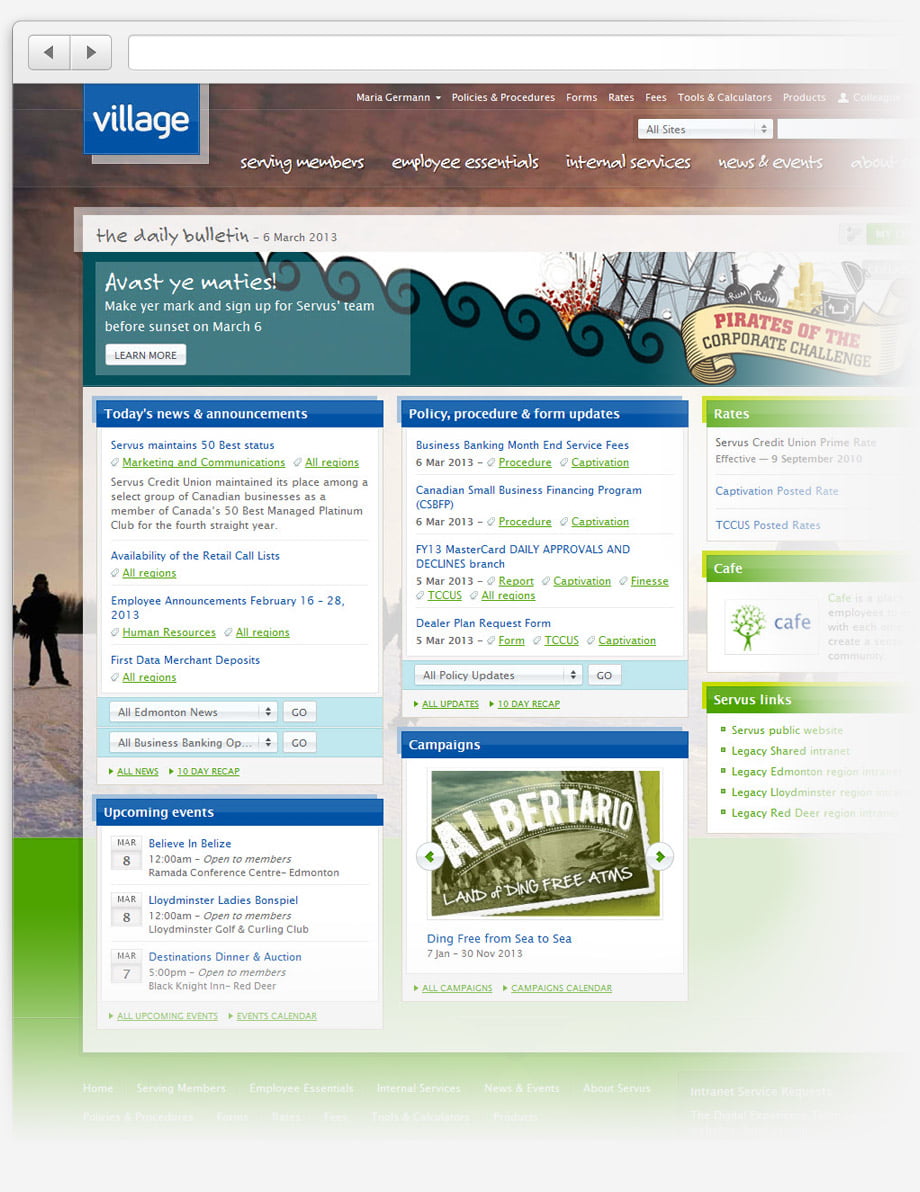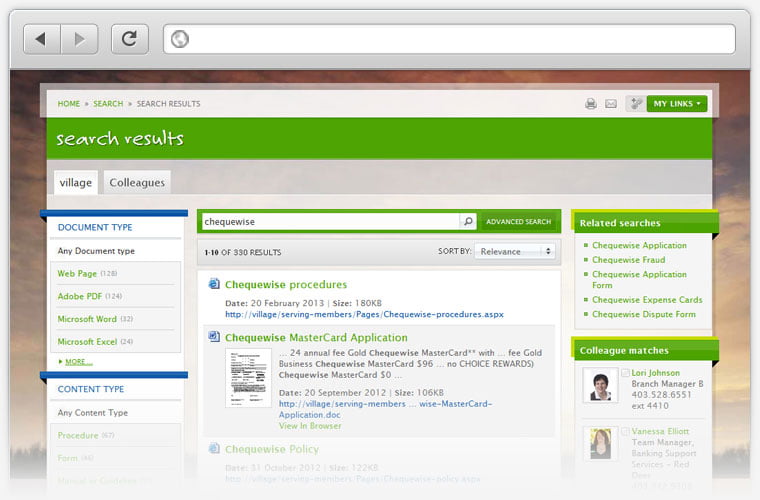 Search results
Habanero leveraged Microsoft FAST Search to create an exceptional search experience. Employees can filter search results by facets such as department, topic, banking system, and region and related searches and experts are displayed with the results. Employees can rate their search experience and any feedback received is used to tune the search engine to improve the overall experience.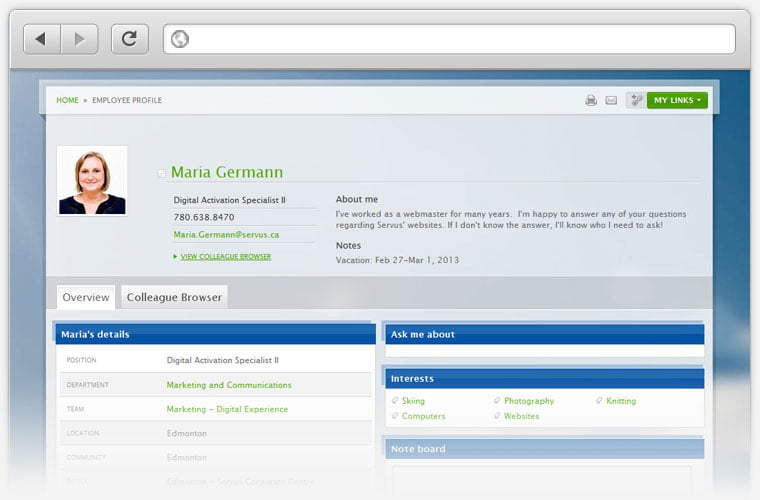 Employee profile
Each employee has a profile, which contains key details about the individual and a picture. Employees can add their own bio and interests to better communicate their skills and experience.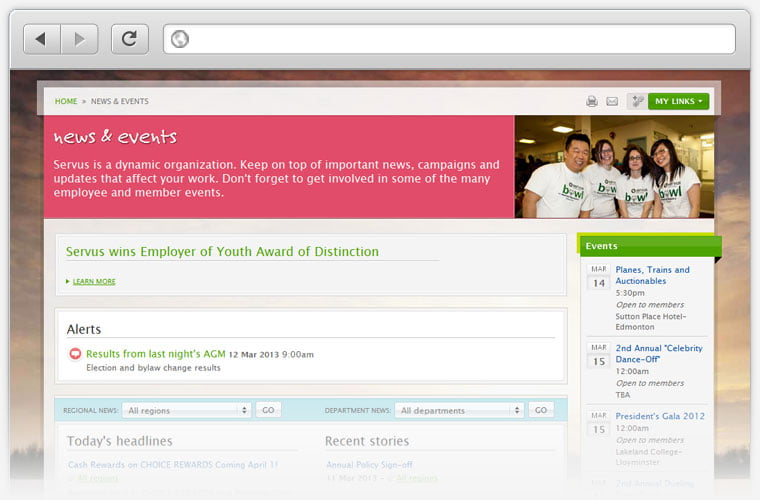 News and events
The news and events area of the portal provides a single area for employees to discover everything that is going on at Servus throughout the province. Employees can filter the news and events by region and/or department to find items that are the most relevant to them.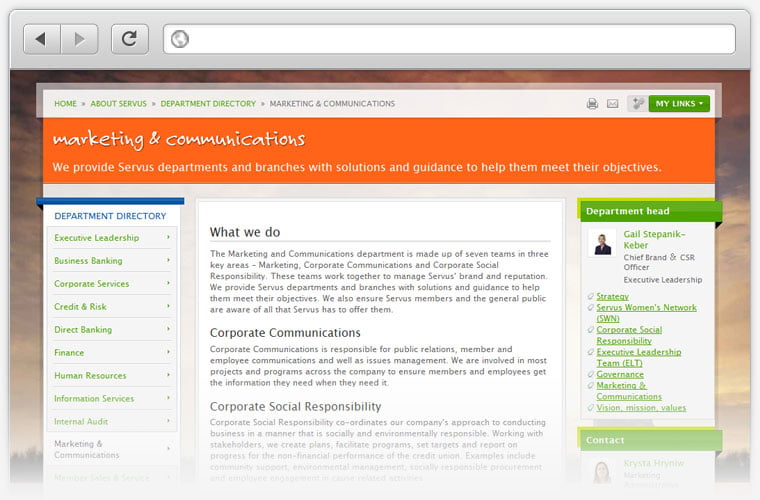 Marketing and communications
Each department has a page on the portal where employees can learn more about the department, what they do, and explore each of the teams and individuals within an area.
The Outcome
The Village is a distributed content authoring success, with over 200 content creators and 40 individuals approving content.
Other highlights include:
Integration of the portal's navigation with the SharePoint Term Store provides a navigation experience driven by metadata terms rather than the portal's hierarchy, which is easier to organize and simpler to use.
Migration and categorization of over 7,000 documents and pages.
A powerful, yet easy-to-use search experience, which enables employees to quickly find the specific information they need by department, topic, banking system, and region.
Employee profiles are tagged with Term Store metadata, which enables front-line employees to find team members with knowledge relevant to a member's specific needs in their local area.
Servus replaced an email-based daily bulletin as the news, events, announcements, alerts, and recent updates integrated into the employee portal provide a more engaging reader experience. This allows communicators at Servus to publish information throughout the workday, as opposed to waiting for publication of the daily bulletin.
The integration of social features better connects end-users with content authors, which helps to ensure the accuracy and quality of content.
Thanks to the work from Habanero we now have the platform we need to grow our developing community. Habanero's knowledge and expertise ensured that the Village not only met our needs, but it set us up for continued success going forward.
Matthew Brown, Manager, Digital Experience
Implementation Details
SharePoint 2010
Microsoft FAST Search
Custom metadata-based navigation
User interface design and usability testing
Solution and infrastructure architecture
Development and quality assurance