Facts About Vancity
$14 billion
in assets, which makes Vancity Canada's largest credit union.
400,000
members are served in 59 branches throughout Metro Vancouver, the Fraser Valley, Victoria, and Squamish.
2,400
staff in branches and Vancity's head office in Vancouver.
The Challenge
Finding the right information
Locating information was challenging and frustrating for employees in Vancity's branches. Job-critical information was poorly organized and the portal's search function typically returned irrelevant or outdated content. As a result, employees had to develop their own solutions to locate information and spent extra time looking for the information they needed to get the job done.
Supporting a vibrant, collaborative culture
Vancity's culture is casual, friendly, and collaborative, but this was not reflected on its employee portal. The portal did not support two-way communication and foster new communities and networks across the organization.
The Solution
Meet Insite
Habanero designed and developed a new employee portal for Vancity, called Insite. The portal has a fresh design and a friendly, accessible, and conversational tone that reinforces the Vancity brand and the organization's commitment to their people and the communities in which they operate. The site is designed to engage employees, improve their business acumen, and provide easy access to information on products and services to help them better serve members.
The portal is built on the SharePoint 2010 platform, which was selected due to its strong content management capabilities and social features. Habanero transformed the out-of-box SharePoint experience to better reflect Vancity's brand and identity. We also extended key SharePoint controls to provide engaging features like product carousels and landing page accordions to improve the end-user experience and deepen user engagement and interest.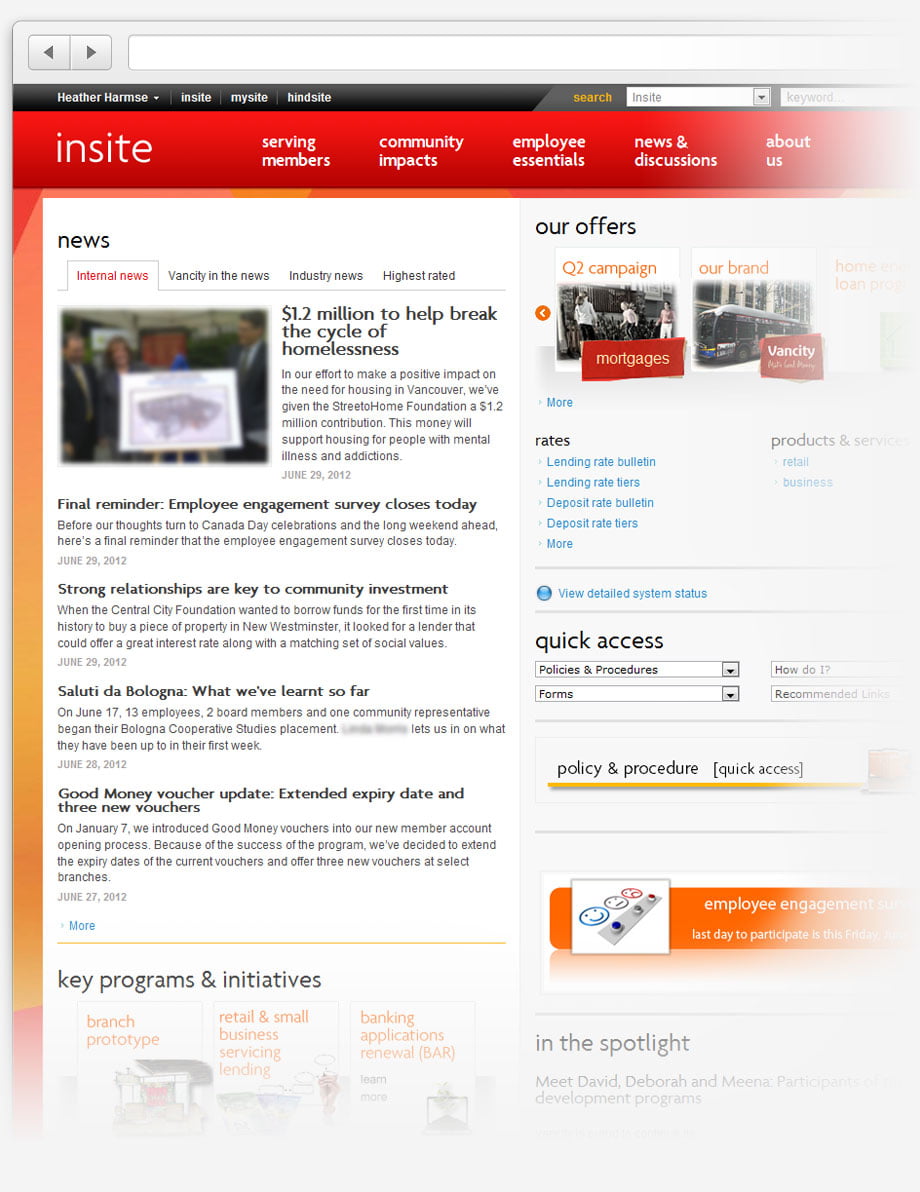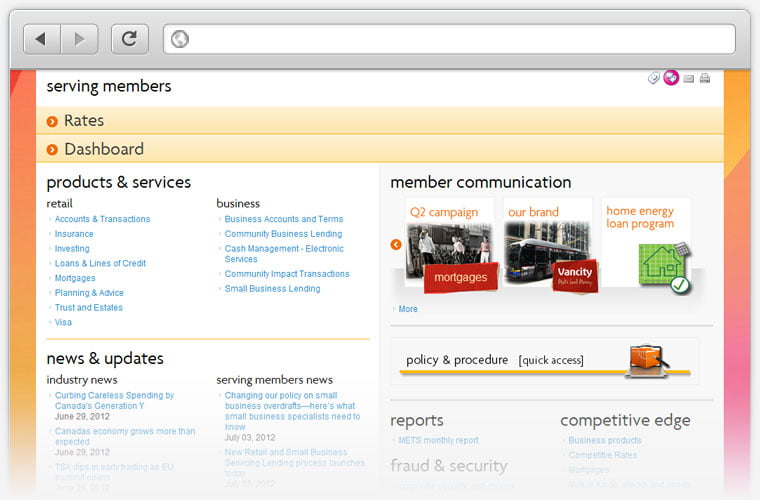 One-stop shopping for Vancity's frontline team
Content is aggregated and surfaced by topic, giving employees that have direct contact with members quick access to the information they need most frequently. This information is provided in the same friendly, accessible, and conversational tone that staff use during their member interactions.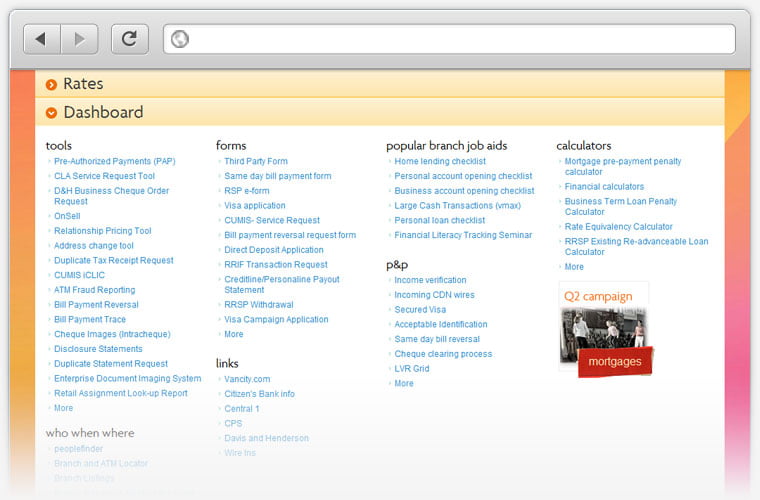 Rapid access to timely information
An expandable dashboard aggregates frequently used links to provide member facing employees with quick access to the tools, forms, and additional job aids they need to serve members effectively.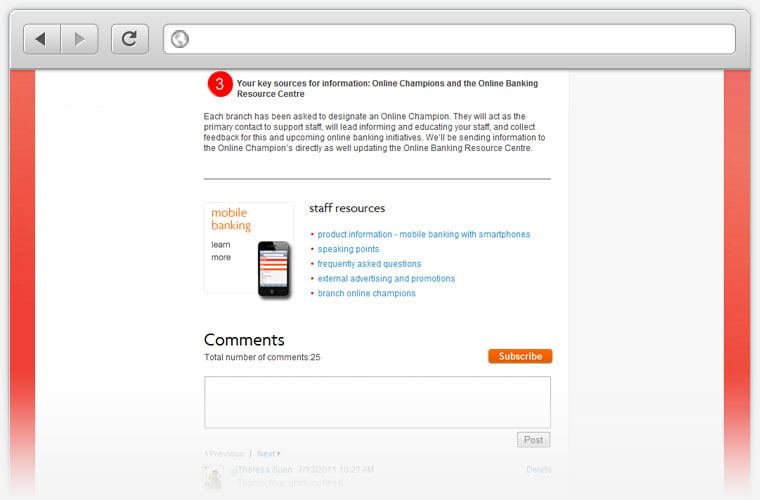 Two-way communication
Commenting and page ratings are available on pages, without moderation, to foster a sense of community and provide employees with an instant way to express their opinions and seek clarity. This two-way communication helps to increase employee engagement and knowledge sharing. Content owners are identified making it easy to identify subject matter experts.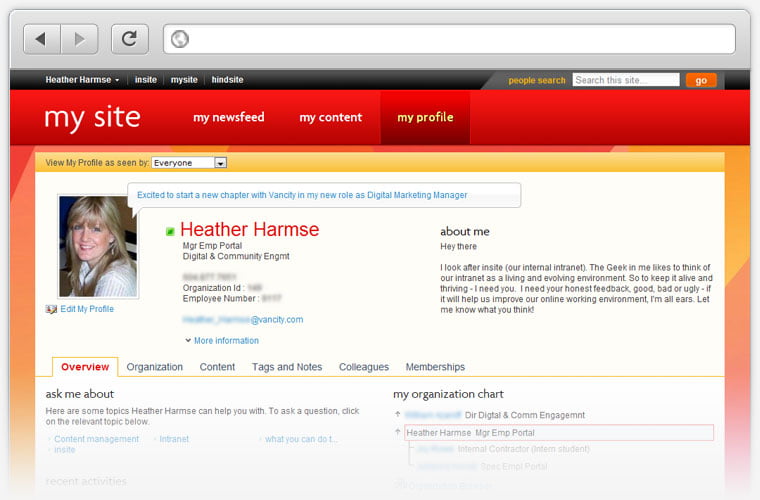 Richer personal connections
An employee's My Site page is similar to a LinkedIn profile. It allows employees to introduce themselves to their colleagues across the organization, helping to break down silos. Employees can also use their status updates to ask questions and share information. Contact information and expertise is easier to locate, creating more efficient member experiences.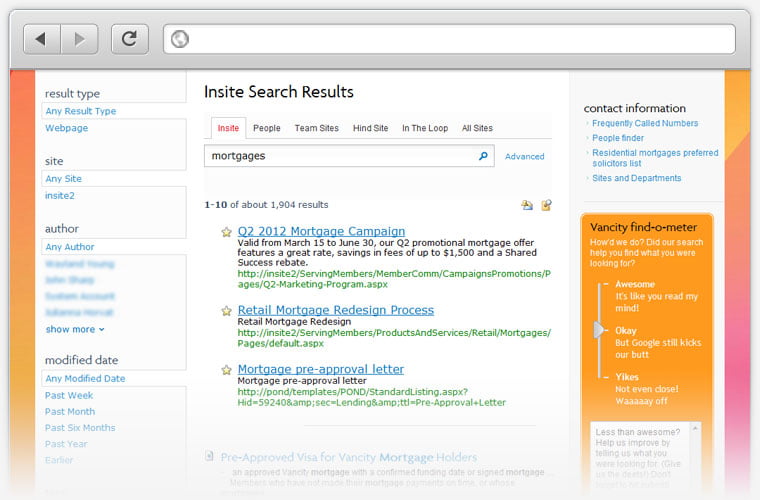 A search experience employees love
One of the most appreciated features of the new Insite is the "find-o-meter." The find-o-meter provides a way for end-users to give feedback on the quality of their search results. Feedback is used to tune the search experience and guides content modifications throughout the portal. Over 1,000 pieces of search feedback have been received and there has been a steady, upward trend in the use of search.
The Outcome
Over half of Vancity's 2,400 employees visit the portal every day and employees have rated Insite as their preferred source of information.
Other highlights include:
Reduced frustration in finding information and subject matter experts.
Employees have embraced their My Sites as a tool to promote themselves, share their skills, ask questions, and connect with others across the organization.
Employee expertise is easily captured in each individual's My Site profile, and experts can be found when a desperate "life-line" request is needed.
Online conversations are occurring between different branches and head office about products, services, and other initiatives.
Over 40% of the original content on the old intranet was removed to improve the new employee portal's overall content accuracy.
An increase in search usage and effectiveness.
Habanero's superb expertise in usability design enabled us to design and deliver an intranet that aggregates relevant content based on topic.
Heather Harmse, Vancity Employee Portal Manager
Implementation Details
SharePoint 2010
Search feedback Web Part
SharePoint Term Store
Enterprise social