After a full week in Chicago at Ignite 2015, it has been nice to reflect on the conference, including the vision Microsoft expressed throughout the sessions: empowering people and organizations to achieve more through the "cloud first, mobile first" strategy.
Heading into the conference, I was very interested in hearing about the future direction of hybrid search, as the solution currently available feels like an interim step in helping to solve our clients' needs.
With all of the innovative work Microsoft is putting into Office 365 (Office Graph in particular), I was confident they would be taking some important strides in improving hybrid capabilities. Microsoft confirmed this for me in the Office 365 hybrid search session.
The current hybrid search experience
If you have a SharePoint 2013 on-premises farm along with an Office 365 tenant, you can setup a remote SharePoint result source in each environment (pointing to the other farm), thereby setting up federated search. This will let you search for your on-premises SharePoint content from SharePoint Online, as well as allow you to search for your SharePoint Online content from your on-premises farm. There are a number of setup steps required to get this going (you can read more on TechNet), including having your user management process configured (i.e. DirSync with ADFS for authentication).
The important thing to note with this configuration is you are setting up federated result sources, where each farm has its own search index. This means that while you are able to search for all of your on-premises and SharePoint Online content, they are treated as completely independent sources. Therefore, you have to search each source of content separately. You can present content from multiples sources on a single page using query rules (see example below) but you cannot obtain a search result where the content from your on-premises farm and SharePoint Online tenant are in a single set with the appropriate relevancy and ranking; but that is about to change.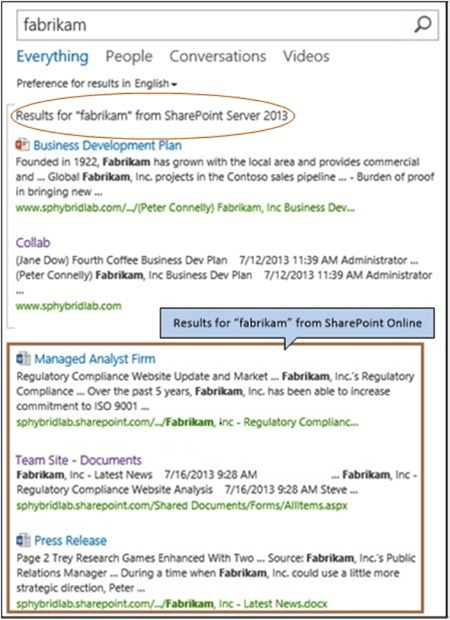 This image shows how the current hybrid search experience appears to end users in hybrid SharePoint solutions.
The next step for hybrid search
Later this year, Microsoft will be releasing an update for SharePoint 2013 that will include a new cloud search service application. This will allow you to crawl your on-premises SharePoint 2013 and 2010 farms, along with file shares, and then push the crawled content into the search index in your SharePoint Online tenant. You will now have a single search index in the cloud. All of the query processing will take place in SharePoint Online, and the search results from your multiple farms will be returned in a single set, all with the appropriate relevancy ranking. This new cloud search service application will of course come with SharePoint 2016 as well.
By having all of your on-premises content published into your SharePoint Online search index, you will be able to leverage the new features that Microsoft will be continuing to roll out into Office 365. Delve is a great example of this.
This architecture will also allow you to reduce the number of search servers in your on-premises topology, and offload the management of the index and query processing servers to the Microsoft Office 365 engineers.
Further considerations for SharePoint hybrid search
I think this is definitely a step in the right direction, but there are a few points that you should consider:
If you are unable to store your data in the cloud (possibly due to regulatory reasons) you will not be able to leverage this technique for your content, as the index is in SharePoint Online. You can still use the existing federated search model, but will not be able to use the new features in Office 365 with your on-premises content.
While reducing the number of on-premises search hardware and management requirements is great, you do lose the ability to crack open Central Administration and troubleshoot issues when search is not working as expected.
There are a few limitations noted on slide 33 of the Office 365 hybrid search session; some of which I hope will go away over time. However, the ability to only manage the search schema mapping at the tenant level is a bit concerning to me, as you get a limited number of refinable managed properties in your tenant.
All in all, I am happy with the direction I'm seeing. Microsoft continues to innovate in the cloud and provide better ways of bringing on-premises content into the mix.