We help companies become better places to work.
Because the world's best companies will also be the world's best places to work.
To solve the problems of the future, we believe…
The best solutions are designed collaboratively.

We build more thoughtful, impactful solutions when we co-create with our clients.

Stepping back helps you leap forward.

When we take a big-picture perspective we discover a-ha moments and uncover meaningful insights.

The best solutions begin and end with empathy.

It's easy to get caught up in a process or technology. We have a relentless focus on the human experience.

Failure is an essential part of learning.

We create safe spaces to iterate, test, and learn in order to produce the best outcomes.

Symptoms should not be confused with the root cause.

Complex problems rarely have a simple fix. We bring in design-thinking to solve big challenges.

Technology should not only be useful, but delightful.

Going beyond user experience, solutions that are engaging create all-around better outcomes.

Our purpose and values
Our purpose and values define what we stand for and guide everything we do.
We exist to help people and organizations thrive

Helping people and organizations thrive is a lived experience at Habanero. It influences the solutions we build, the experiences we create, and the relationships we have.

Always tell the truth

We tell the truth even if it's difficult, and do what we say we're going to do—period.

Everyone has to win

We look for the sweet-spot between what's best for our clients, what's best for our employees' careers, and what's best for Habanero.

In it for the long term

We take a long-term approach to building Habanero with the intention of creating an organization that will last for generations. Helping people and organizations thrive is a complex and important enough endeavor to require life-long pursuit.

Passion for our purpose

Habanero is a place where our people are fired up about what they do and have the opportunity to bring that passion to the rest of their lives (and vice versa). We have a responsibility for ensuring that our people have great lives overall, not just great experiences while in the office.

Do great work

Everything we build has an exceptional experience, is technically excellent, focuses on the outcomes, and is created through a collaborative approach.
A globally recognized leader
Great Place To Work Institute

We've been ranked in the top ten Best Workplaces in Canada for nine consecutive years!

Nielsen Norman Group

Our solutions are globally recognized, including five Nielsen Norman Group 10 Best Intranets awards.

AON Best Employer

Our 2017 employee survey results gave us Aon's top honour—Platinum Level Best Employer.

We give back
We support our employees' volunteer and fund-raising efforts by offering paid time off and donation matching. We also commit a percentage of our profits to support our communities.
Latest news and events
Sorry, we couldn't find anything that matches your search.
Our leadership team
;

Steven Fitzgerald

President

x(102)

Vancouver

Steven Fitzgerald

President

Vancouver

Steven Fitzgerald, co-founder and president of Habanero, thinks about the world of work a lot. He has spent his life examining what motivates us as human beings and how thriving organizations build successful teams.

Executive peers call Steven a thought partner. Whether challenging the status quo or providing a dose of inspiration, he's the one in the room that helps move things along when everyone else is stuck. In the sometimes abstract world of people and culture, he brings a breadth of coaching and consulting skill to help teams cut to the chase and move to something clear and actionable.

And while he's often invited into the executive boardroom or asked to be the voice of the future of work, his most remarkable and proud workplace achievement has been a 22-year-old home called Habanero—his springboard for helping people and organizations thrive.

I will measure my life's success by the relationships I develop and the impact I have on people.

;

Ben Skelton

Vice President

x(107)

Toronto

Ben Skelton

Vice President

Toronto

Vice President Ben Skelton provides guidance and oversight to Habanero's leadership team, ensuring Habanero's continued success and innovation within all areas of the business. He does this through a balanced scorecard approach to management — which provides a continuous and equal focus on our company, team, and clients. Ben is also a passionate advocate of Habanero's brand. He works to ensure that clients are proud to be associated with Habanero and that each of the solutions we create exceeds expectations.

Ben opened Habanero's Toronto office in 2013 and continues to manage a number of Toronto-based accounts while directing the growth of Habanero's business in Ontario.

A recognized user experience leader, Ben is a founding member of the Vancouver User Experience Group (VanUE) and creator of Habanero's User Experience Done Right! seminar series. He holds a Bachelor of Arts degree in communications from Simon Fraser University. Ben is an ardent traveler and plane geek whose favourite place is 38,000 feet somewhere over the Pacific Ocean.

And I don't think my father, the inventor of Toaster Strudel, would be too pleased to hear about this.

Gretchen Wieners

;

Aaron Law

Director, Finance and Performance

x(113)

Vancouver

Aaron Law

Director, Finance and Performance

Vancouver

Director of Finance and Performance Aaron Law oversees all accounting and finance functions at Habanero, including monthly and quarterly reviews, bank account management, cash management, and forecasts. He is also responsible for establishing and maintaining accounting policies, processes, and procedures. Aaron conducts financial analysis and prepares plans and forecasts. As part of Habanero's leadership team, he uses his financial acumen to identify opportunities for strategic growth and success.

Aaron previously served as Habanero's Controller. Prior to joining Habanero, he held financial positions at Cardiome Pharma Corp. and Intrawest ULC. Early in his career, Aaron developed his auditing and accounting skills at PwC and Smythe Ratcliffe Chartered Accountants. As a Chartered Accountant and Certified Internal Auditor, Aaron sits on the board of directors and chairs the finance committee of the Kerrisdale Community Centre. He enjoys all kinds of sports, including golf, volleyball, and skiing.

It is a capital mistake to theorize before one has data. Insensibly one begins to twist facts to suit theories, instead of theories to suit facts.

Sherlock Holmes

;

Brian Edwards

Director, Products and Services

x(117)

Vancouver

Brian Edwards

Director, Products and Services

Vancouver

Director of Products and Services Brian Edwards leads, creates, and maintains the business plans and roadmaps of Habanero's technology solutions and services. This includes developing an investment strategy for new offerings and developing partnerships that augment or complement our offerings. He also guides our strategy for bringing our services to market.

Brian has been with Habanero since 2000 and previously led Habanero's collaboration practice. Prior to working for Habanero, he ran the corporate intranet for a Fortune 500 bank in the United States. Passionate about the impact technology can make within organizations, Brian has been recognized as a thought leader in collaboration solutions and business strategy and is a highly credited public speaker.

I have the simplest tastes. I am always satisfied with the best.

Oscar Wilde

;

Chris Radcliffe

Digital Workplace Advisor

x(140)

Winnipeg

Chris Radcliffe

Digital Workplace Advisor

Winnipeg

Digital Workplace Advisor Chris Radcliffe brings years of senior-level consulting and client experience management to his role at Habanero. He has extensive experience in employee portals, enterprise social, information architecture design, and governance. Chris manages some of Habanero's key client relationships, as well as providing mentorship and support to other Habanero account managers. He has been with Habanero since 2000.

A thought-leader for Habanero, Chris often speaks on how social computing trends are impacting strategies for organizational communication, innovation, and knowledge management. He has an active interest in helping organizations use technology to improve their workplaces and is always looking for opportunities to grow Habanero's core competencies. Chris holds Yammer Power User and Administrator certifications to support the development of Habanero customers' community manager and social consulting services. He holds a Bachelor of Commerce degree from Queen's University.

There's always a way to make it work!

;

James Sloane

User Experience Consultant

x(267)

Calgary

James Sloane

User Experience Consultant

Calgary

User Experience Consultant James Sloane creates technology solutions that navigate complexity and feature exceptional user experiences. As a member of a project's design team, James advocates for the needs of end users while ensuring that every technology solution supports the important goals of the organization. Through interviews, workshops, and co-design exercises, he methodically helps client teams create a vision for a better future and a plan to get there. The joy in his work comes when the technology helps the design to become a strategic asset that is a pleasure to use.

Prior to working at Habanero, James ran his own consulting practice leading teams in the creation of award-winning consumer products, learning environments, urban developments, health facility networks, innovation centres, and retail brand experiences. He has over a decade of design consulting experience and continues to build his expertise working as a member of interdisciplinary design teams. He holds a Masters of Environmental Design from the University of Calgary and a Bachelor of Design from the University of Alberta. Outside of work, James enjoys spending time with his family, riding his bike, and snowboarding.

A kick-ass half is better than a half-assed whole.

Jason Fried

;

Kiran Aujla

Director, Operations

x(149)

Vancouver

Kiran Aujla

Director, Operations

Vancouver

Director of Operations Kiran Aujla is focused on operational excellence in how the company operates and delivers value to both clients and Habanero. She is responsible for overseeing Habanero's delivery and resource management functions to ensure team members are performing at the highest levels within a culture of continuous improvement. Kiran's responsibilities include establishing and reporting on measures of success for all projects while seeing through the day-to-day activities, at both a strategic and operational level, to ensure Habanero will live up to its long term vision.

Kiran has a diverse background of business and technical experience delivering and consulting on projects within the IT and utilities industries with a focus on data warehousing, intranets, websites and project management. Prior to joining Habanero in 2006, Kiran acquired close to 10 years of industry experience working with BC Hydro, Westech, and Accenture Business Services for Utilities in roles that included business analyst, system developer, project manager, and information delivery lead. When not working, Kiran enjoys a variety of activities including running, hiking and yoga. She is an avid reader with a passion for learning and cherishes quality time spent with family and friends.

There are only two ways to live your life. One is as though nothing is a miracle. The other is as though everything is a miracle.

Albert Einstein

;

Mallory O'Connor

Practice Lead, Enterprise Experiences and Innovation

x(114)

Vancouver

Mallory O'Connor

Practice Lead, Enterprise Experiences and Innovation

Vancouver

Enterprise Experiences and Innovation Practice Lead Mallory O'Connor is responsible for helping enterprise clients create great workplace experiences. Her goal is to work together with people inside organizations and understand the opportunities to create compelling changes to tools, systems, culture, processes and ultimately, experiences. Building on more than 15 years in the field of user experience, interaction design and information architecture, Mallory now works with clients to solve holistic enterprise problems using collaborative techniques from the service and experience design perspective.

Mallory is an experienced leader both inside Habanero and in the community. She is a practice lead, senior advisor to clients, performance coach and mentor to colleagues, and accountable for Habanero's innovation initiatives. In the community, Mallory has been extremely active as a co-founder and judge of the Vancouver User Experience Awards and the Vancouver User Experience Group (VanUE). She is a frequent conference, webinar, and event speaker.

Prior to working with Habanero, Mallory worked with agencies and as a freelancer consulting with government and public companies, large enterprise organizations, and start-ups. She holds a Bachelor of Arts degree in psychology from the University of British Columbia and a certificate from UBC's Internet Publishing Program.

Everything in moderation…including moderation.

;

Will Hardy

Practice Lead, Employee Portals

x(133)

Vancouver

Will Hardy

Practice Lead, Employee Portals

Vancouver

Employee Portals Practice Lead Will Hardy is a SharePoint platform expert and senior consultant for many of Habanero's employee portal engagements. He works with stakeholders to connect organizational objectives to maximize the capabilities of each platform. Based on his experience working with a wide range of clients and technical solutions, Will is able to recommend ways to realize goals and achieve outcomes. Will has the ability to translate strategic requirements and ideas into a clearly articulated, tactical vision for the end-state solution. He is a regular presenter on the organizational benefits of on-premise and cloud-based SharePoint technology.

Since coming to Habanero, Will has contributed to some of Habanero's key projects and helped shape the company's SharePoint domain expertise. Previously, he worked for Burntsand as a business analyst and information architect concentrating on employee and customer portals. Will has a Bachelor of Commerce degree with a specialization in entrepreneurship and small business management from the University of Victoria. Outside of work he can be found racing his sailboat in coastal B.C. waters or mountain biking on the North Shore mountains.

Give your children enough money to do something, but not enough to do nothing.

George Clooney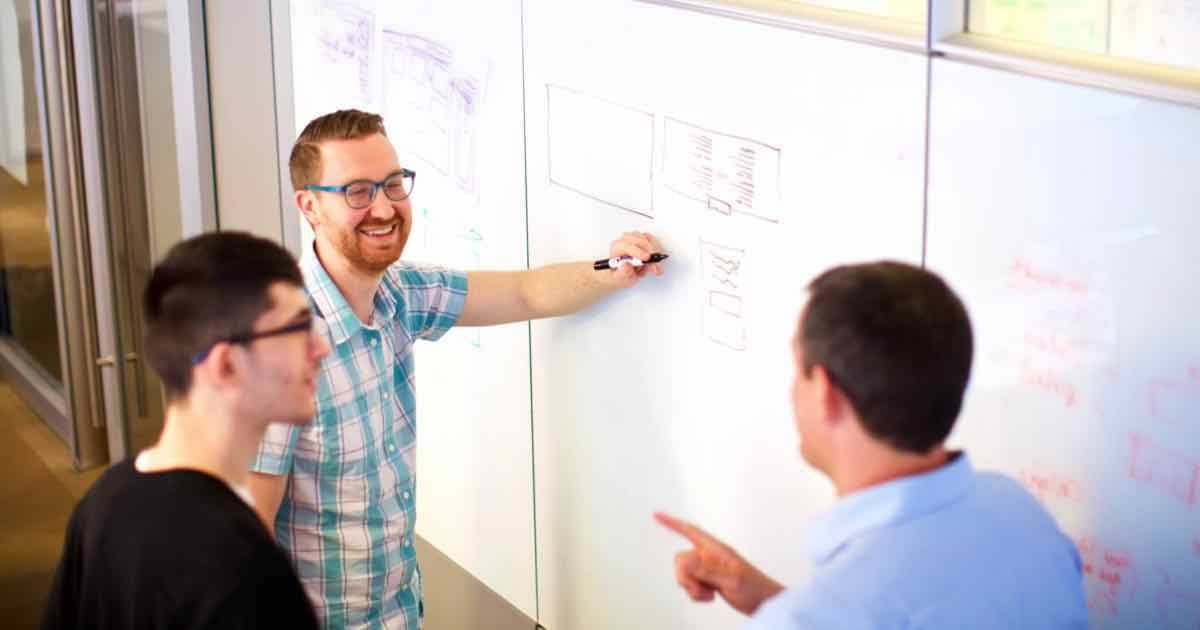 Are you ready to make your workplace awesome? We're keen to hear what you have in mind.
Let's talk!