The Hub provides information that helps employees better understand the AER's vision, culture, and corporate goals, and supports employee engagement
When the AER was established in June 2013, the organization had a new vision, mandate, and goals. To support this process, employees needed a place where they could find information to help them do their jobs and engage with one another.
Habanero's design and visioning services supported the technical rollout of this OpenText employee portal. We also created a roadmap to guide the Hub from development to post-launch. This plan has been instrumental in the AER's efforts to encourage users to adopt the solution.
The Habanero, OpenText, and AER-led team conducted listening labs, usability testing, analytics reviews, and employee interviews to determine how to craft each element of the portal. This research led to decisions such as task-based navigation, which is visible throughout the intranet and continues to drive user adoption.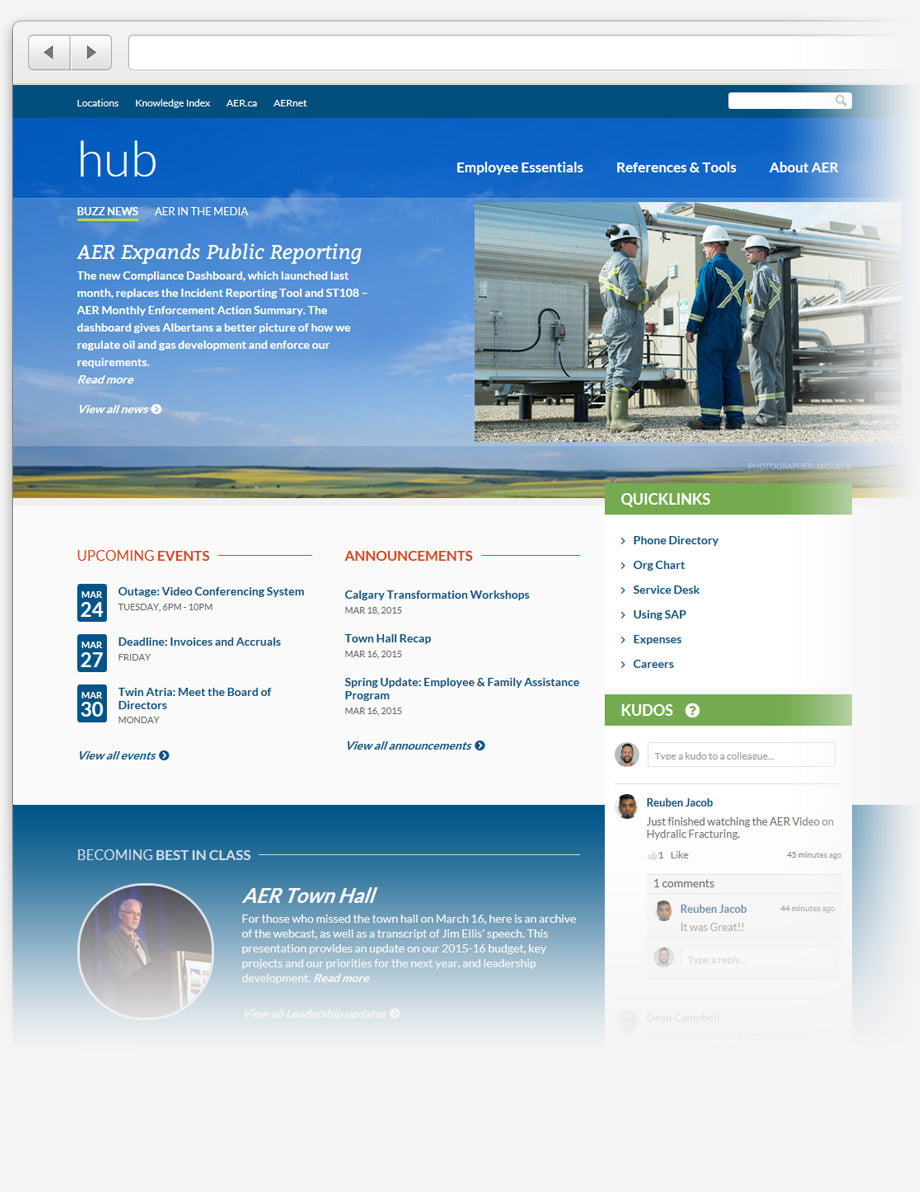 Homepage
The Hub is unlike anything the Alberta Energy Regulator has ever seen before, both in how employees use the portal and in the distinct look and feel of the solution. The main banner can feature internal or external news. The overall design relies on the AER's new visual identity and is focused on encouraging interactions with each panel–especially the People Spotlight, Kudos, and Becoming Best in Class sections.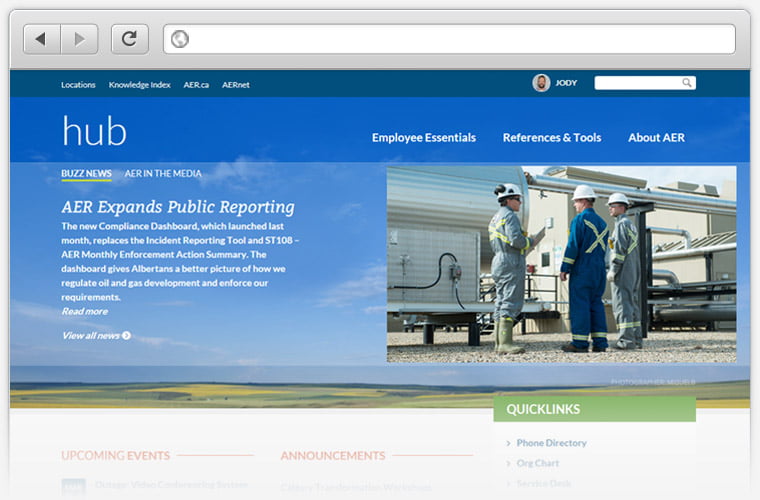 Navigation
To create an easy-to-use experience, each tab along the navigation bar has a fly-out menu that shows the areas available in those sections. Analytics from the AER's previous intranet guided the information architecture, ensuring that the most popular and relevant topics are always visible.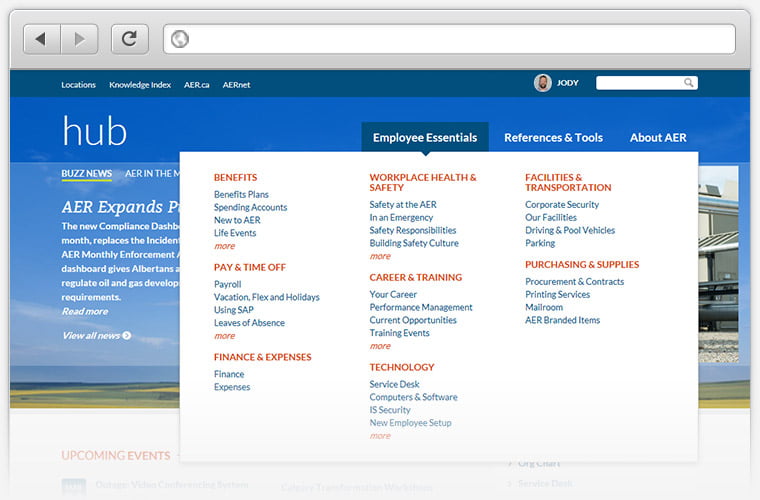 People spotlight
The People Spotlight panel showcases team members' roles, interests, and career histories. It's a visual example of the people-centric approach behind the Hub.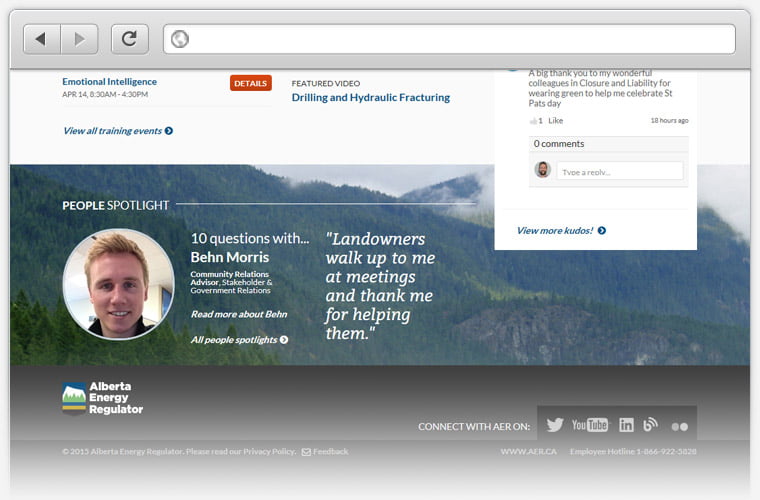 News and events
The Alberta Energy Regulator wanted every team member to be able to find information related to their role in the organization. One popular part of the employee essentials section enables employees to see a complete list of upcoming training events. The lefthand sidebar enables quick navigation to other related pages, which reduces the amount of time users spend looking for information.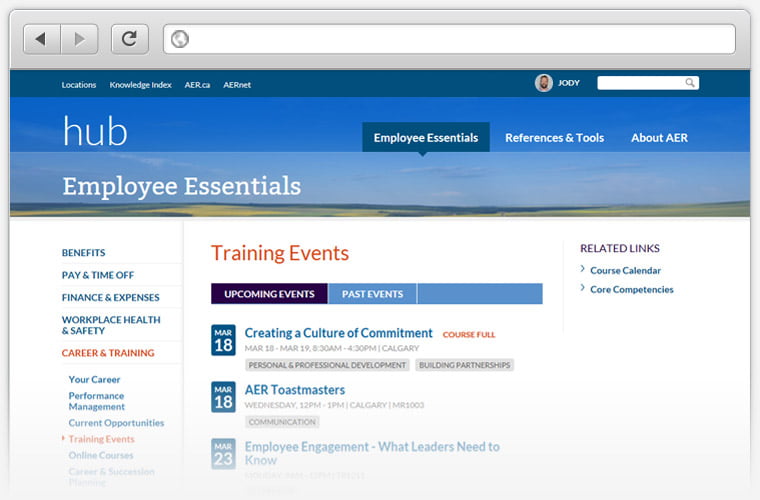 Kudos
The kudos feature on the homepage gives people a space to thank one another in front of the entire organization. Extra focus was given to the visual design of this feature to ensure that users can see the panel from almost anywhere on the homepage. Post-launch feedback shows employees enjoy giving kudos and appreciate seeing colleagues recognized for their contributions to the Alberta Energy Regulator.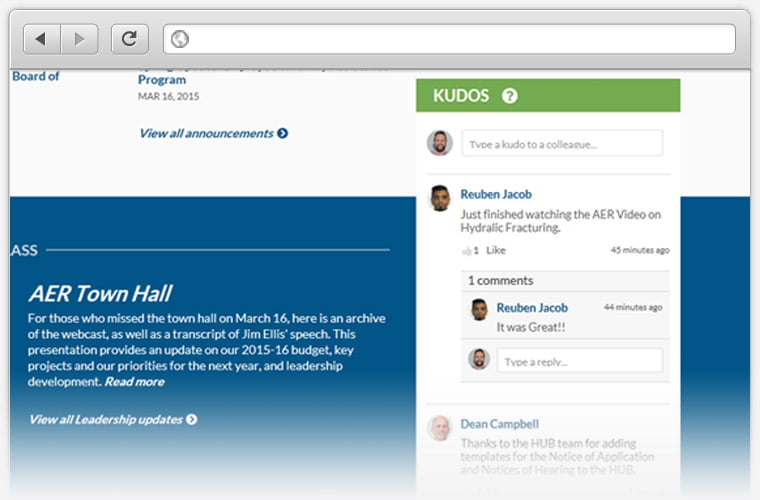 Becoming best in class
This panel enables senior leaders to share news and information related to the Alberta Energy Regulator's vision and corporate priorities with the entire organization. The Becoming Best in Class section is one of the key ways the organization uses its intranet to communicate its strategy. The comments section at the conclusion of each article allows employees to share their thoughts.