The solution
In bringing together 13 separate intranets into one employee portal, a new global navigation was created with every users' needs in mind. Habanero migrated thousands of team sites and content types from SharePoint 2010 to 2013, preserving all of the important information users need every day.
Employees are able to easily find relevant content, and the structure of the new information architecture makes it simple for people to find information or access team sites or applications.
Security throughout the portal was simplified, making it easier for employees to request access and team site owners to modify security properly ensuring a higher order of compliance and risk management. This is also supported by a redefined governance model to ensure a stronger partnership between core intranet stakeholder groups.
During this intranet upgrade project, Goldcorp and Habanero created a change management and user training program that supports adoption of the solution.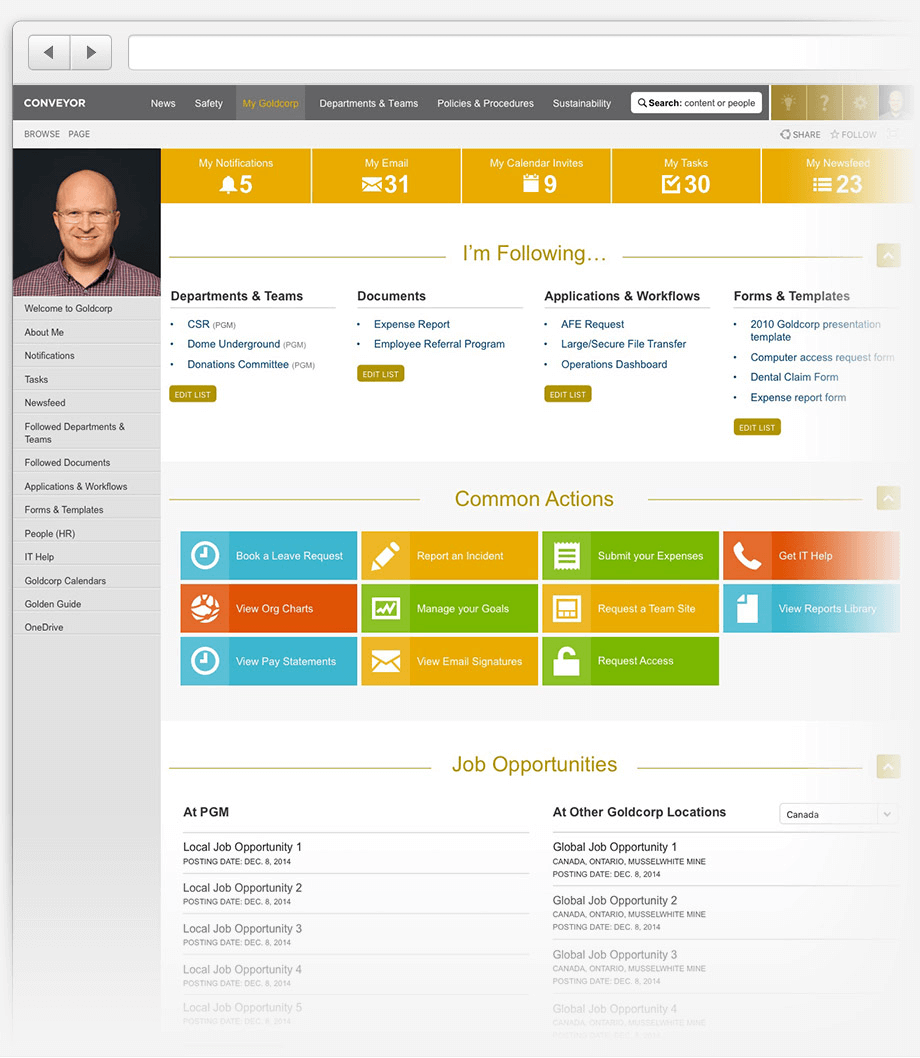 New information architecture
The new navigation system gracefully organizes the core global and local information that is essential for employees: News, Safety and Sustainability, Policies and Procedures. Employees are able to easily find relevant content regardless of the language as Conveyor supports all three languages spoken within Goldcorp: English, French, and Spanish. This new IA also supports faceted navigation and content targeting.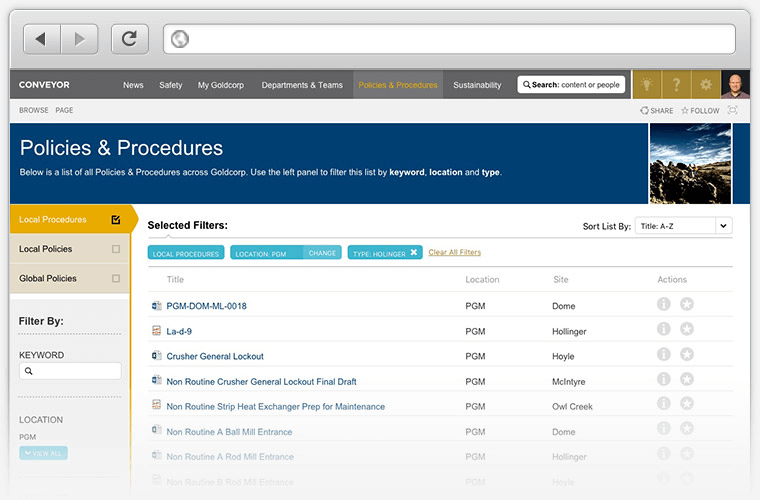 A modern experience for news
Instead of being a mix of news, summary links, and banners that you see in a traditional intranet, the new Conveyor has simplified the homepage to only focus on news. Content can be targeted and organized by recency, importance, user location, and language. Video is also surfaced into Conveyor from Qumu, Goldcorp's enterprise video collaboration platform in key featured locations and through a traditional carousel format.
Team site directory
A redesigned team site directory makes it easy for employees to find the collaboration spaces they need. At a click of a button, employees can filter by location, keyword, or department and view sites that are open for all to access or secured but available to access upon request. This approach has massively helped to surface duplicate and redundant sites that need to be deleted, along with previously hidden collaboration spaces that should be more available to employees.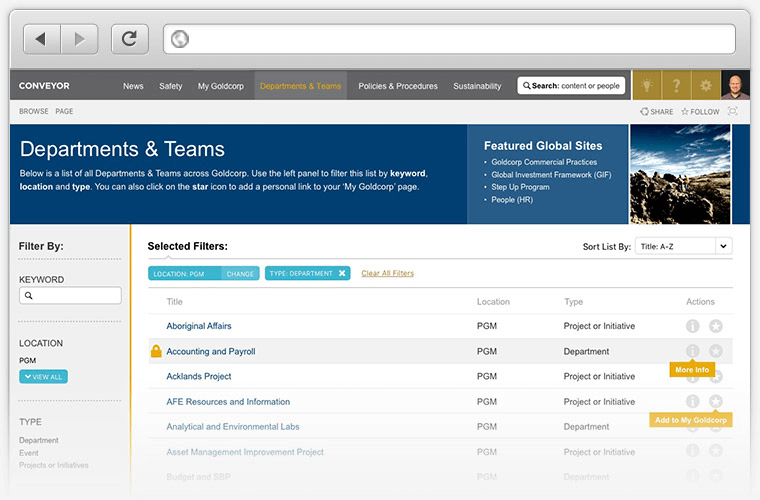 My Goldcorp: bridging the digital workplace experience
My Goldcorp is an integrated personal productivity hub where users can find whatever they need to get work done, inside or outside SharePoint. The page integrates a notification bar that includes Office 365 email, tasks, calendar updates, and mentions. Nintex workflows have a simple location to surface end-users' actions so employees don't have to go digging in an inbox to find their most recent to-do. A broader collection of everyday applications outside of SharePoint are nicely integrated into a Common Actions panel.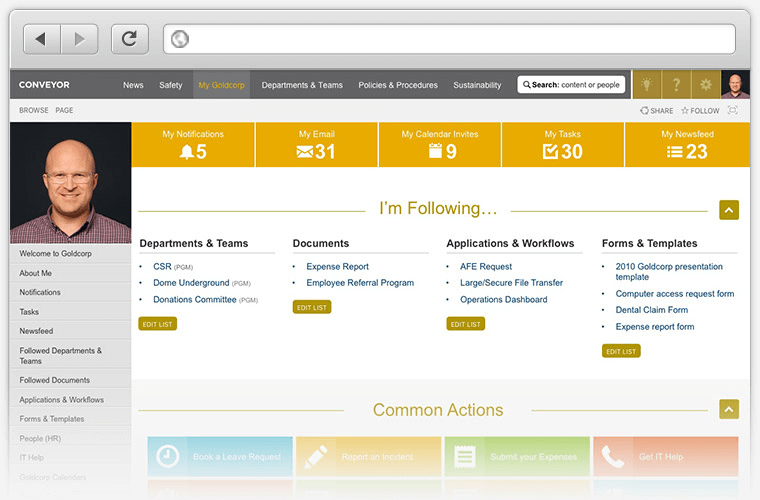 A mobile intranet experience
Conveyor is a responsive employee portal, meaning employees can access the solution while on the road, in the field, or underground on any mobile or tablet device. The experience is streamlined for News as the primary use case and allows employees a great opportunity to stay connected and enjoy a fluid reading experience without having to pinch and zoom.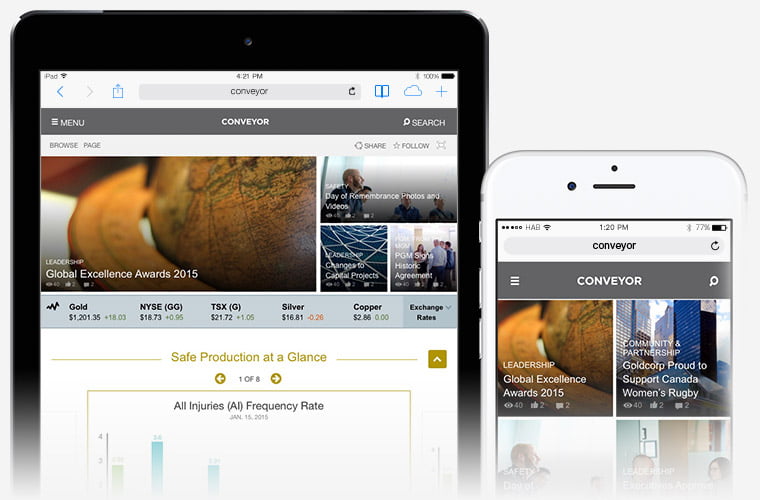 Embedded training
Users can turn on a personalized training tool to learn how to use a new feature or get a refresher on a certain aspect of Conveyor. This supports adoption of key features and reduces the effort required to train employees to use the intranet.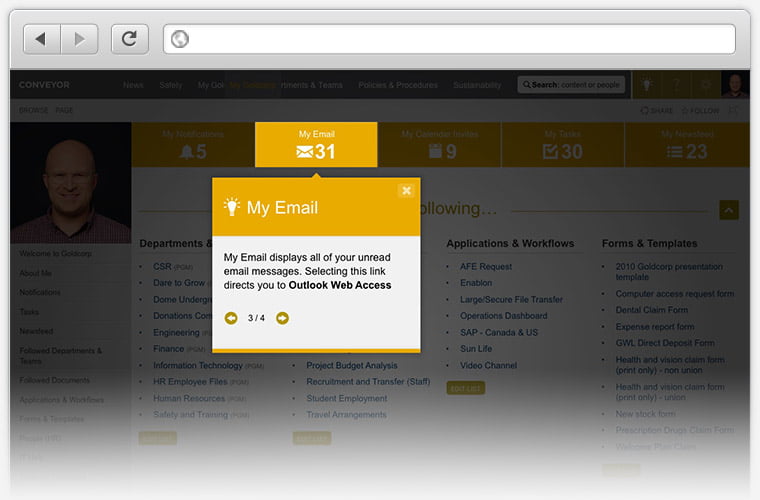 How Conveyor is performing
This upgraded employee portal has achieved the following outcomes:
Page views are up 26% since launch, suggesting that people are reading more content each time they use Conveyor
Top news releases are seeing open rates of 60% or more, which equates to over 3,000 people
300 to 400 users are collaborating each day, according to the traffic through the site directory
Approximately 3,000 unique visits per day, or roughly 50% of office workers
Daily average user duration is 44 minutes