Habanero created three posters for the 2017 ARMA Canada Conference in Toronto on what it's like to be a records manager. The posters—which were a big hit at the conference—can be downloaded and printed using the links below. If you have a minute, let me share with you why created this empathetic expression of the role of a Records Manager, and why empathy is such an important part of how we design. As you read, ask yourself, are your systems and processes designed for the way people work, or are they designed around technical or compliance requirements?
Click each poster to download the PDF.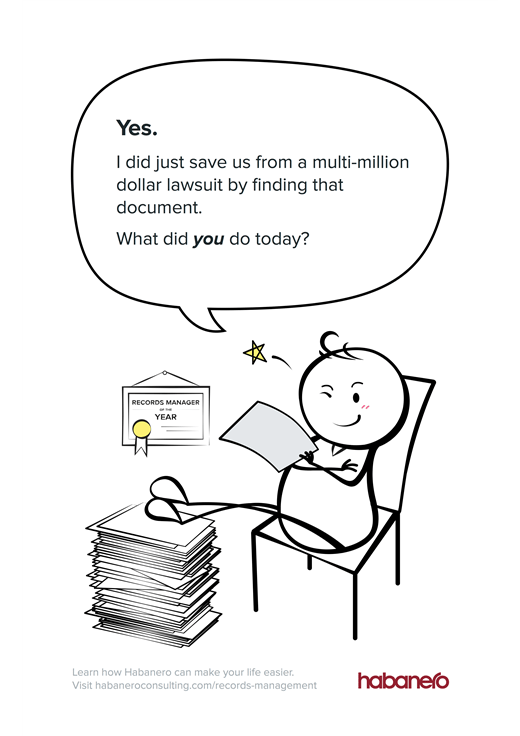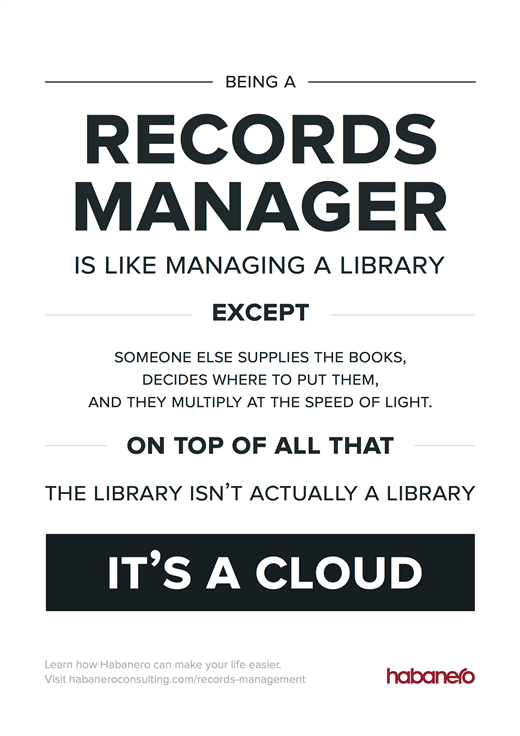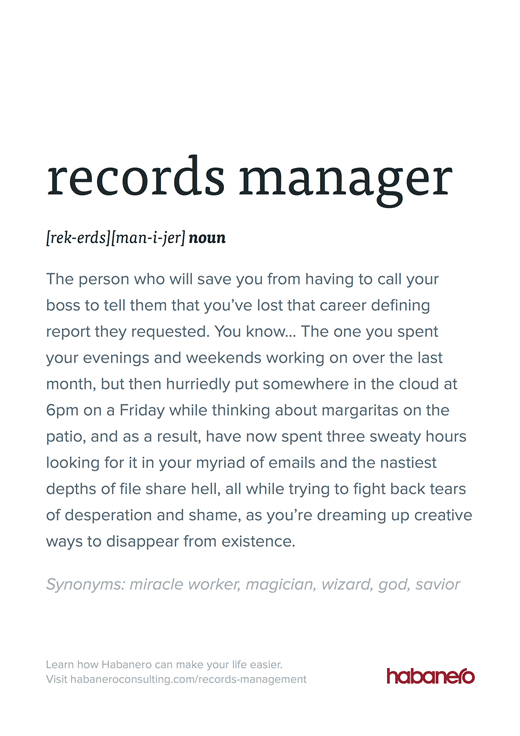 People before technology
At Habanero, we are driven by a shared purpose of helping people and organizations thrive. We've been creating great workplace experiences for over 20 years, by always starting from a perspective of deep empathy for the people that will ultimately use our solutions. Beautiful, usable, and powerful technology can be transformative for an organization, but if we introduce technology into a system that is powered by people without understanding their complex behaviours, goals, motivations, frustrations, pain-points, and your unique culture, the investment made in the technology is at tremendous risk. People will fight against technology that gets in the way of them doing their work and accomplishing their goals, which can be an added challenge for the Records Manager responsible for the adoption of the system.
Systems designed for the way that people want to work
Unfortunately, too many technologies in the workplace are not designed for the way people work, but instead for the way that was most accommodating for the system. We've seen this more often than not in the world of records and document management and we know that there's a better, more humane way. A system that lets people be records compliant without over compromising on the way they want to do their work and accomplish their goals.
The posters are an expression of respect and empathy
When we were preparing for ARMA we considered who we were coming to meet. The smart, dedicated, unsung, hard-working records manager. Records managers look after us despite our bad habits managing our important information. They are responsible for the systems and rules that keep us organized and safe from expensive litigation and regulatory fines. Yet, most of us have little time for their rules and rhythms. Most of us do what we want to with our documents, while, like Atlas, records managers carry the burden of regulatory risk on their backs for all of us. Ok, maybe that's a bit dramatic but it's a tough, important job and we get it, which is why we made the posters.
So if you are a records manager, thank you for looking after all of us so well, even though we are often lazy and non-compliant! We respectfully salute you for your diligence and the burden you carry. If you are not a records manager, but you know one, give them a pat on the back, or a hug if that's not too weird, and maybe one of our posters, and thank them for doing such an important job!